The Sims 4: Graham Nardone Talks About His Time At EA, Making Snowy Escape And Yamachan Emojis
To coincide with the release of The Sims 4: Snowy Escape, we were given the opportunity to speak with Graham Nardone, lead producer on the expansion. Nardone is best known in the Sims community for spearheading the very first community stuff pack, Laundry Day. After some time away from the spotlight, he's back again to talk about his time at EA/Maxis, all things Snowy Escape, and how much love there is for Yamachan.
A Memorable Start
Nardone started work with The Sims team on the exact day The Sims 3 shipped – June 2, 2009. "I worked on expansion packs and stuff packs [for Sims 3] at different points and then here on Sims 4 worked on the base game," he says. "Then I've done expansions, game packs, and stuff packs at varying points."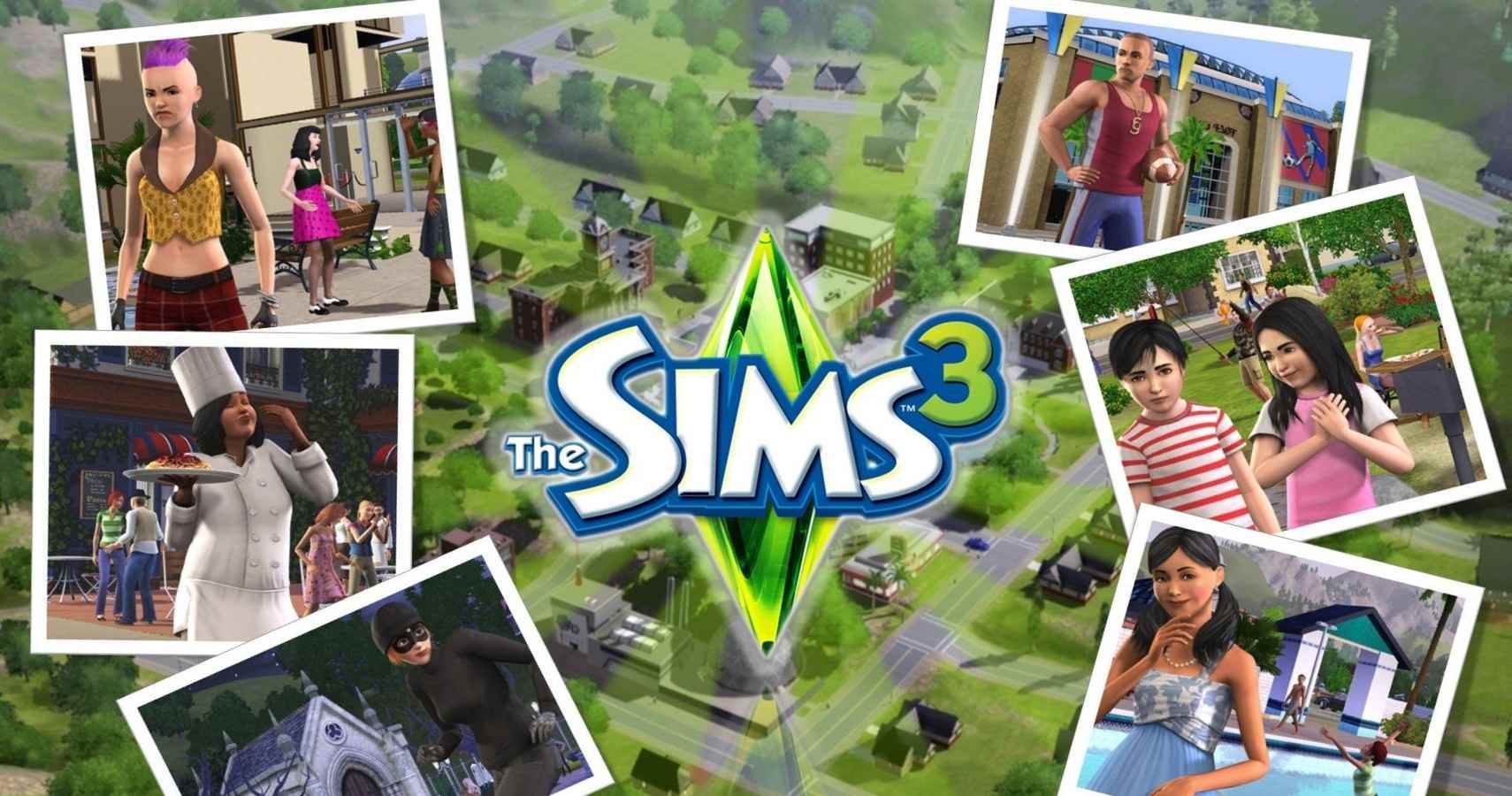 His latest role is as a producer of Snowy Escape and currently, Nardone is very active on Twitter, answering questions and soaking up the compliments. The pack has been mostly well-received, and rightfully so. We loved it, and are still discovering more surprises.
Two Themes Intertwined
In Snowy Escape, there are two themes intertwined. The first is the winter sports activities: skiing, snowboarding, sledding, hiking, and climbing. The second is the Japanese inspiration that spreads in the world of Mt. Komorebi as well as the build and buy items, create a Sim fashion and even into Sims' interactions.
When asked about which came first, Nardone told us, "Winter activities definitely came first in that equation, and really that was kind of listening to our players and the community and the things that they were talking about and asking about. So I think we really picked up on that idea from them and were like hey there's so much more that we could do in this sort of winter setting."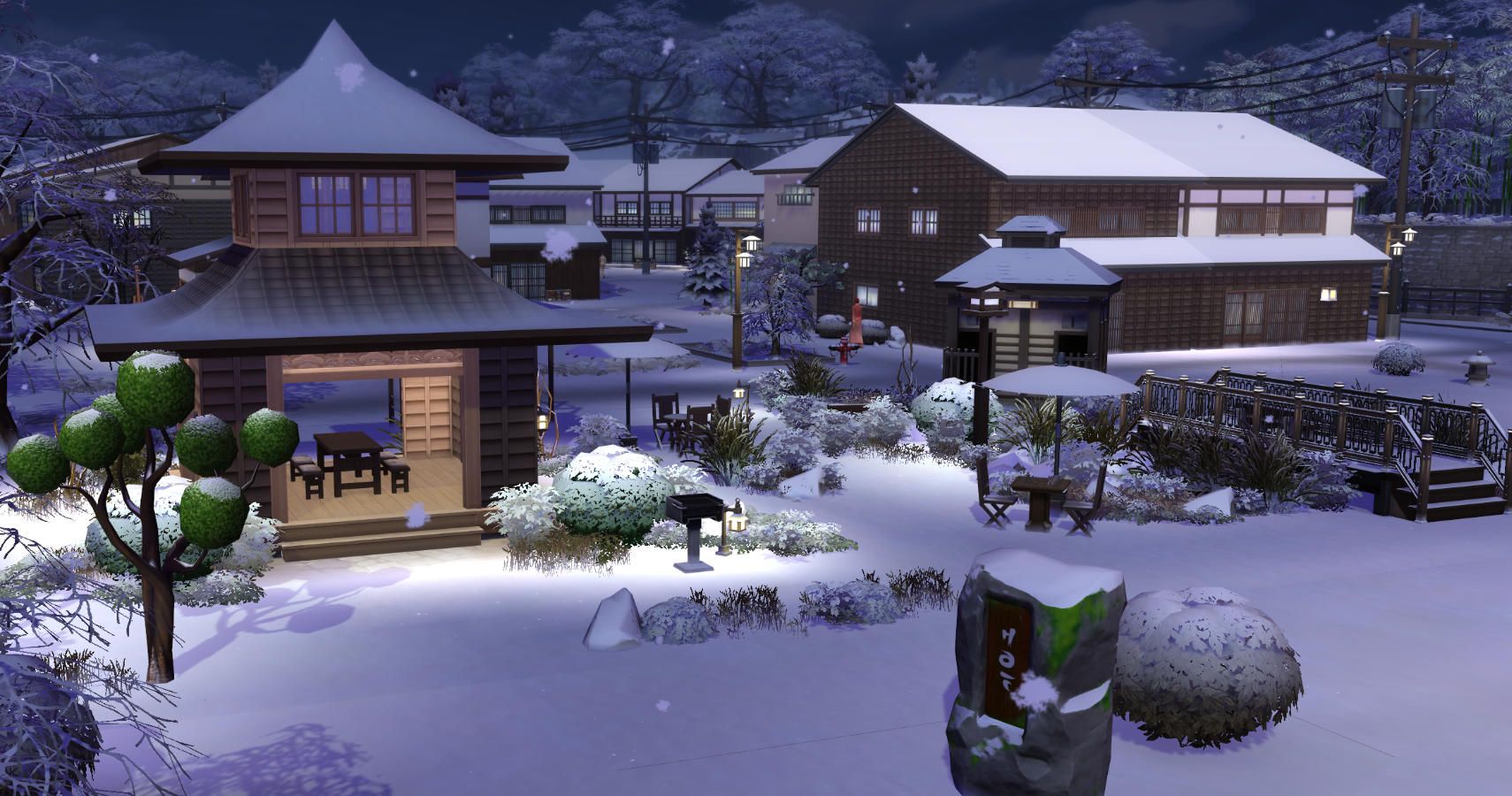 Some Simmers may remember a survey earlier this year asking about winter sports. If you answered it, you may notice that this feedback was used in development. "We even ran a survey with them [Simmers] earlier this year so I think they've kind of had an inkling that we were working on something like this for a while now and it's fun watching them speculate sometimes because they all start to imagine, 'Well, oh, if it's going to be winter activities, what's the likely destination?'," Nardone says.
When thinking about destinations to pair with the theme, Nardone says that they don't always like to go down the obvious route. "A lot of them were expecting French Alps," he explains, "but we do like to subvert expectations a little bit. As soon as we knew we were doing winter activities, we started thinking about well what are some other great locations for those winter sports that we could pair with this pack."
Recently, The Sims team has come under fire for not being diverse enough in their representation, something that they've always strived to achieve. A multicultural focus has always been important, according to Nardone, and it's a focus in this pack. "One of the pillars for Maxis right now is to make sure we are representing more of our players and culture within the game so that people can bring their own lived experiences to the title and have a reflection of themselves," he explains. "Japan was kind of great for that. It was a culture that we hadn't dove into really in-depth before and I do think it was a little bit unexpected. So, I think that kind of ticked all the boxes for us and it made for a really cohesive game loop of being up on the mountain with these great adrenaline-pumping activities and then having these very calming experiences you could wind down and rejuvenate with. So it all came together really nicely."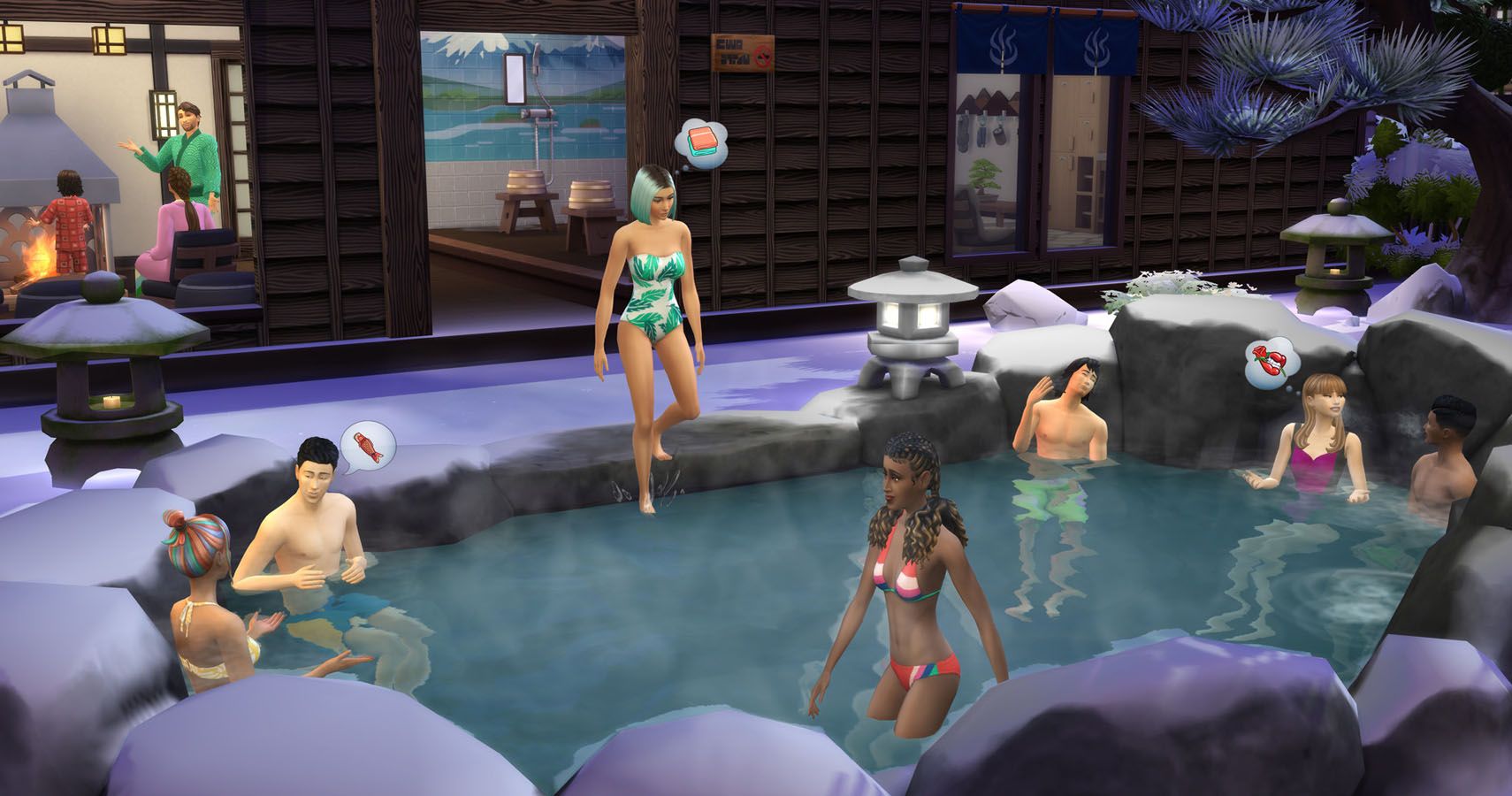 Getting The Culture Correct
When representing different cultures, getting the details correct is hugely important and The Sims team takes steps to ensure they are being respectful. Alongside their regular research, they worked with Aspire, which stands for Asian and Pacific Islanders Represent. This is a volunteer team of other EA employees from these backgrounds, who worked with the Sims team to ensure their cultural understanding was accurate.
"What we do is kind of bring them on board early in the process," he says. "A lot of it is just having a conversation with them like, 'Hey, you know we're planning on doing a Japanese-inspired pack, and even more specifically we're kind of looking at a slice of Japanese culture. We want to get out of the cities and do something in the Japanese countryside, do a sort of mountain town and the experience that you might have there, plus these incredible winter activities. How would that start to take shape? What are the important things in Japanese culture that immediately come to mind? How could you do a Japanese inspired pack and what would that have to include to represent even a portion of the culture authentically?'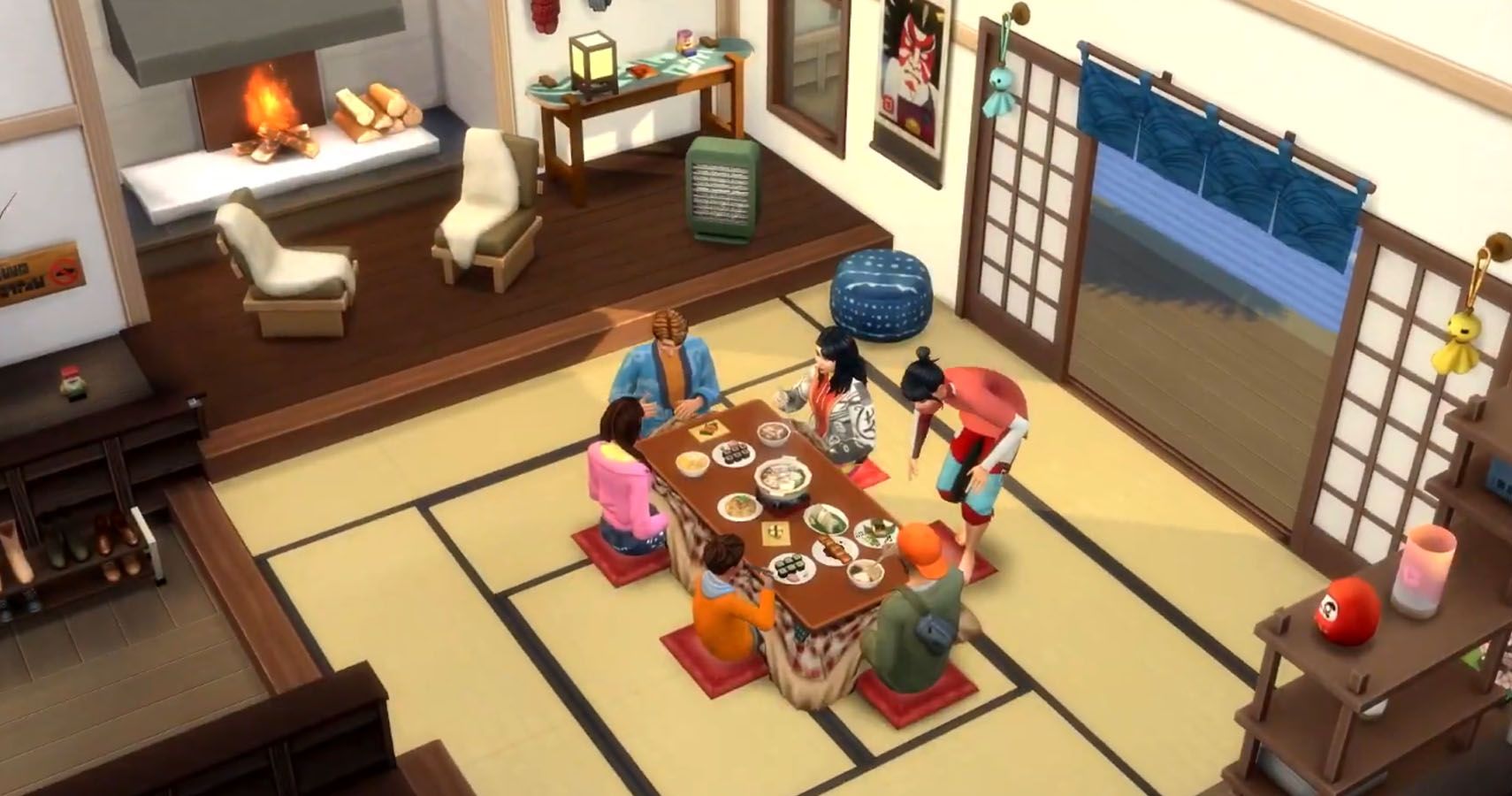 "So we go through these conversations and workshop designs and kind of whittle things down and figure out what is the core essence that we want to focus on. And even then, as we kind of move forward, we're constantly checking back in with them and saying, "Oh, is this right?' Or: 'Are we representing this the correct way?' And I think you'll see a lot of those small details really come forth in the pack. Whether it's the topper on the mountain temple pagoda and the meaning that some of those have, or even the Simlish that appears in the game."
The signs in Mt. Komorebi don't look like other Simlish signs, and this is very deliberate. "We actually worked with them on ways to create a new set of Simlish characters that would be evocative of, say, Kanji, Hiragana, and Katakana, and how those are actually utilized and combined together. You'll see that on signs throughout the world, on objects, on the clothing that Sims wear and so it really brings it to life and just makes this rich believable experience," Nardone explains.
Bring Depth To More Than The Snow
Another large aspect of the pack is the sentiments and lifestyles feature. Sentiments actually came with the recent free update but the lifestyles are specific to the pack. Speaking about the decision to add these, Nardone refers to community feedback saying, "These are things that players are really demanding, they want to see added to the game… They're asking for deeper experiences and we see each of those as two sides of the same coin. So lifestyles are all about the lived experiences of your Sim and enhancing aspects of their personality and their behavior, whereas the sentiments are all about the shared experiences between Sims and increasing the depth of their relationships with other Sims."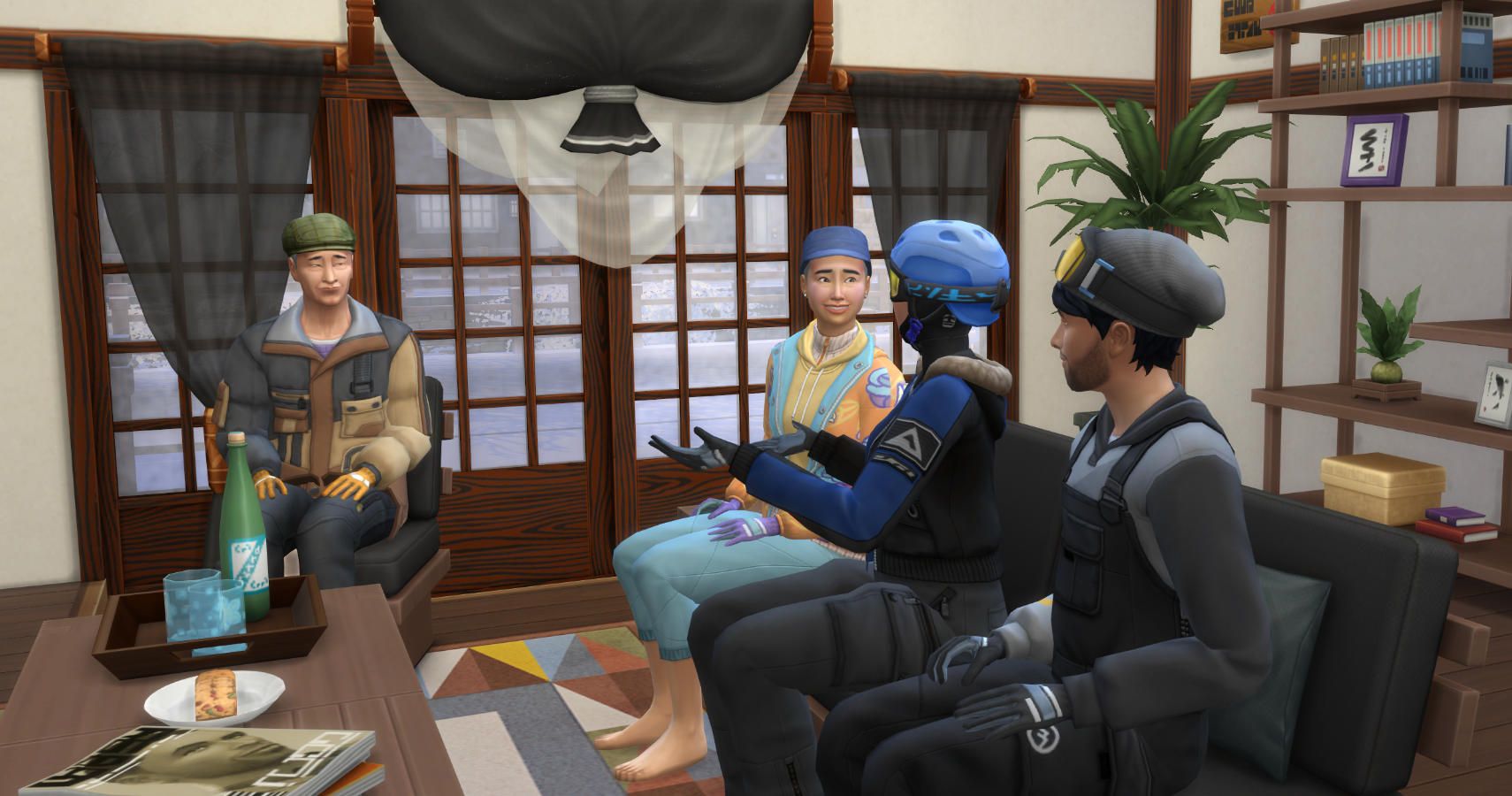 Talking about the split between what's DLC and the content in the update, he explains: "There are so many experiences that are kind of core aspects of our lives that don't specifically relate to Snowy Escape or any other expansion pack, so that's kind of the bar that we clear in terms of design. If it's something that kind of applies broadly to life, to all of our Sims, we start to say this is an important core experience for the game – it's going to not only enhance things at this particular point in time but could continue to enhance the depth of the game as we build even more content for it.
"It just makes those relationships between Sims more believable and I think the really cool thing about them is that every experience Sims have had previously has always been one-directional. But now with sentiments, they can have different experiences and come out of it feeling differently about it… So, hopefully, that's something you'll see within sentiments and something that we'll continue to carry forward in the future."
Yamachan Love
To create the world of Mt. Komorebi, the development team drew from a range of influences. "We look at a variety of places," Nardone explains. "It's never one particular location, it's gathering reference from things that inspire us, things that match the theme, things that go along with the culture. Things that are visually compelling. I think when you look at Japan and the Olympics, we immediately think of a place like Nagano which hosted the Winter Olympics in the past and [it] being a beautiful location for these winter activities."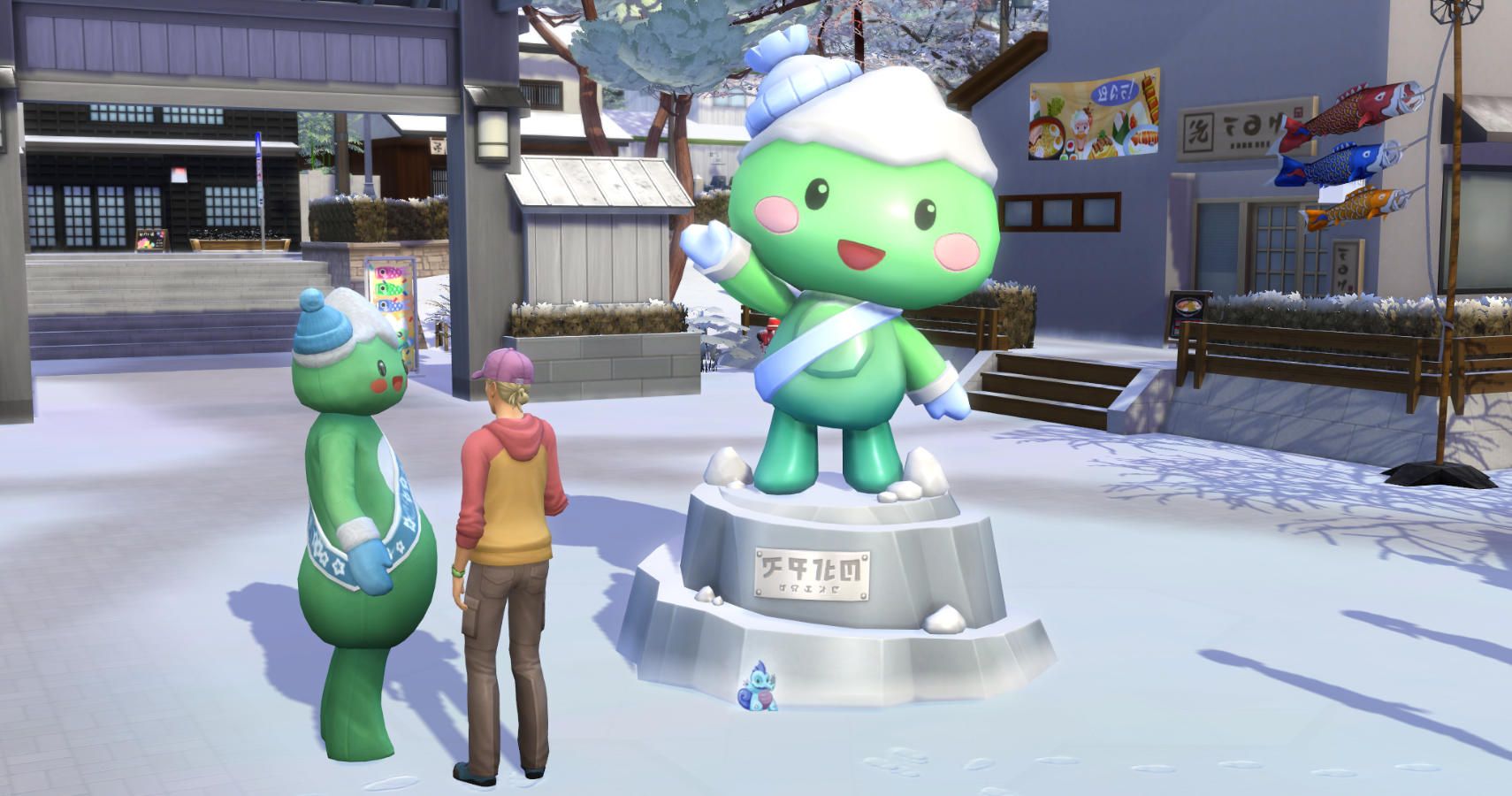 It was during this time that Yamachan, the adorable resort mascot that the community is utterly in love with, was conceived. The idea of a mascot appears to have been sparked by a ski resort with a somewhat unconventional mascot of its own. "I forget the name of the particular resort, but there's one that has this just absolutely fantastic mascot of like a hard-boiled egg that's cut in half wearing an uncle sam top," Nardone laughs.
While Yamachan is more what you'd expect from a mascot, being adorable and all, it was the concept of having a mascot that Nardone was most excited about. "So, of course, we did our own mascot for our resort town," he says. "We have Yamachan, but you definitely see these touches of things that are brought into the game to enhance the experience. All these vibes of Japanese culture are so much fun to incorporate."
Love for Yamachan is overflowing on social media, especially if you follow SimGuruPopcorn, the self-proclaimed founder of the Yamachan fan club. However, it seems the entire team felt the same. "We just went crazy internally," Nardone says. "We have a bunch of emotes and emojis on Slack that people love to spam in any of our Sims channels."
However, Yamachan isn't the aspect of the pack he's proudest of. Instead, his love is for the ski slope – a huge technical challenge to implement. "I'm proud of the slope," Nardone admits. "I think it's just a spectacular experience to have within The Sims. You've never seen anything like it before. It's the biggest object we've ever created. It's just massive in terms of scale, bringing an experience like that. That's something we've never really tried to do within The Sims before and knowing all the technical challenges that went into that, I think that's really personally fulfilling."
Being A Fan And A Producer
When asked if he'll be playing at home Nardone says, "After I work on a pack and it releases, I do like bringing that home and taking it out of the office environment, out of that work mindset and just sitting down and playing with the pack for a while. I find it gives me a really different perspective on the things that we create and release and just trying to enjoy them without thinking, 'Oh, I wish we did that,' or, 'Man, we could have just tweaked that,' or, 'What if we'd added this?'."
As with any project in video games, though, there are always some regrets. Things are implemented and iterated on. Some make the cut and some don't. For Nardone, there was one thing in particular he wishes the team could have got working in past series entries.
"Way back in Sims 3 when we were trying to brainstorm a fun WooHoo for that pack [Seasons], we had the spray tanning booth," he says. "As soon as we kind of locked in designs on that I was just having these major regrets that we didn't do a woohoo in the spray tanning booth – think of all the funny fails you could do with that with like weird handprints and funny sprays. It would have been ridiculous but you know, oh well. Some day."
Some day, indeed. The Sims 4: Snowy Escape is out now on PC, Mac, PS4, and Xbox One. It requires The Sims 4 base game to play.
NEXT: The Sims 4: Snowy Escape Review: A Return To Greatness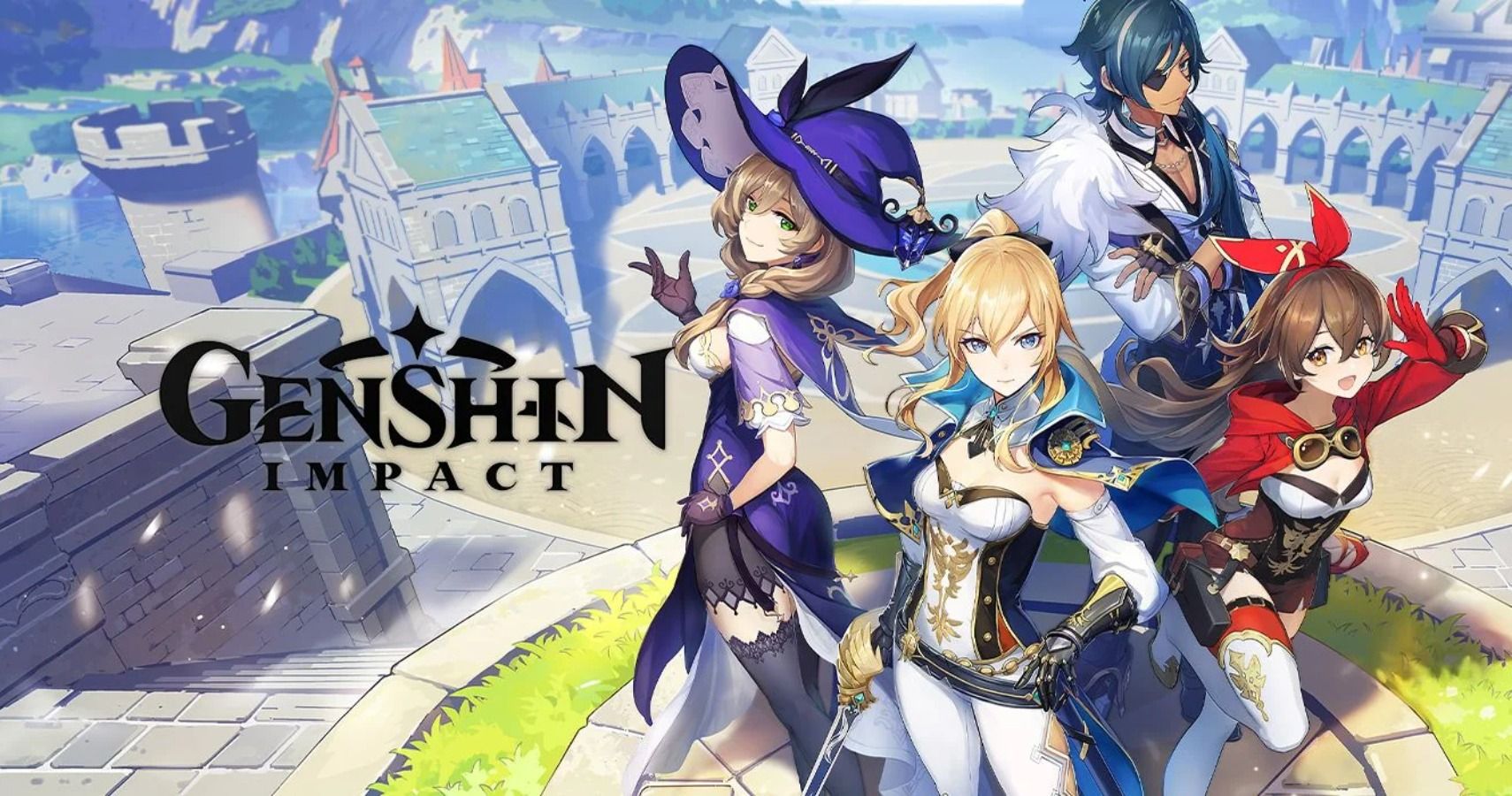 TheGamer Originals
PC
Xbox One
the sims 4
ps4
Helen began playing games at an early age with her first computer being a hand-me-down Sinclair ZX Spectrum. It didn't put her off… She is all grown up now but is still a gamer at heart, especially when it comes to The Sims and other strategy and simulation games.
She juggles the daily demands of life with a family and somehow still finds the time to indulge her two passions in life, writing and gaming; sometimes both at the same time.
Source: Read Full Article