Madden 21 PS5 Review: All-In On Next-Gen
During the build-up to its launch –  before eventually making its way into my loving arms – I didn't have too many expectations for the PS5. I was pretty certain it was going to be graphically impressive with tons of quality-of-life features such as its lightning-fast loading times, but I wasn't necessarily chomping at the bit to play any of the launch titles. Obviously, I knew I'd play them at some point (how could I not?), but one of the titles I was looking forward to playing most was the next-gen version of Madden 21.
As almost any steadfast Madden player can attest, not much changes from one year to the next with each annual release. We're mostly in it to play as the newly-signed free agents and rookies who were added to our favorite team during the off-season. Despite its addition of the brand-new The Yard game mode, Madden 21 continues the trend of just being another release in the Madden franchise – not quite living up to Madden 20, which provided one of the best Madden experiences in recent memory…. on PS4, that is.
Does anything change now that Madden 21 is available on next-gen consoles? In a word: absolutely. Many of Madden 21's foundational issues remain, but overall gameplay benefits immensely from the PS5's technology, which allows NFL Next Gen Stats to fully immerse you on the football field.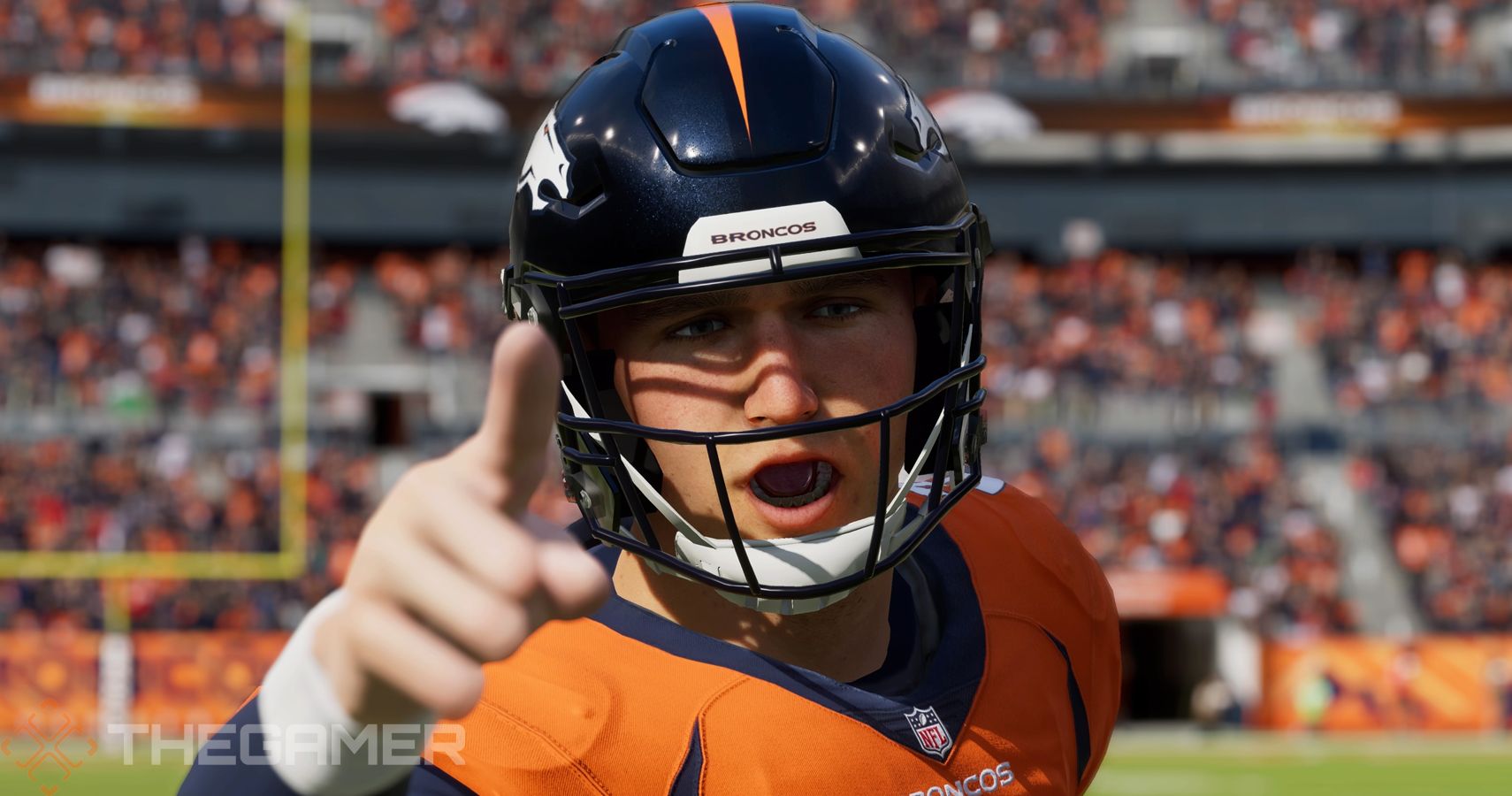 Even after attending a press event that featured everything that next-gen gameplay had to offer, my expectations were admittedly tempered. Beyond updated visuals, I couldn't really fathom just how much different actual gameplay would be. Those lackluster expectations were immediately put to rest the second I took control of Lamar Jackson in the quick game scenario that you play through the first time you start up Madden 21.
Before actually taking my place behind the center, I select my offensive play from the playbook which has been completely redesigned. I'm able to see the picture of each play's primary player as I scroll through the coach-suggested plays, but can also move to different tabs to pick my own plays. In addition, plays that are working well for my team can be saved on-the-fly as favorites, allowing for quick and easy play-calling.
After that, my offense gets into formation under the bright lights that illuminate the snow-covered field, snowflakes glistening as they fall to the ground. As I watch the defense get into position, and I notice that each step a player takes leaves a permanent footprint in the snow. But I'm not here to take in the sights. I'm here to win the AFC Championship game en route to the Super Bowl.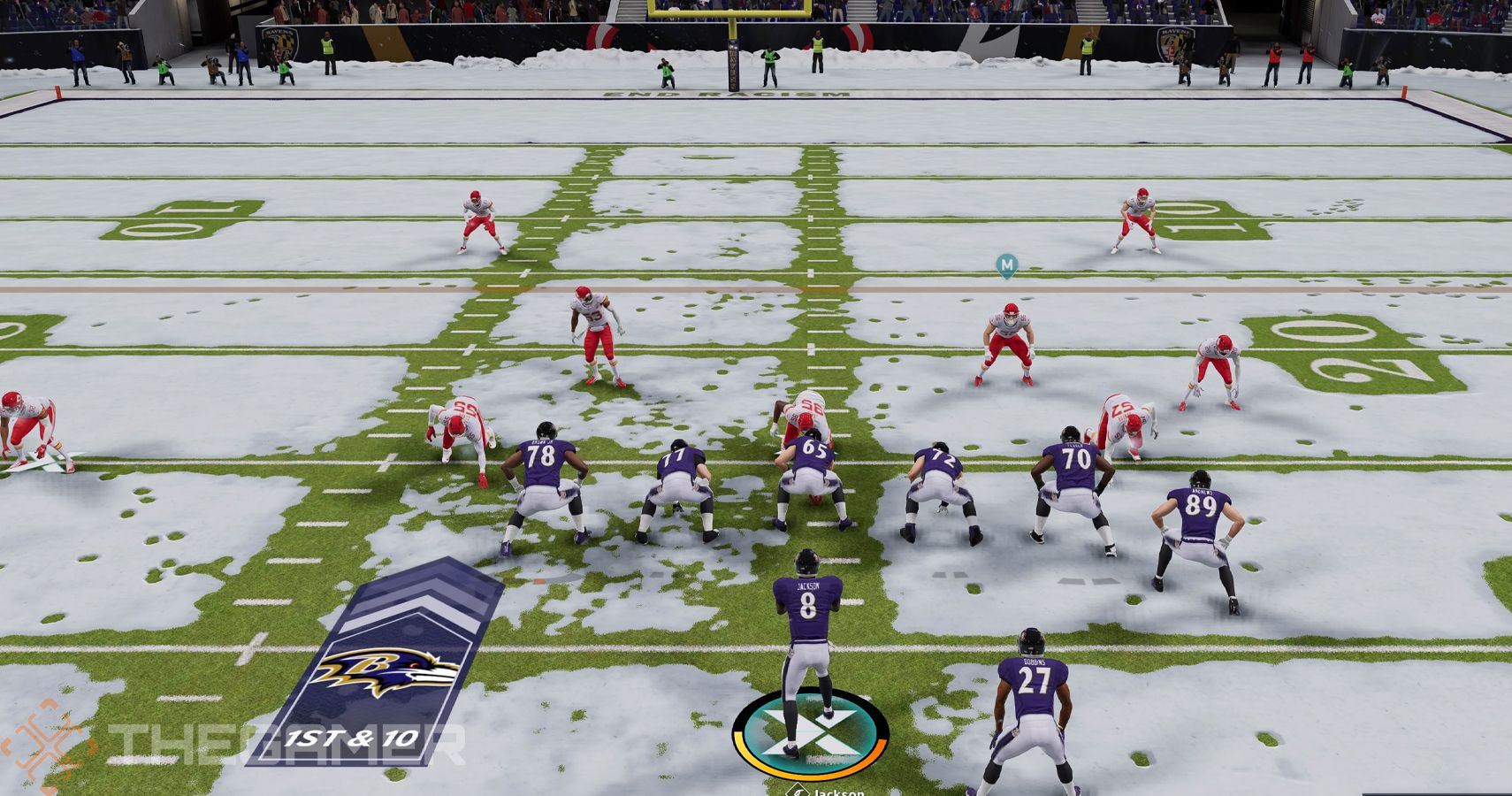 The ball is snapped and I allow the play to take shape, my receivers running their routes downfield. The Kansas City Chiefs defense has everyone locked down, forcing me to roll to the right. Bad news, Chiefs. You've left about 30-yards of wide-open field, and I'm playing as last year's MVP and Madden 21's cover athlete, Lamar Jackson. You know what happens next. I tuck the ball and hit the sprint button. Each step Jackson takes can be felt in the haptic feedback technology from the DualSense controller – something I wasn't expecting, but feels oddly satisfying. I take it for the first down and select my next play.
Another passing play, I let the play develop. I watch as my tight end runs his route. The fluidity and smoothness of his movement is an impressive sight to behold. Rather than running in a more robotic, fragmented manner, data from NFL Next Gen Stats allows his movement to be more true-to-life, running and moving like an actual human rather than a digital interpretation. The snow even plays a part as he slows down ever so slightly to not slip while making his post route cut. I send the ball, which is caught by the tight end in the endzone for a touchdown. I'm already hooked, and all it took was one offensive drive.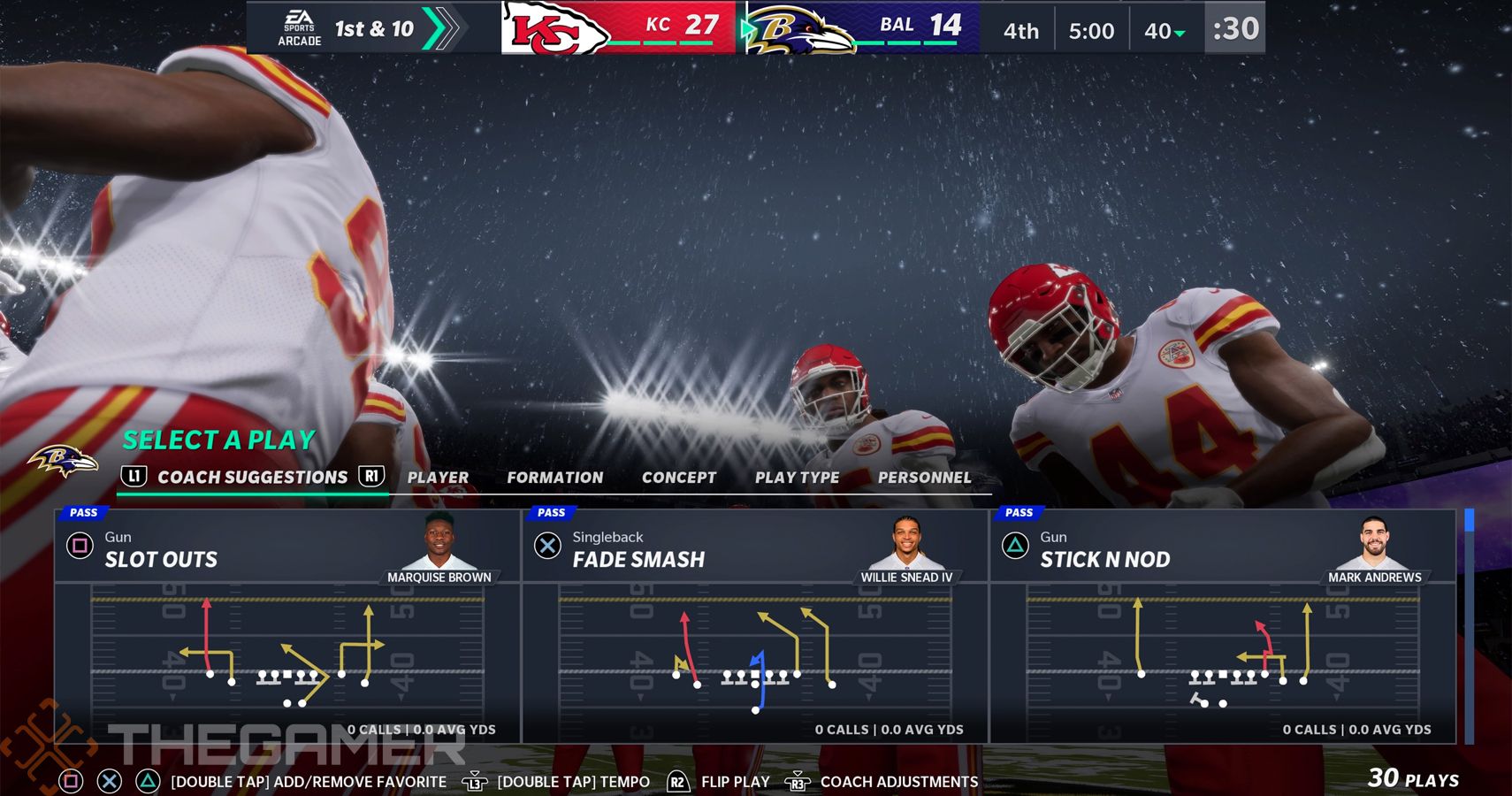 Diving in further with my own customized games and online multiplayer, it's much of the same. Player animations look as incredible as the environments in general thanks to new dynamic lighting technology. A new option exists upon scoring a touchdown to allow your player to jump into the stands and interact with fans (who aren't wearing masks, but that's a topic for another day).
On that note, sideline interactions add a new level of immersion, with things like members of the opposing team helping up my players who are on the ground, showcasing a bit of sportsmanship that wasn't present in the previous generation of games. It's these little things – not to mention the game's level of detail (check out the tweet below) – that make Madden 21 so enjoyable on PS5. There are, however, a couple of things that seem a bit off.
The pace of Madden 21 on PS5 feels more slowed down. This isn't a bad thing in the slightest, but bears mentioning as something that you'll need to get used to. It feels more methodical with your decision-making needing to be more intentional. It's weird though. My Madden 21 running game improved greatly on the PS4, my skill level exponentially increasing from previous games. On PS5, however, it feels like the player is running for me. I feel like I'm barely controlling the runner, especially when he makes a cut – a literal foot plant and direction change – without me making such a move on the controller. This is frustrating since when this happens, most of the time my player runs right into the arms of two or three defenders, instead of hitting the wide-open hole that I had intended on running through.
Additionally, some of the same old defensive woes come through on the PS5 version of the game, such as secondary players slowly strafing backwards as a speedy wide receiver zooms past them on a go route, or runners pinballing off of linebackers who just stand there, making no attempt whatsoever to actually tackle the ball carrier. These kinds of issues have plagued Madden for years, though. While there's no excuse for these issues not really ever being fixed, it's just a matter of adapting. It should also be noted that this all took place on the All-Madden difficulty setting.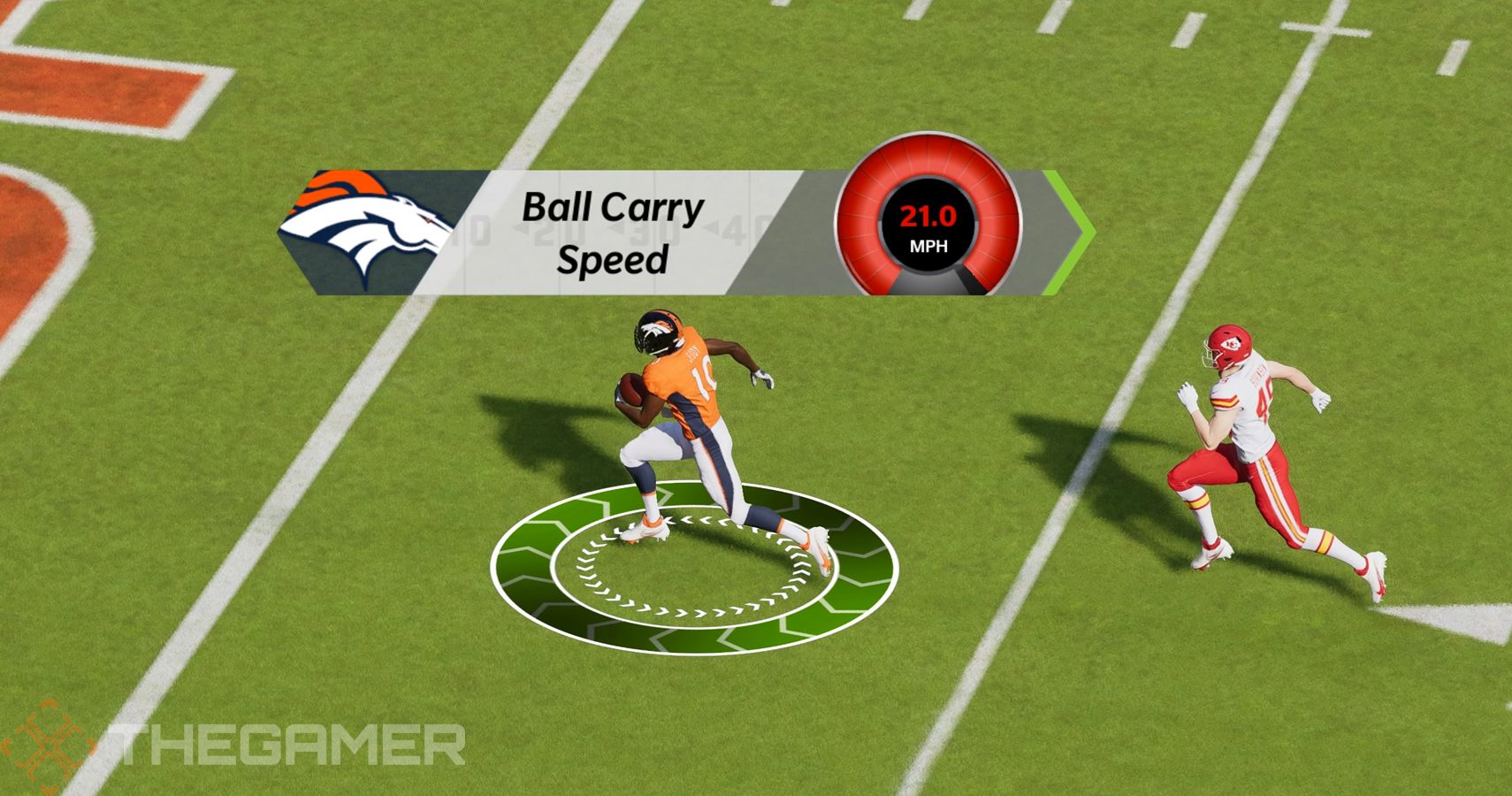 Truth be told, I simply haven't yet had the time to check out the initial lineup of PS5 launch titles such as Demon's Souls, Spider-Man: Miles Morales, or even Astro's Playroom (although Worms Rumble is an absolute delight on PS5). However, Madden 21 on PS5 exceeds my expectations. As someone who plays Madden every single year, that says a lot. If you already bought the PS4 or Xbox One version of the game, dual-entitlement will allow you to snag the next-gen version for free. It's well in your best interest to do so with your brand-spankin'-new next-gen console.
Are you ready for some next-gen football?
You bet I am.

A PS5 copy of Madden 21 was provided to TheGamer for this review. Madden 21 is available now for PS4, PS5, Xbox Series X|5, Xbox One, Google Stadia, and PC.
NEXT: Madden's Fundamental Flaws Won't Be Fixed By Next-Gen Consoles Alone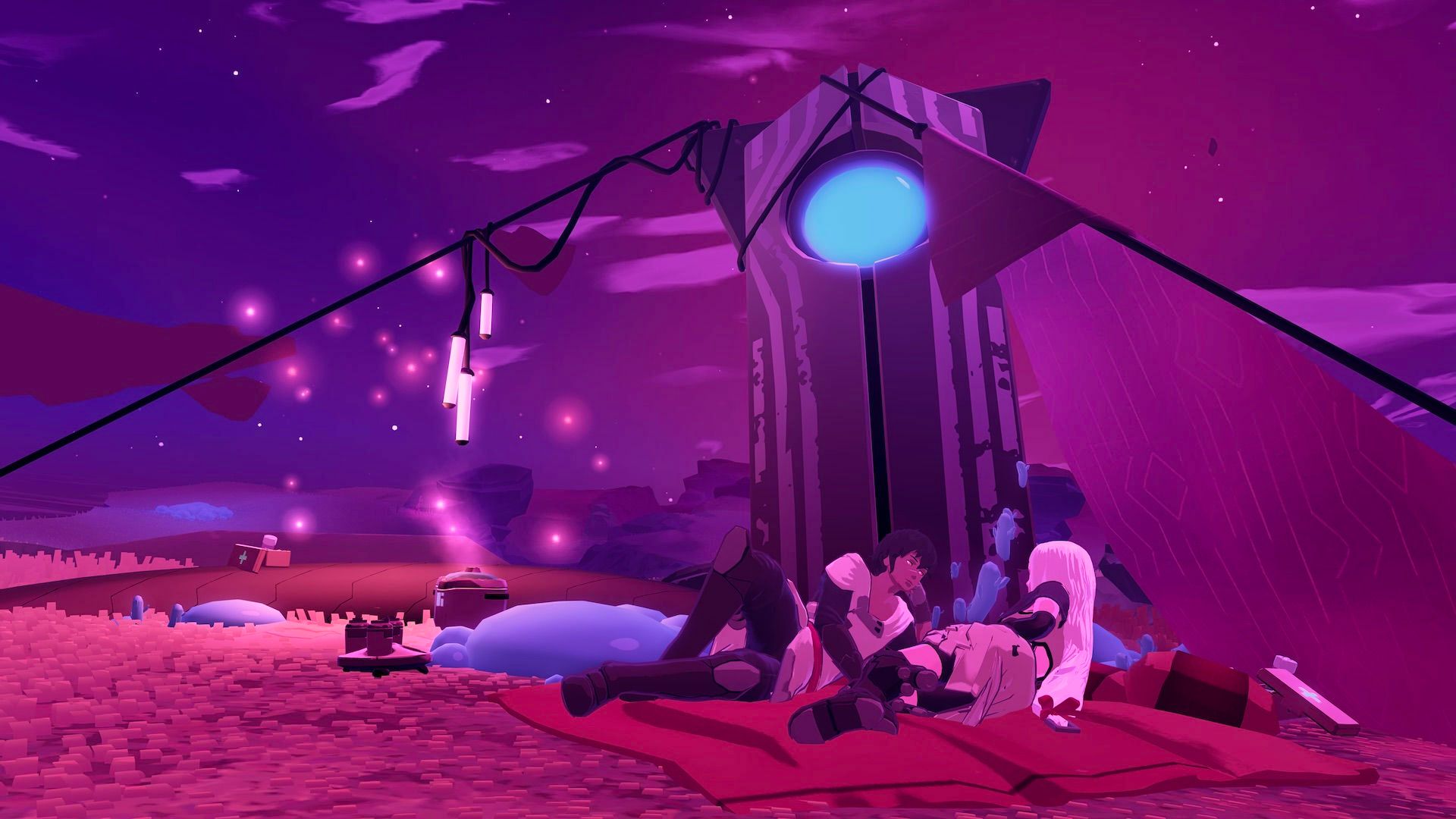 Game Reviews
Madden
Ps5
Madden 21
Sam has been writing for TheGamer since early 2018, earning the role as the Lead Features & Review Editor in 2019. The Denver, Colorado-native's knack for writing has been a life-long endeavor. His time spent in corporate positions has helped shape the professional element of his creative writing passion and skills. Beyond writing, Sam is a lover of all things food and video games, which – especially on weekends – are generally mutually exclusive, as he streams his gameplay on Twitch (as well as TheGamer's Facebook page) under the self-proclaimed, though well-deserved moniker of ChipotleSam. (Seriously…just ask him about his Chipotle burrito tattoo). You can find Sam on Twitter, Instagram, and Facebook as @RealChipotleSam.
Source: Read Full Article