Hands-On With Piepacker, The Retro Streaming Platform That Brings Cartridge Games Online
Gamers of a certain age have a reverence for the bygone era of couch co-op. As fantastic as online services have become, there's nothing quite like sitting side by side with your pals, swapping cartridges late into the night. Piepacker, a new game streaming platform that launched on Kickstarter this month, has found a way to bring the good old days online. I spent an afternoon exploring everything that Piepacker has to offer with some friends, and I couldn't believe how quickly those childhood memories came flooding back.
If you've used Stadia or Xbox Game Pass on mobile, the Piepacker game streaming experience will be fairly familiar. There is no client to install, Piepacker runs natively in a Chrome browser, just like Stadia. The platform currently hosts around 60 retro games from a variety of consoles, including NES, Genesis, and PSOne. All of the games can be played single-player or multiplayer (if they support it), but it's worth mentioning that the current library of games isn't exactly the most curated list. While there's a handful of familiar titles like Earthworm Jim 2, Worms World Party, and Glover, the vast majority of games were completely unknown to me or the friends I was playing with. You're not going to find Street Fighter 2 or Super Mario World here, but you will find Codemaster's 1995 game Psycho Pinball and forgotten platformer Radical Rex.
I'll admit I was a bit put off at first as I browsed the library looking for a game to play with my friends, but it started to feel like digging through that plastic bin of cartridges at my neighbor's house. Not recognizing the games was part of the fun for me. Since Piepacker doesn't require a subscription and all the games they offer are available for free, I actually found it to be an incredible discoverability tool. I played a bunch of stuff on Piepacker that I never played growing up, and would never be able to play now, and had an absolute blast trying them out for the first time. A big selection of the games are actually modern retro games from developers like Mega Cat Studios, so it's a great way to find new games to play too.
When you launch a game on Piepacker, you'll have a link you can share with your friends that gets them right into the game with you. It doesn't stop to ask them to sign up or give them any other hoops to jump through. Neither Stadia nor Game Pass make it this easy to start playing. It's a testament to the vision and execution of Piepacker, and one of the platform's most impressive features.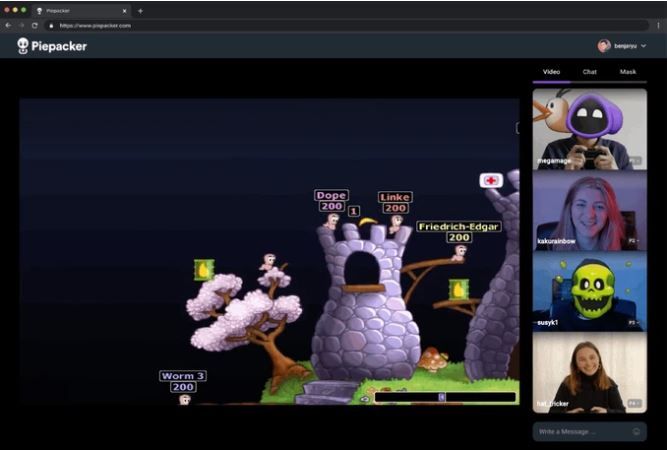 Another big difference between Piepacker and other streaming platforms is that players are encouraged to use their camera and microphone while playing. It seems strange at first, and it definitely reminded us all of a Zoom meeting for work, but seeing your friend's faces while you're playing adds so much to the experience. I thought it was a gimmick, but it really does help to create that couch co-op atmosphere. You can also use 3D masks, which can help your shy friends feel more comfortable on camera. You don't have to use the feature, but it adds a lot more to the experience than I was expecting. The audio quality is great too, but I wish there was a way to mute other players or adjust their audio individually. The platform is still in beta, but the features are pretty limited right now.
The streaming library is actually only a third of what the Piepacker platform is. I haven't had the opportunity to test out Piepacker's other major features, but it sounds like it's introducing some groundbreaking features.
I tested out the free version of Piepacker, but when the service officially launches, there will be a premium membership as well. The premium membership will give subscribers access to original games, improved graphics, and a rewind feature, as well as the ability to bring their own ROMs onto Piepacker. This means that you can use Piepacker to play your games online with friends even if they aren't part of the Piepacker library. The service currently supports NES, SNES, and Genesis ROMs, and will be adding single-player support for Game Boy and GBA ROMs thanks to a stretch goal.
What's more, Piepacker is offering a physical cartridge reader through its Kickstarter campaign. The PieReader utilizes swappable adapters for NES, SNES, and Genesis cartridges so that players with physical games can connect them to the Piepacker platform and play them online with their friends. Frankly, this sounds like magic to me. There are countless cartridge games that have never been ported to PC or modern consoles, and the idea that I can play Clayfighter or Contra: Hard Corps online with my friends sounds amazing.

The easiest way to explain Piepacker is to call it a multiplayer streaming platform for retro games, but I don't think that quite captures it. It's online couch co-op, it's a discoverability tool for classic games, and it's a way to play cartridge games with your friends for the first time since you were a kid. I wish that the library had more well-known games, and there's definitely some noticeable latency right now, but I'm just so blown away by the potential of Piepacker. If you're somehow with a cartridge collection or even just a nostalgia for the couch co-op days, I think Piepacker is something really special that you'll want to check out. I also suspect Piepacker will be huge for streamers, and nothing would make me happier than to see retro games explode on Twitch thanks to this platform.
There are just 11 days left in the Piepacker Kickstarter. Backers will be among the first to use the service and can get a special rate on six months of premium access or a Kickstarter exclusive lifetime membership. You can also pre-order the PieReader and even some signed cartridges. Learn more about Piepacker and check out the Kickstarter page here.
Source: Read Full Article