Flexispot Ergonomic Gaming Desk With Mouse Pad Review: Command Center-Ready
If there's one thing I'm a sucker for, it's gaming mats that I can place both my keyboard and mouse on without fear of accidentally moving my mouse off of the pad. A soft, waterproof kind of liner is always preferred over a cold, hard, and slippery normal desktop surface. It's probably related to the fact that I prefer carpet over hardwood flooring. I've historically purchased cheaper mats because they are easy enough to replace. Never in my life did I think that I needed a full pad that covers the entirety of the desktop, but now that I've had a chance to experience the Flexispot Ergonomic Gaming Desk with Mouse Pad over the past week or so, I'm not sure if I can ever go back to a typical desktop. As far as sitting desks go, the Flexispot Ergonomic Gaming Desk with Mouse Pad might be the desk I've been looking for my entire life.
Coming in 63-inches wide and 29-inches deep, the desk is plenty big for a dual monitor setup, and I'd wager it's more than capable of housing three large monitors, if need be. Although the desk has a small carve out for attaching a monitor mount, I offset the mount for my dual monitors to the right so that I can have one monitor in the center of the desk and the other angled on the right side of the desk. Not only is this more ergonomic for how I work, it also frees up plenty of space on the left side of the desk which I use for my laptop – although a PC tower could easily be placed there as well.
Two cord holes can be found at the back of either side of the desk, letting you keep your cords decluttered on top of the desk. I have about 12 different cords split between the two holes, and containing them to the holes helps keep the aesthetics of the desk looking good, rather than having a bunch of cords draped randomly behind the desk. Underneath, mesh netting can be attached to the underside of the desk, allowing for a bit of cord management. This feature is better when you have fewer cords and power adapters, as having a lot (like me) may result in the mesh becoming a bit crowded and bulky. Fortunately, even with my long legs and tall height, I have yet to hit my knees on the bundle of cords despite it being a little bulkier than I'd like.
Speaking of height, the Flexispot Ergonomic Gaming Desk with Mouse Pad is, unfortunately, not a standing desk. I was admittedly turned off a bit by this initially, but after actually spending time sitting at the desk, I can understand why that feature was left out. Sitting behind the desk feels like you're sitting behind some sort of battle station/console. Having spent plenty of time behind music engineering consoles that kind of surround you and allow for everything to be within arms reach, the Flexispot gives off a very similar vibe. The ends of the desk extend out ever so slightly from the middle part of the desk where you'll be seated at, but it's enough to kind of immerse you while sitting in front of it. Additionally, the desk's height setting can be adjusted to 28", 30", or 30-inches tall. I'm 6'2" and feel right at home with the 30-inch setting.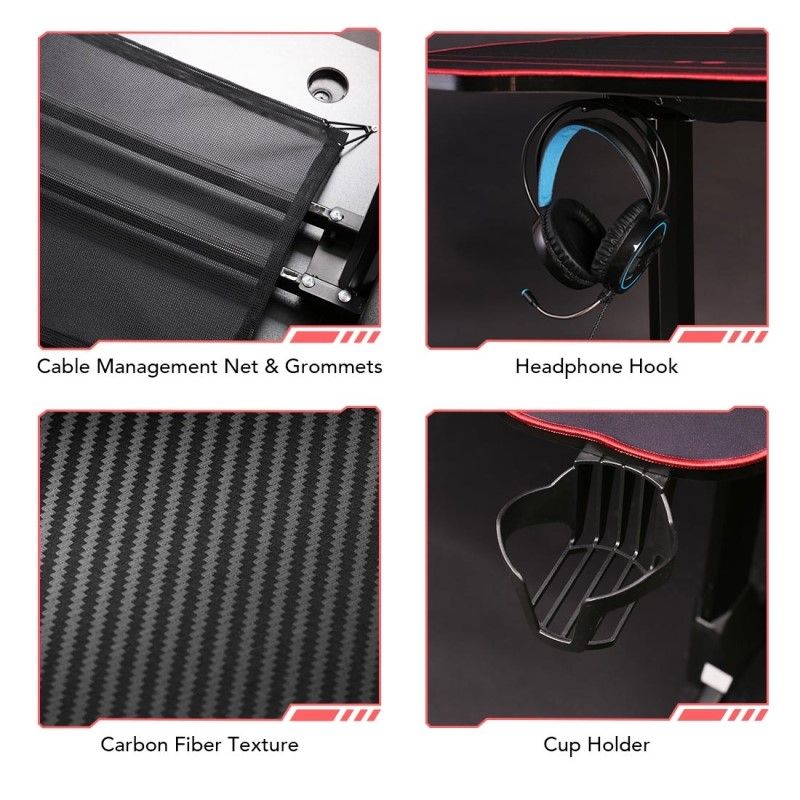 It shouldn't come as a surprise that my favorite part of this desk is the fact that the gaming mat/mouse pad covers every inch of the entire desktop. Featuring a heartbeat wave design, the mat feels great and sits perfectly on top of the desk. The tacky underside of the mat also prevents it from sliding around. To be honest, I often forget that it's a detachable mat since it sticks so well. The microfiber material isn't 100% waterproof, but it is super easy to clean and dries lickety split. I found this out the hard way after spilling coffee on the desk, but you'd never even know it happened now.
Finally, the desk comes with a cup holder and headphones hook, both of which are under-desk installs. No, they aren't necessary, but having even just a small amount of reclaimed desktop space is always welcomed as someone who generally has two keyboards, two laptops, a set of speakers, a desktop microphone, my Nintendo Switch, and my Oculus Quest (or some combination of all of that) sitting on my desk at any given time.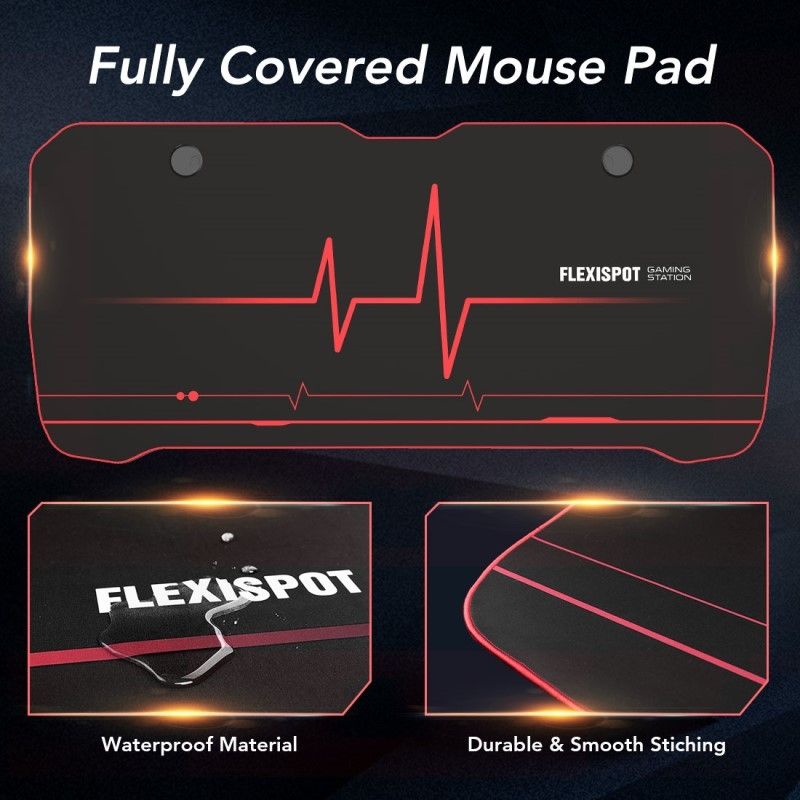 My Flexispot Ergonomic Gaming Desk with Mouse Pad currently resides in my bedroom "office," replacing the old, tiny IKEA desk that used to sit there. I do plan on eventually getting a standing desk, and when that happens, you can bet that the Flexispot will be finding a permanent position in my streaming studio where my regular (seated) gaming station is set up. My current setup is an L-shaped desk (that I built myself), so I might even take advantage of the sale that Flexispot is having this month in celebration of its five-year anniversary and buy a second desk to create that same L-shape. The Flexispot Ergonomic Gaming Desk with Mouse Pad is just that good of a desk.
A product sample was provided to TheGamer for this review. The Flexispot Ergonomic Gaming Desk with Mouse Pad is available now from Flexispot's website, and is on sale through the month of May for $229.99.
Source: Read Full Article