The House Of The Dead: Remake- Enemy Glossary
There are plenty of creatures in The House Of The Dead: Remake. Furthermore, some of them flash by the screen so quickly that it's hard to notice them. That's a shame since the roster of enemies in the game is diverse and intriguing.
So, what can you do if you wish to learn about HOTD: Re's many creatures? Defeating a creature for the first time will add them to the Creature Library in the Gallery. However, if you still haven't filled the library yet, we've gathered all of its information so you can further study each monster and discover its weak points.
Bentley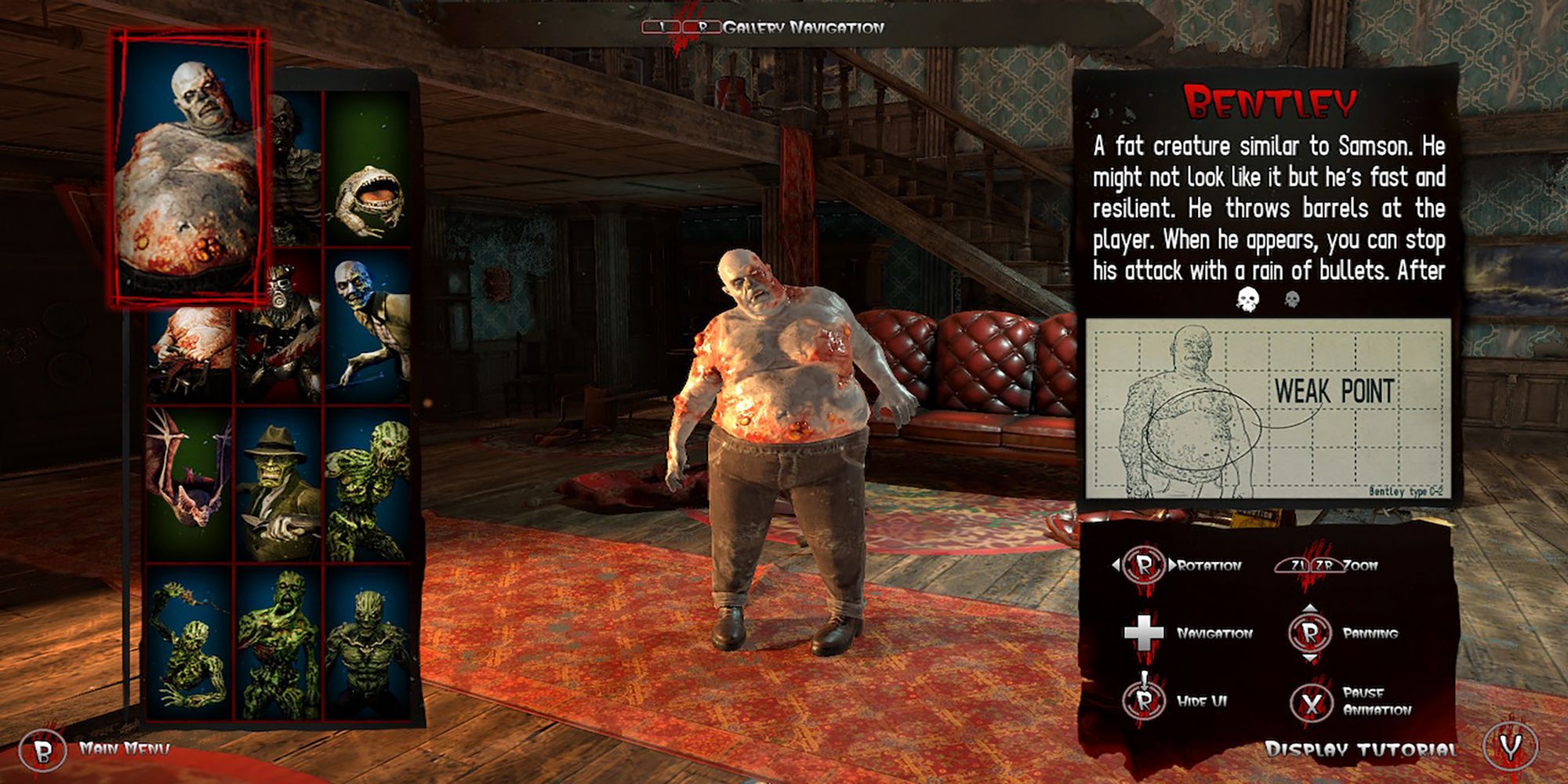 | | |
| --- | --- |
| Creature Library Entry | "A fat creature similar to Samson. He might not look like it but he's fast and resilient. He throws barrels at the player. When he appears, you can stop his attack with a rain of bullets. After throwing the barrel, he rushes toward the player." |
| Weak Points | Stomach |
| Weapon? | Barrel |
| Boss (Yes/No) | No |
Bourbon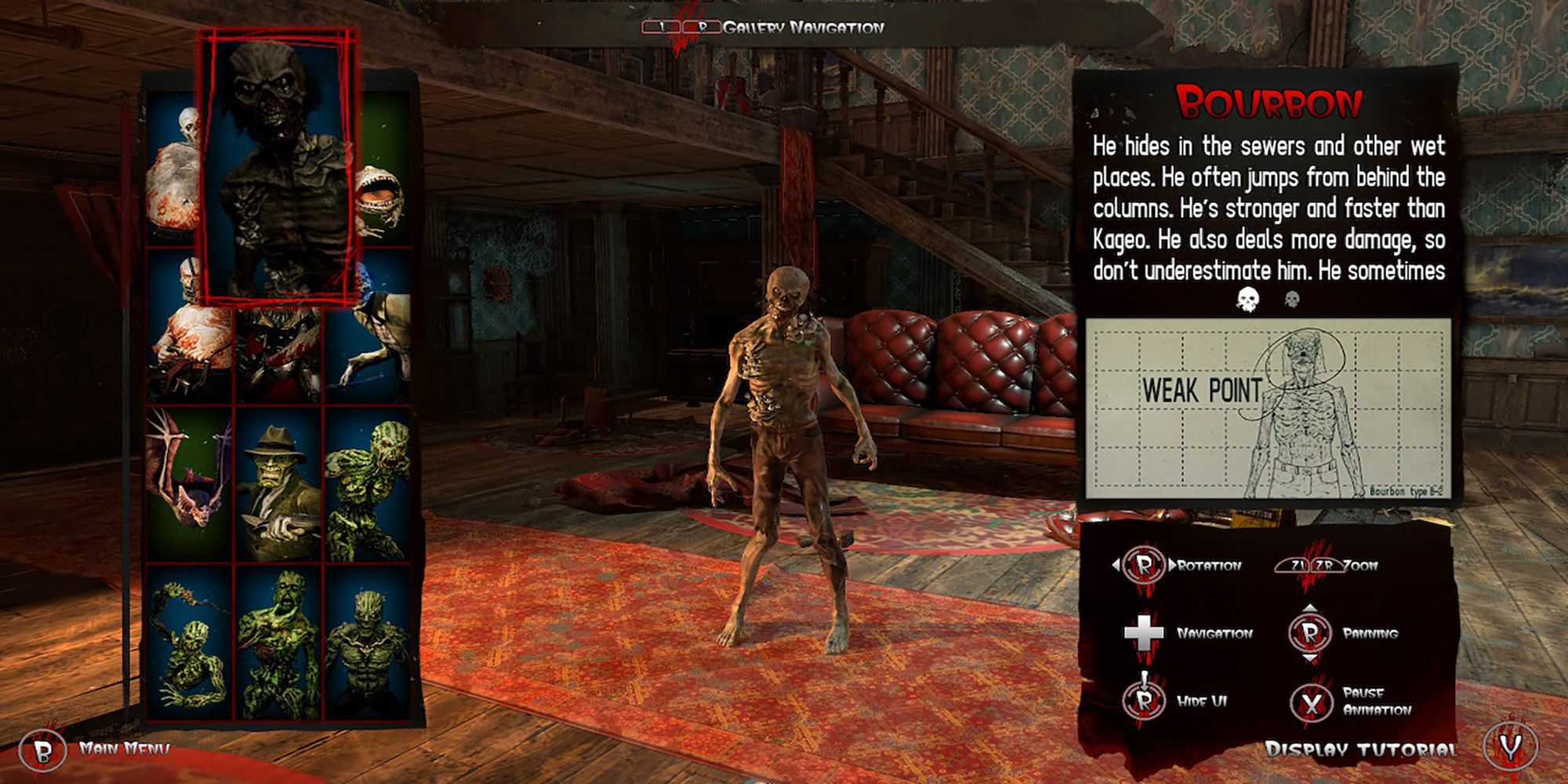 | | |
| --- | --- |
| Creature Library Entry | "He hides in the sewers and other wet places. He often jumps from behind the columns. He's stronger and faster than Kageo. He also deals more damage, so don't underestimate him. He sometimes lurks in the water and unexpectedly jumps out." |
| Weak Points | Head |
| Weapon? | No |
| Boss (Yes/No) | No |
Bueel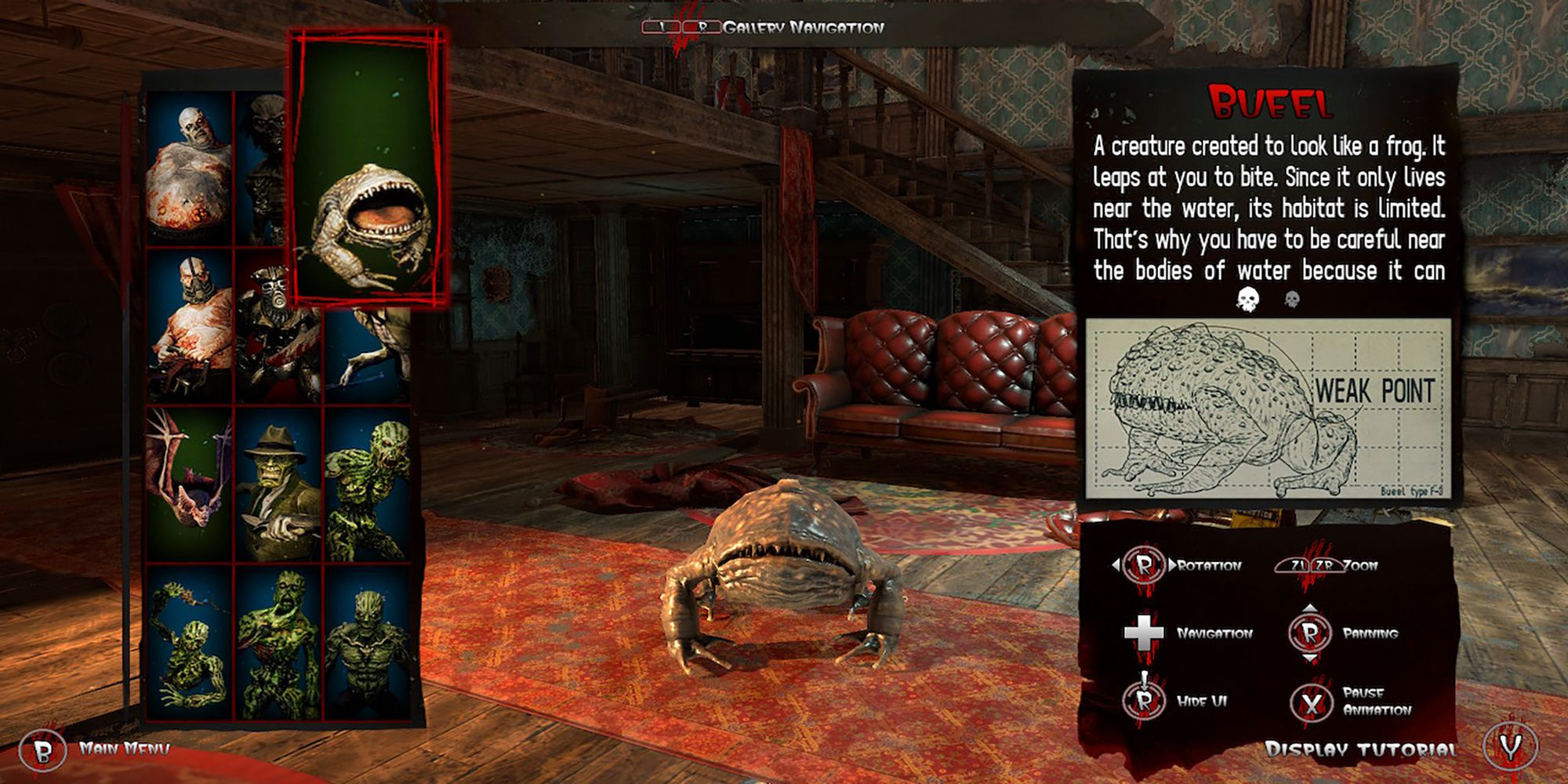 | | |
| --- | --- |
| Creature Library Entry | "A creature created to look like a frog. It leaps at you to bite. Since it only lives near the water, its habitat is limited. That's why you have to be careful near the bodies of water because it can suddenly emerge from the depths." |
| Weak Points | Torso |
| Weapon? | No |
| Boss (Y/N) | No |
Burner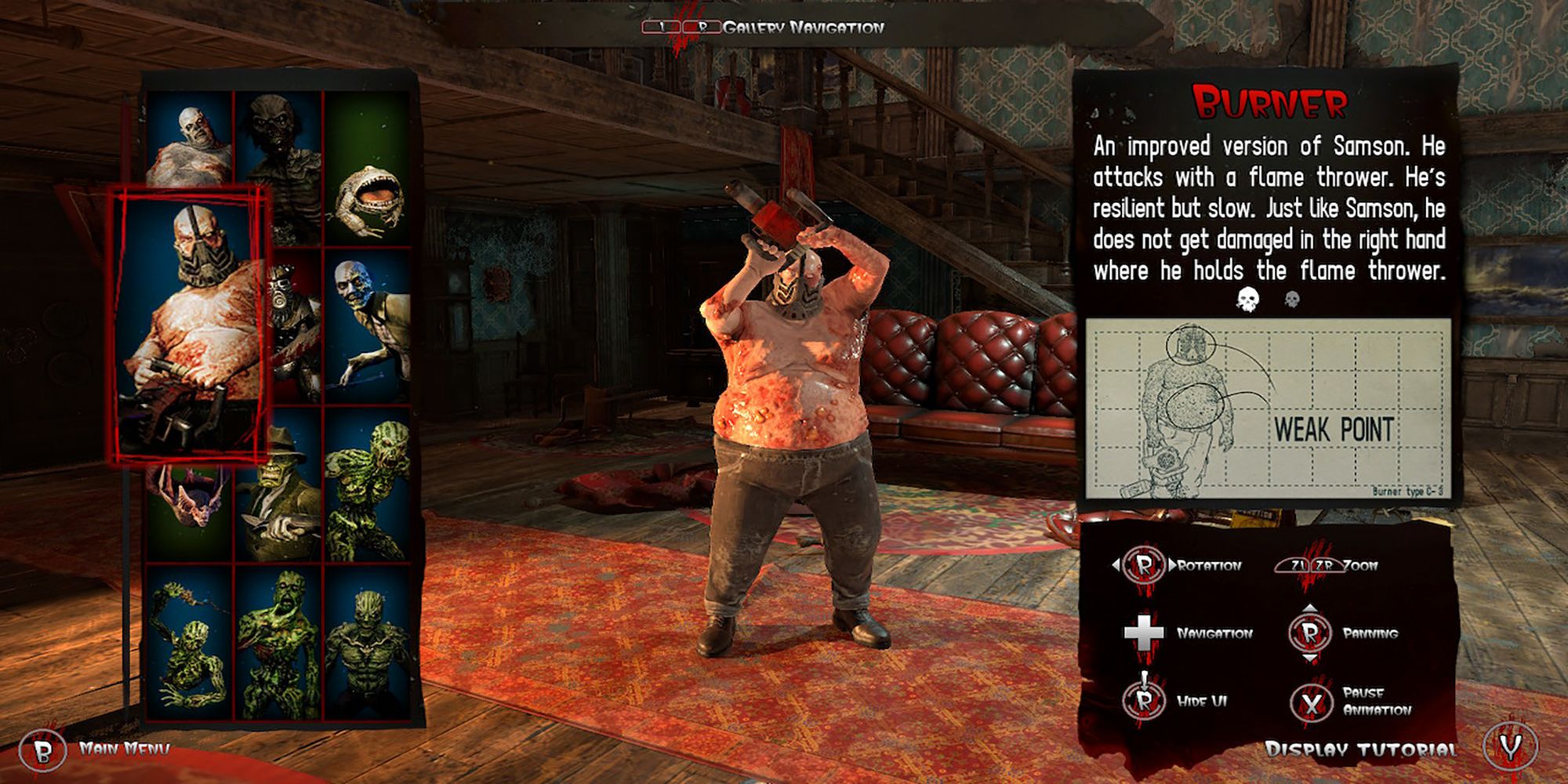 | | |
| --- | --- |
| Creature Library Entry | "An improved version of Samson. He attacks with a flame thrower. He's resilient but slow. Just like Samson, he does not get damaged in the right hand where he holds the flame thrower. Since he's big, he's easy to kill. You need to try aiming for the head." |
| Weak Points | Head, Stomach |
| Weapon? | Flame Thrower |
| Boss (Y/N) | No |
Chariot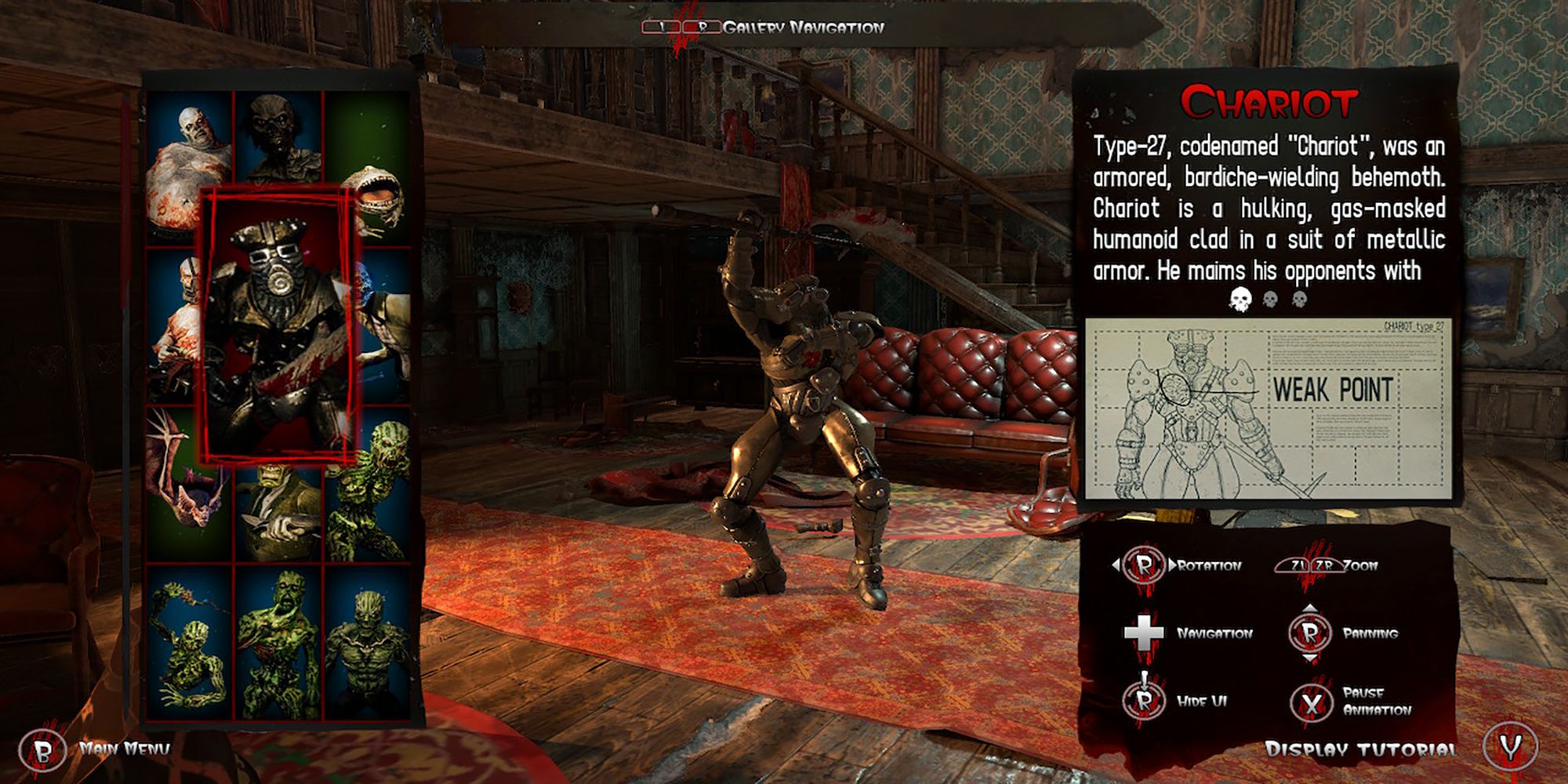 | | |
| --- | --- |
| Creature Library Entry | "Type-27, codenamed "Chariot," was an armored, bardiche-wielding behemoth. Chariot is a hulking, gas-masked humanoid clad in a suit of metallic armor. He maims his opponents with a bloodied brandiche. Chariot's weak point is the exposed right side of his breastplate; with each shot , he vomits green fluids. At low health, Chariot sheds the armor to reveal his true form: a slow-moving, weak, rotting humanoid with pulsating tendrils. Chunks of his flesh may be blasted down to bone, thus killing Chariot." |
| Weak Points | Exposed right side of his breastplate (player's left). It's a noticeably red chunk of flesh. |
| Weapon? | Brandiche |
| Boss (Y/N) | Yes |
Cyril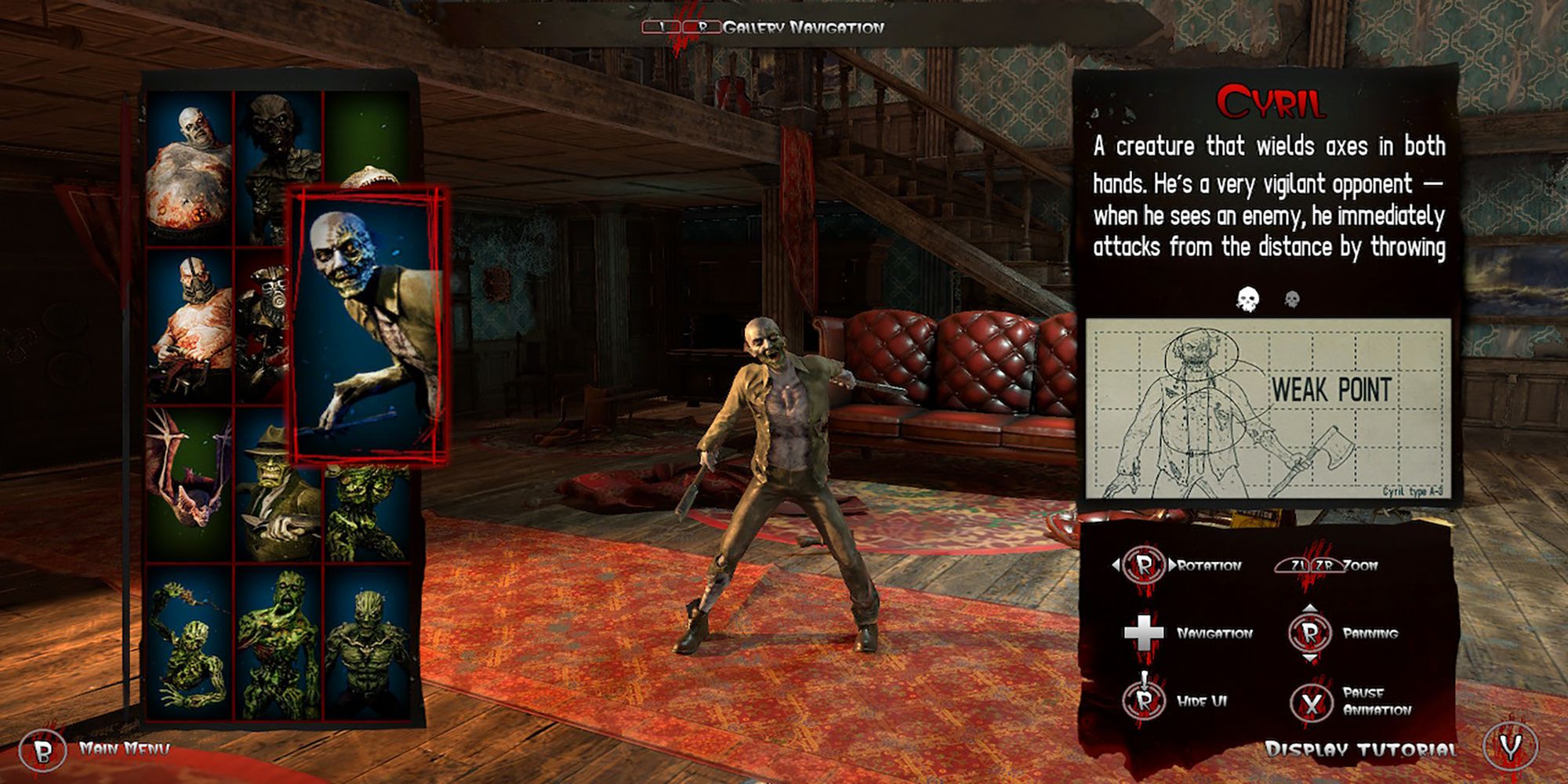 | | |
| --- | --- |
| Creature Library Entry | "A creature that wields axes in both hands. He's a very vigilant opponent- when he sees an enemy, he immediately attacks from the distance by throwing the axes. In close quarters, he swings the axes to hack and slash his enemies. You can shoot down flying axes to avoid getting damage." |
| Weak Points | Head, Torso |
| Weapon? | Two Axes |
| Boss (Y/N) | No |
Devilon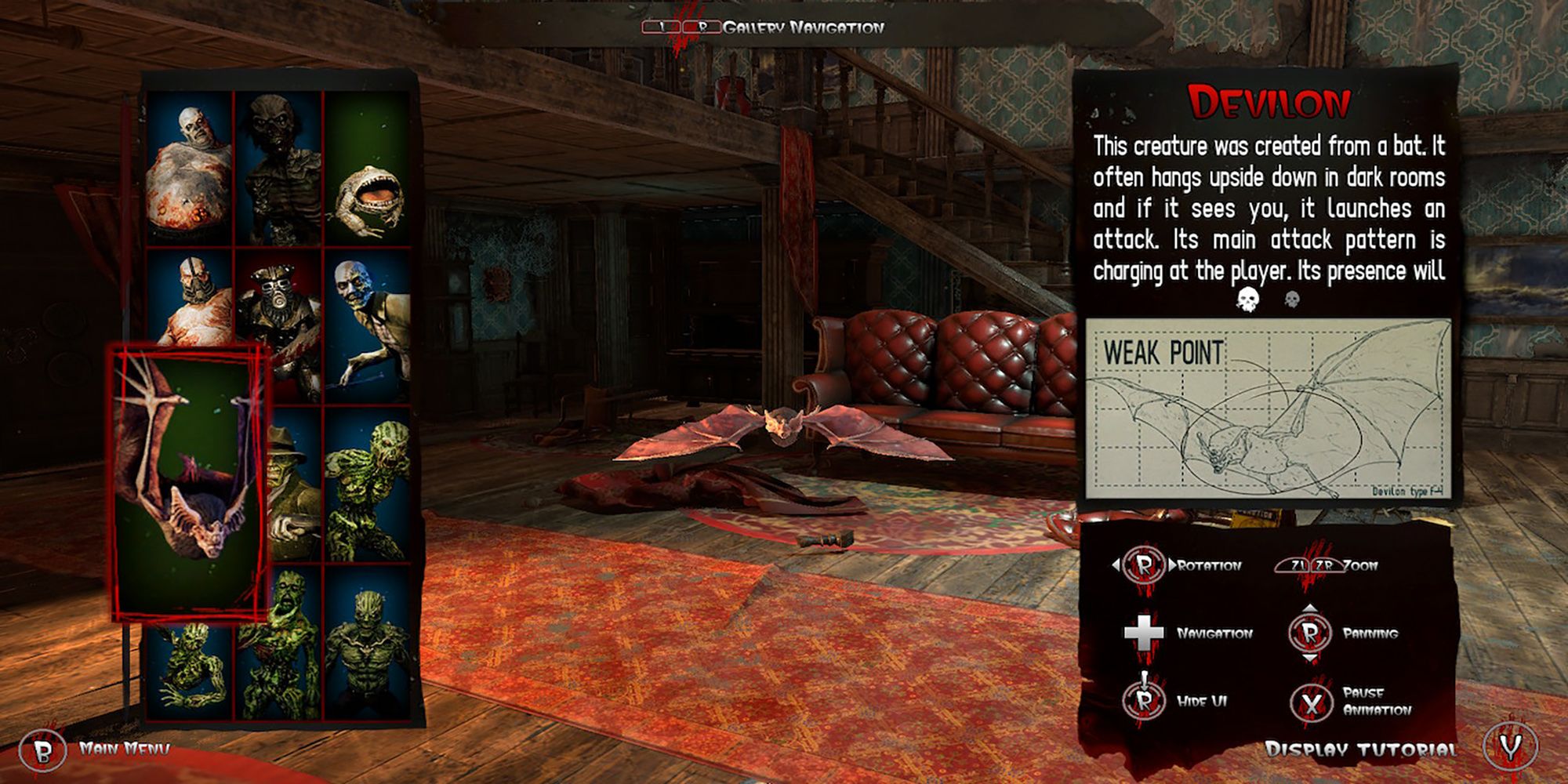 | | |
| --- | --- |
| Creature Library Entry | "This creature was created from a bat. It often hangs upside down in dark rooms and if it sees you, it launches an attack. Its main attack pattern is charging at the player. Its presence will be increased during the fight with the boss in the second stage." |
| Weak Points | Head and Torso (Not wings). |
| Weapon? | No |
| Boss (Y/N) | No |
Drake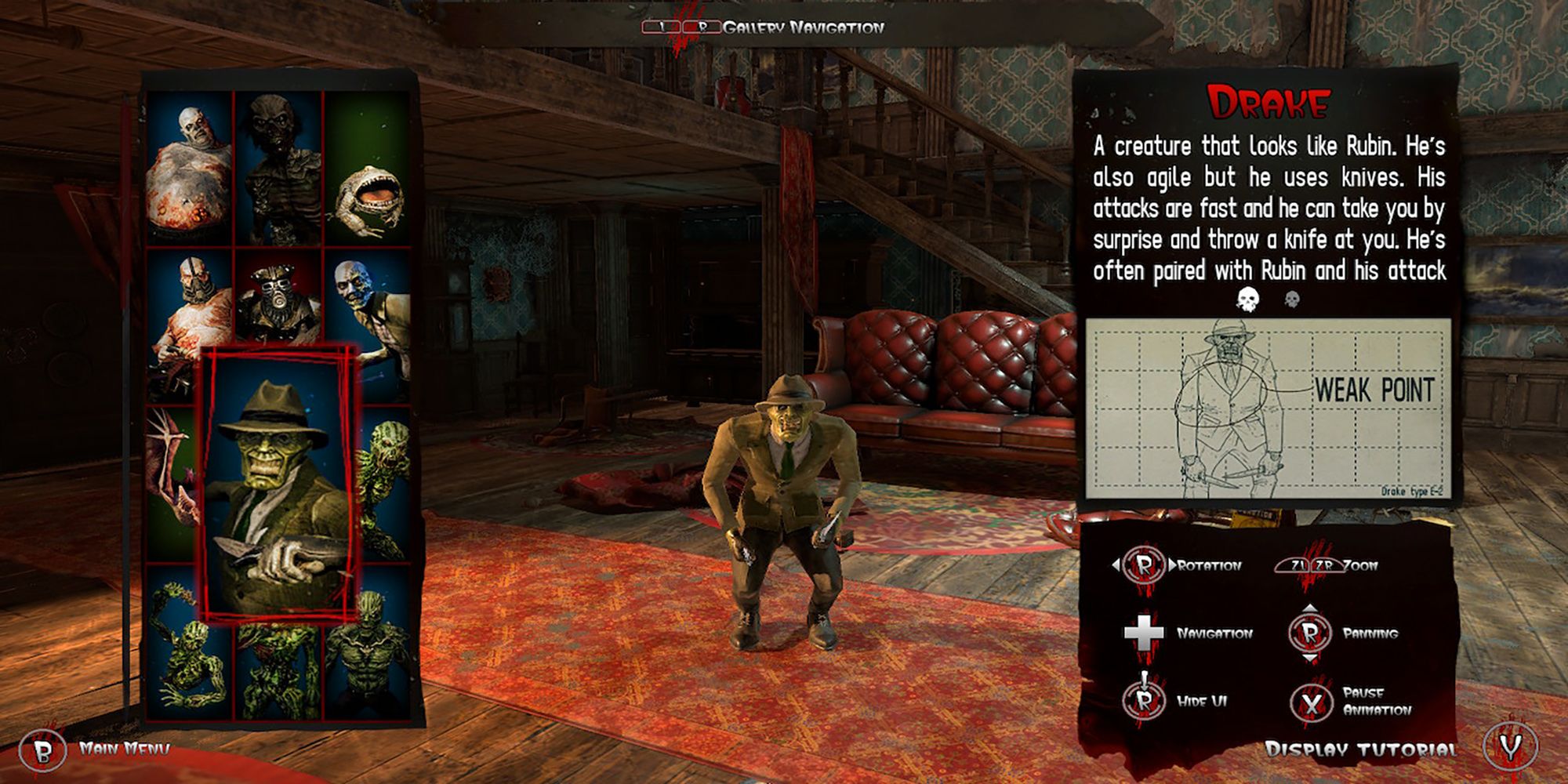 | | |
| --- | --- |
| Creature Library Entry | "A creature that looks like Rubin. He's also agile but he uses knives. His attacks are fast and he can take you by surprise and throw a knife at you. He's often paired with Rubin and his attack pattern is similar. If he loses his knives, he rushes toward the player." |
| Weak Points | Chest |
| Weapon? | Knife |
| Boss (Y/N) | No |
Ebitan A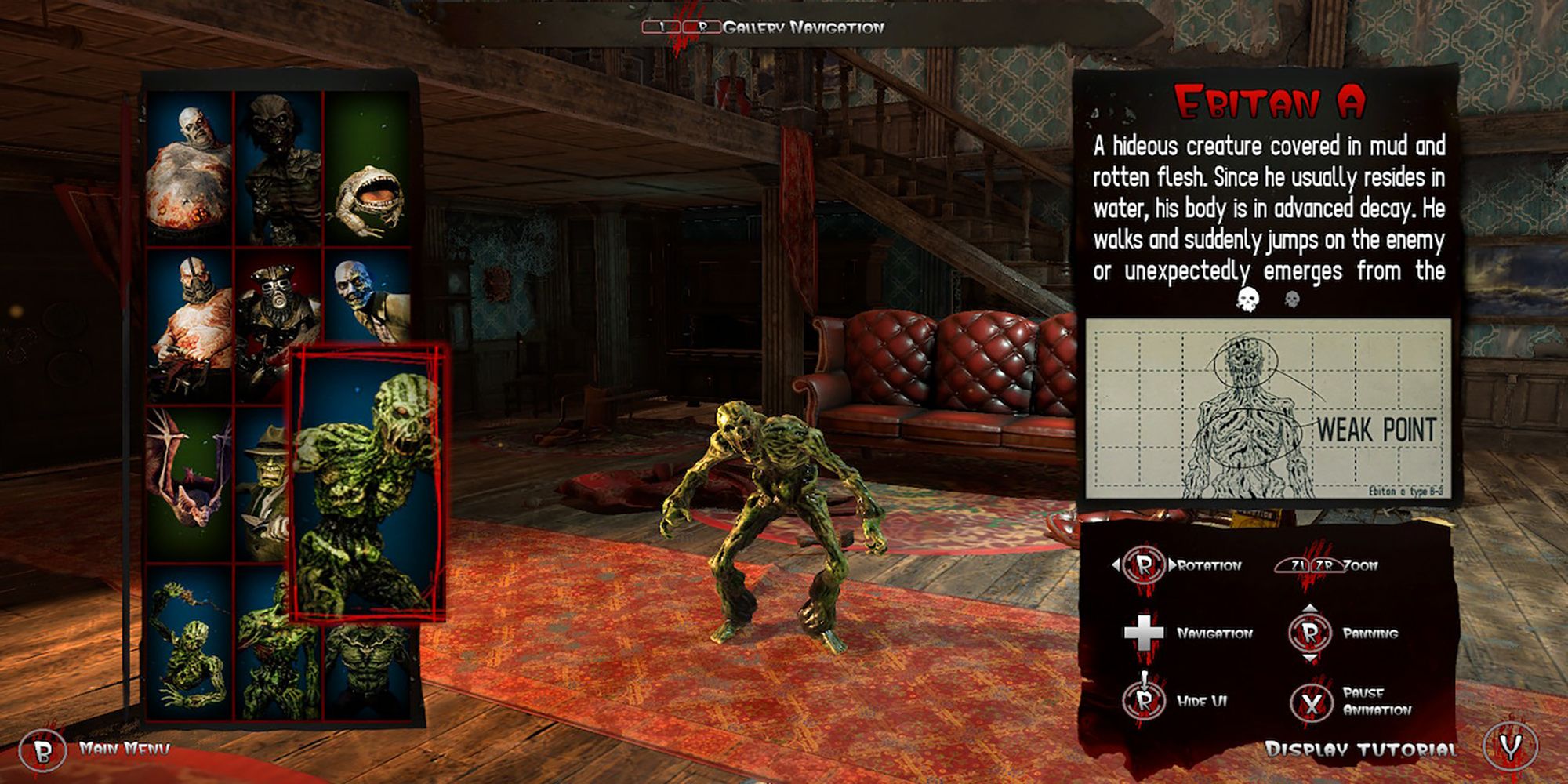 | | |
| --- | --- |
| Creature Library Entry | "A hideous creature covered in mud and rotten flesh. Since he usually resides in water, his body is in advanced decay. He walks and suddenly jumps on the enemy or unexpectedly emerges from the water and attacks victims passing by. Since he's agile, you need to stay vigilant in the places where he can hide. His main attack is bite." |
| Weak Points | Head, Torso |
| Weapon? | No |
| Boss (Y/N) | No |
Ebitan B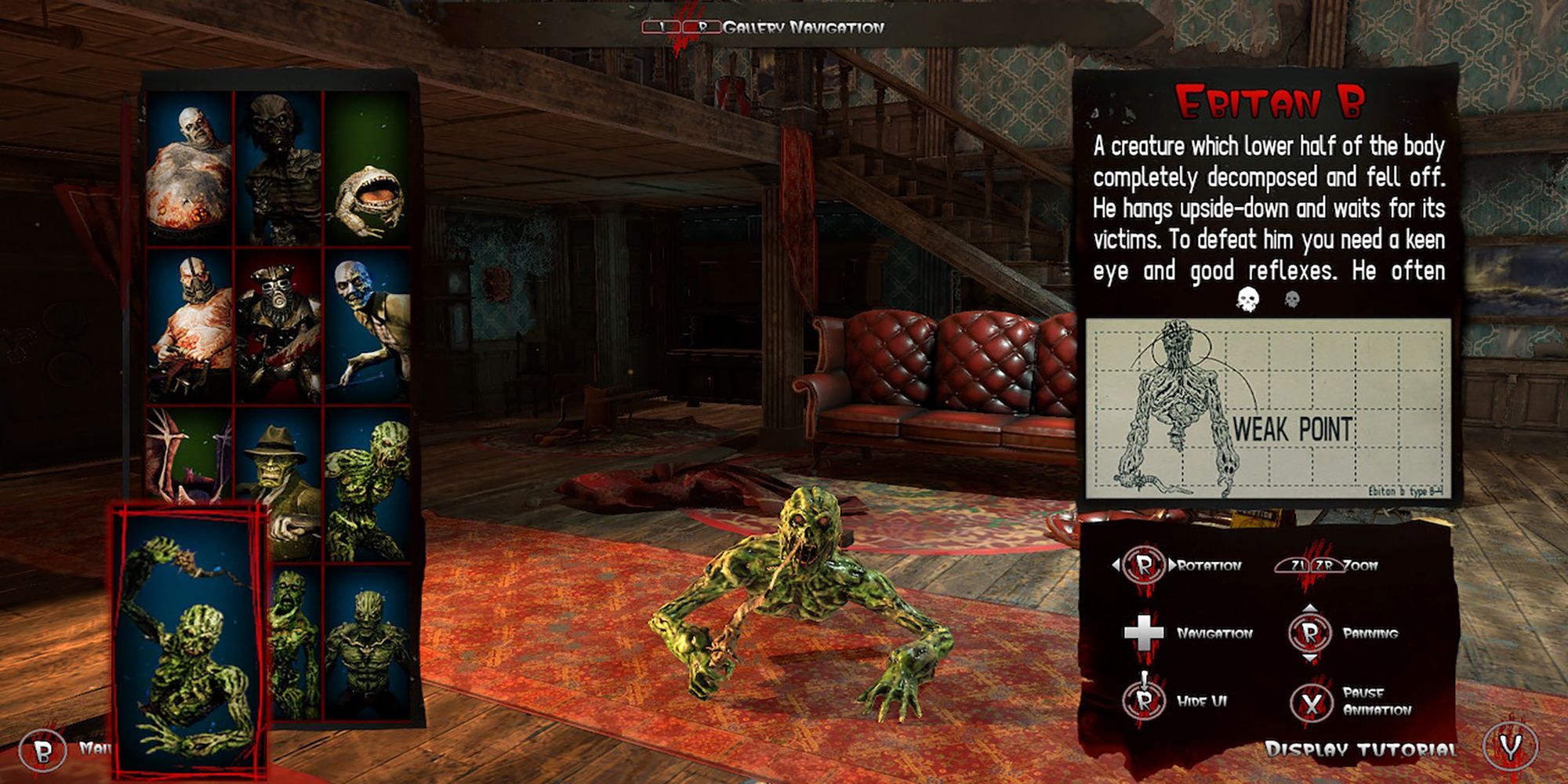 | | |
| --- | --- |
| Creature Library Entry | "A creature which lower half of the body completely decomposed and fell off. He hangs upside-down and waits for [his] victims. To defeat him you need a keen eye and good reflexes. He often appears in narrow passages." |
| Weak Points | Head |
| Weapon? | No |
| Boss (Y/N) | No |
Ebitan C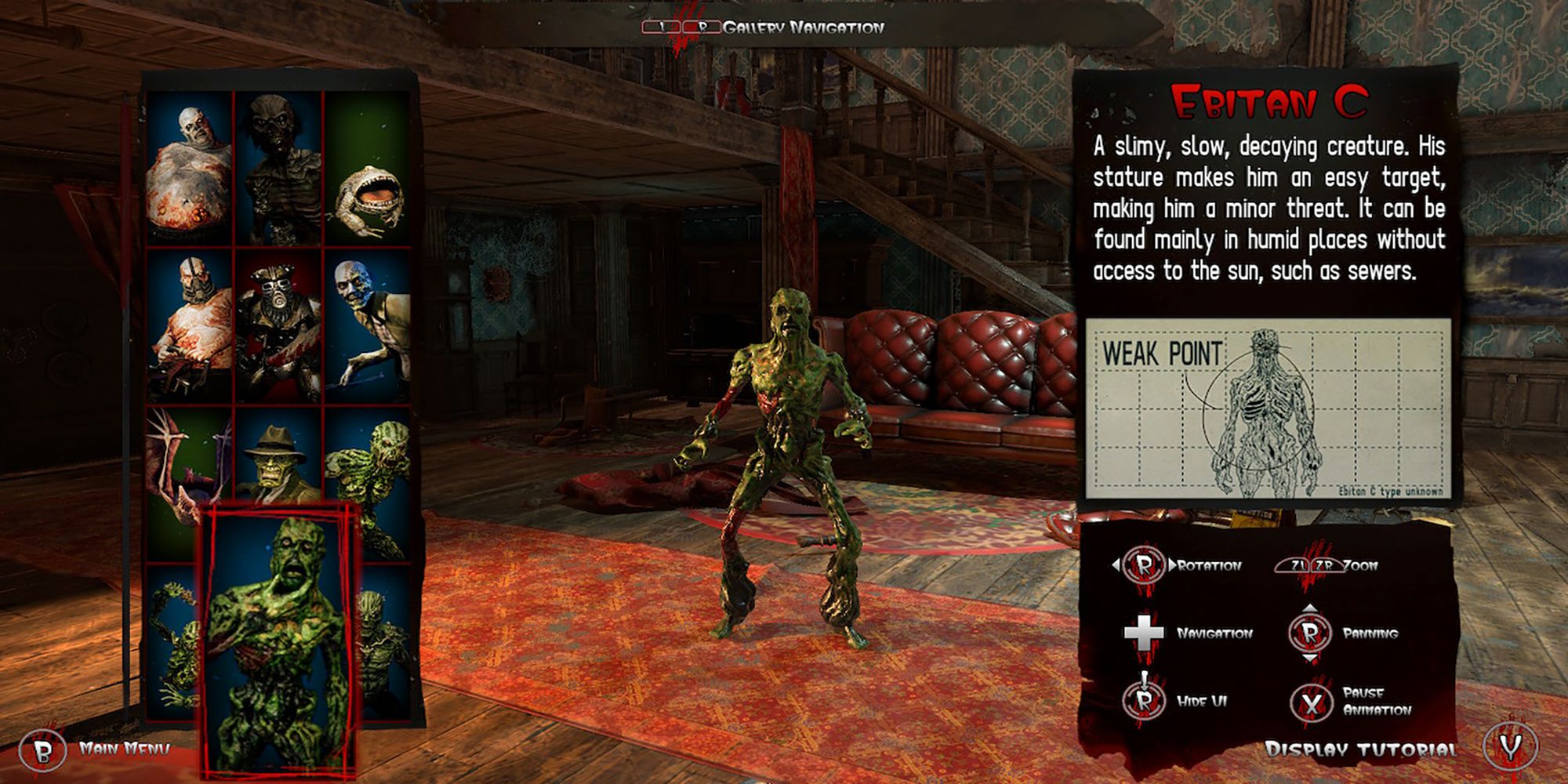 | | |
| --- | --- |
| Creature Library Entry | "A slimy, slow, decaying creature. His stature makes him an easy target, making him a minor threat. [He] can be found mainly in humid places without access to the sun, such as sewers." |
| Weak Points | Whole Body |
| Weapon? | No |
| Boss (Y/N) | No |
Gilmore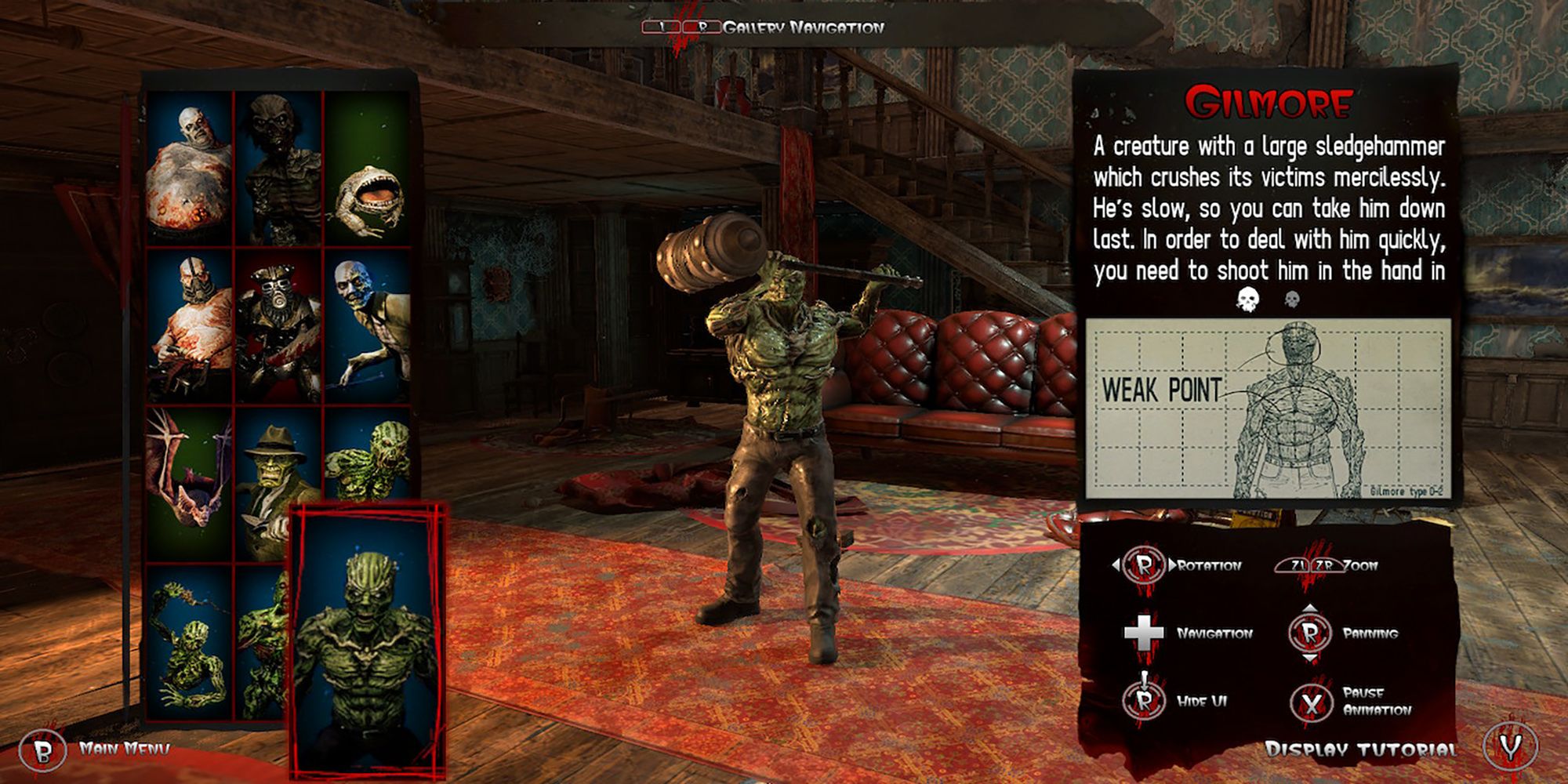 | | |
| --- | --- |
| Creature Library Entry | "A creature with a large sledgehammer which crushes its victims mercilessly. He's slow, so you can take him down last. In order to deal with him quickly, you need to shoot him in the hand [that] holds the hammer or in the head." |
| Weak Points | Head, Torso |
| Weapon? | Giant sledgehammer |
| Boss (Y/N) | No |
Hangedman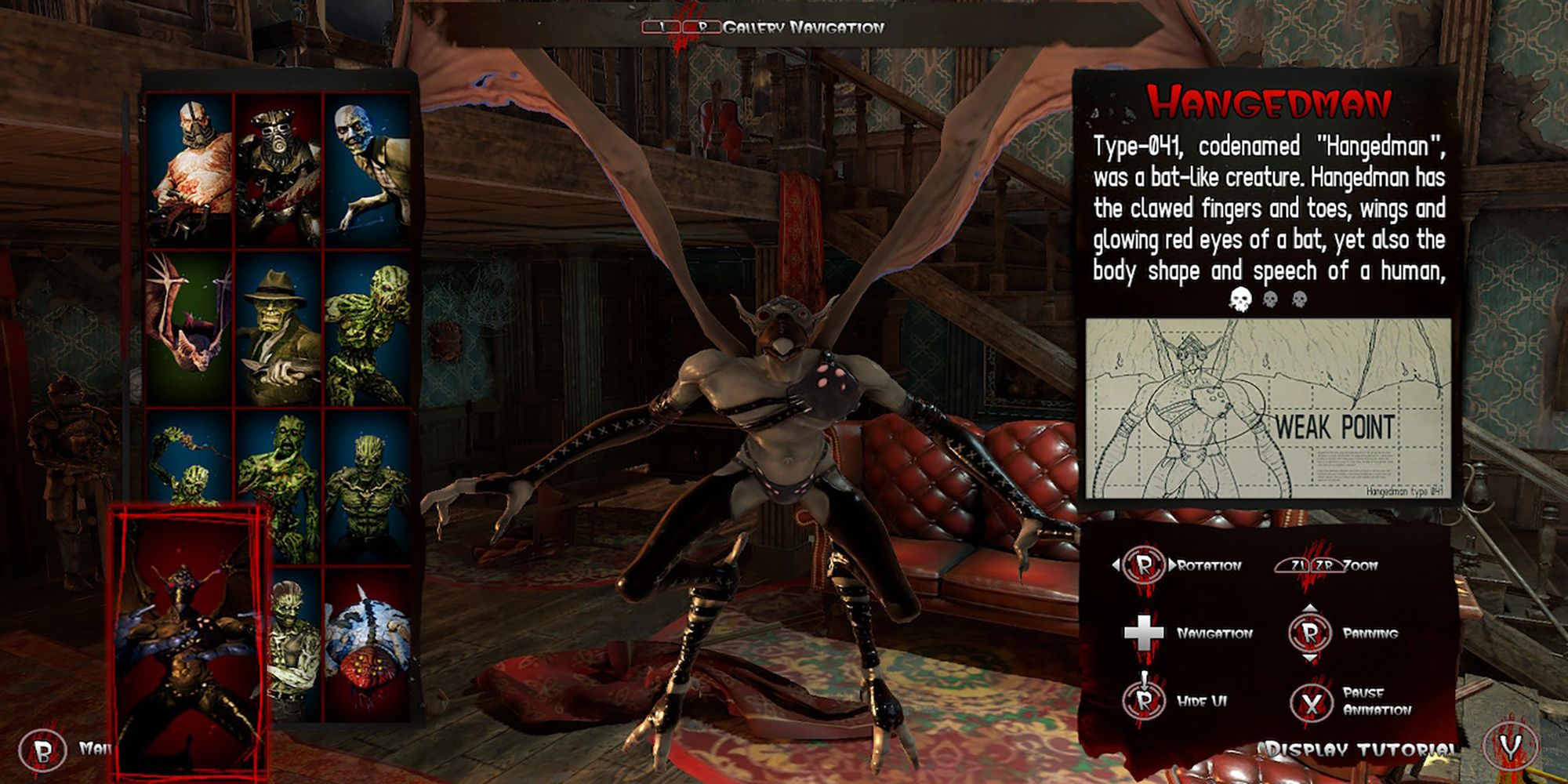 | | |
| --- | --- |
| Creature Library Entry | "Type-041, codenamed "Hangedman," was a bat-like creature. Hangedman has the clawed fingers and toes, wings, and glowing red eyes of a bat, yet also the body shape and speech of a human, while his head in the original game is avian-like. He is wearing pieces of armor over his body. After sending waves of Devilons at his prey, the creature flies about for an opportunity to swoop for a claw attack." |
| Weak Points | Torso |
| Weapon? | No, but summons Devilons to attack on his behalf. |
| Boss (Y/N) | Yes |
Harris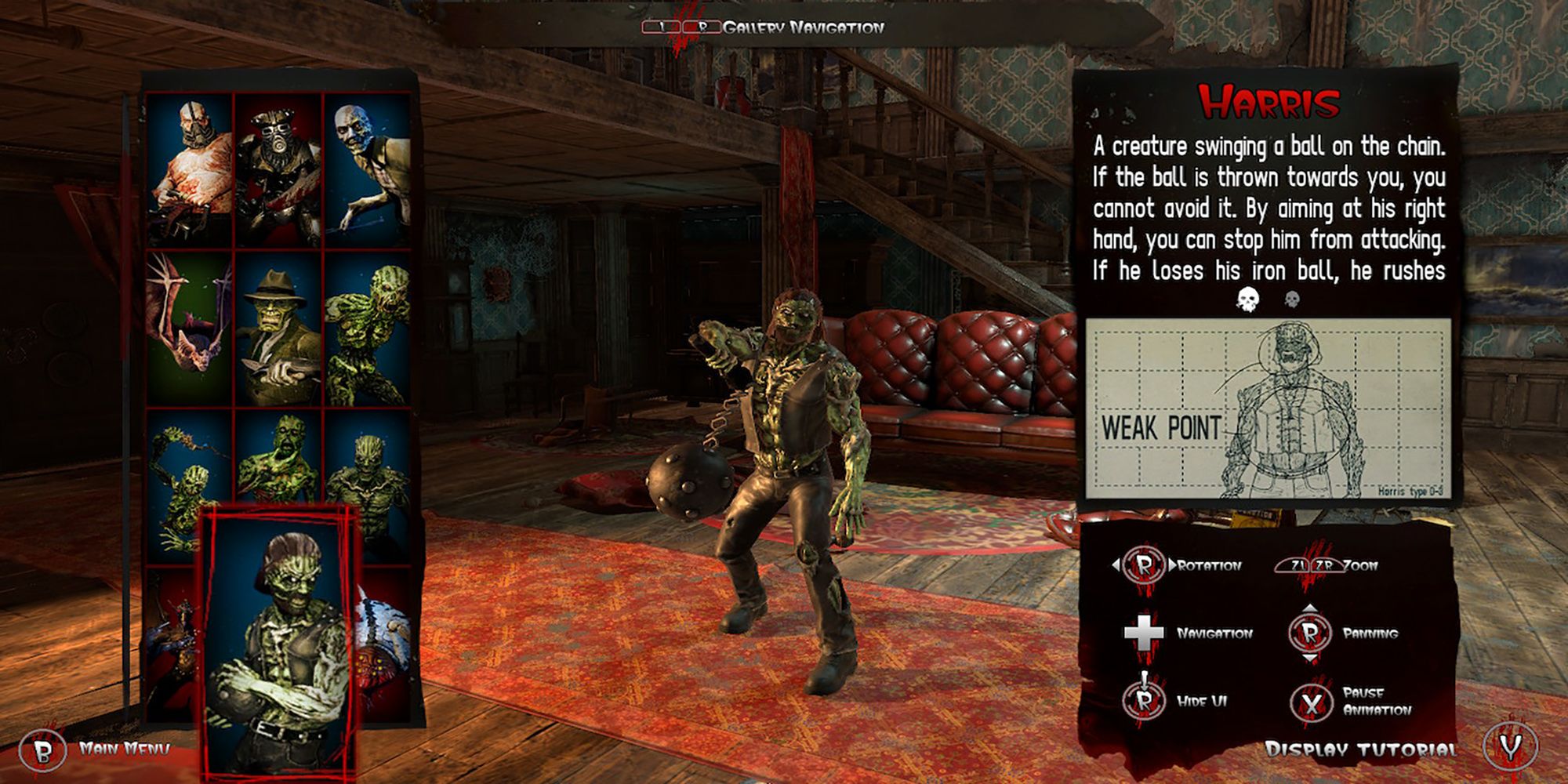 | | |
| --- | --- |
| Creature Library Entry | "A creature swinging a ball on the chain. If the ball is thrown towards you, you cannot avoid it. By aiming at his right hand, you can stop him from attacking. If he loses his iron ball, he rushes towards the player." |
| Weak Points | Head, Torso |
| Weapon? | Iron Ball (Projectile) |
| Boss (Y/N) | No |
Hermit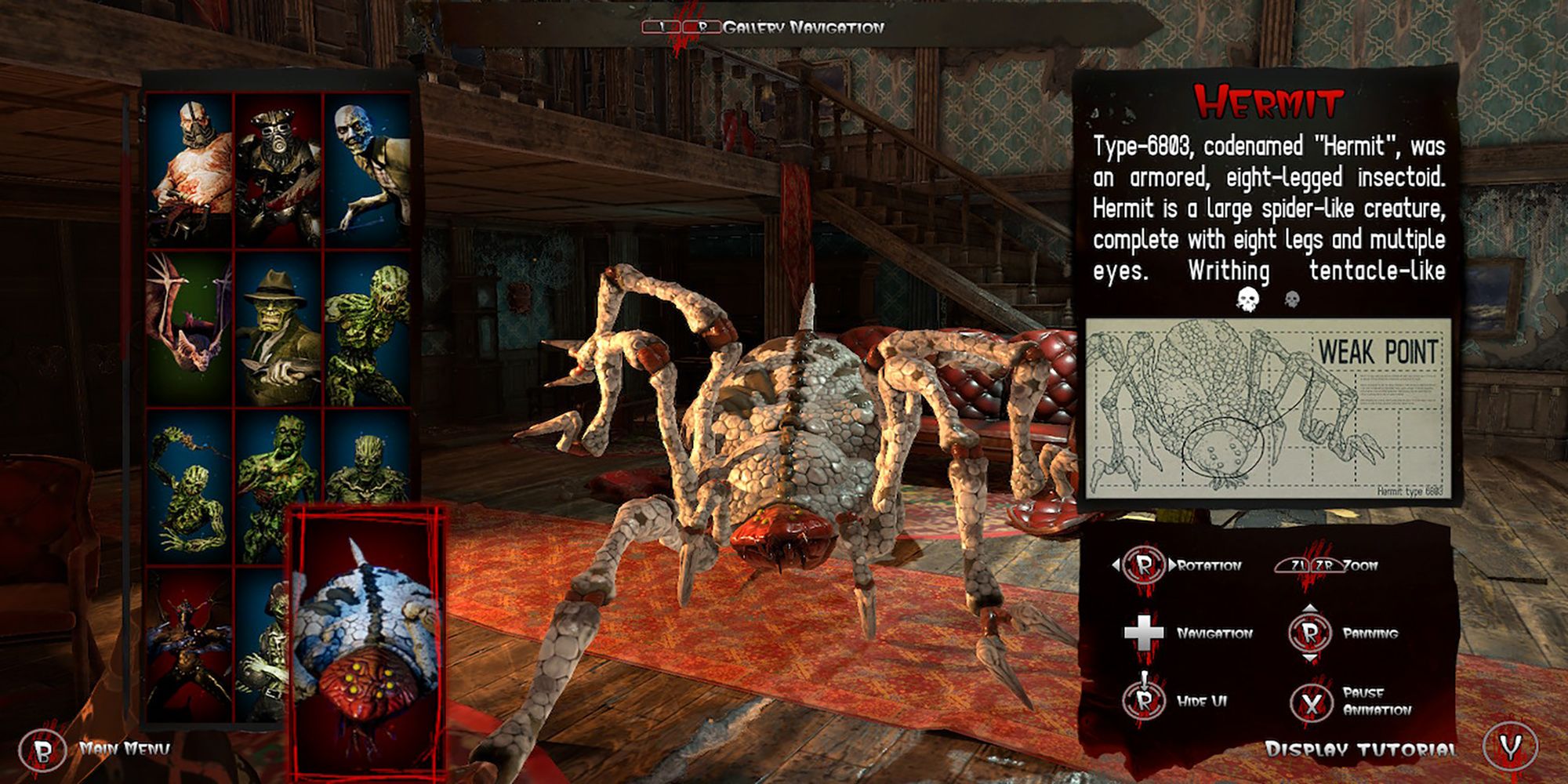 | | |
| --- | --- |
| Creature Library Entry | "Type-6803, codenamed "Hermit," was an armored, eight-legged insectoid. Hermit is a large spider-like creature, complete with eight legs and multiple eyes. Writing tentacle-like attachments protrude from its mouth. Its head is its weak point." |
| Weak Points | Head |
| Weapon? | Web Balls |
| Boss (Y/N) | Yes |
Ivan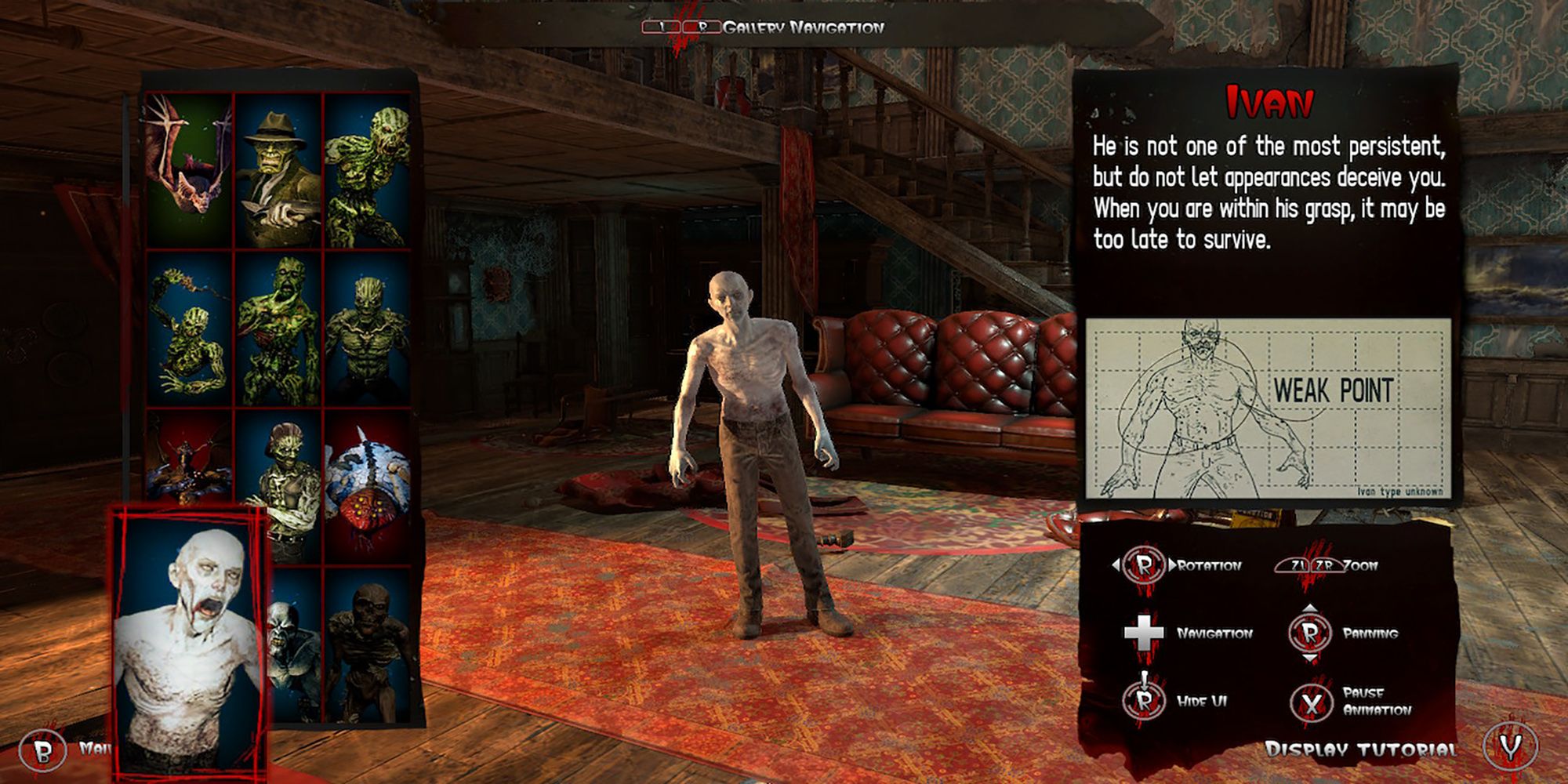 | | |
| --- | --- |
| Creature Library Entry | "He is not one of the most persistent, but do not let appearances deceive you. When you are within his grasp, it may be too late to survive." |
| Weak Points | Torso |
| Weapon? | No |
| Boss (Y/N) | No |
Hanzou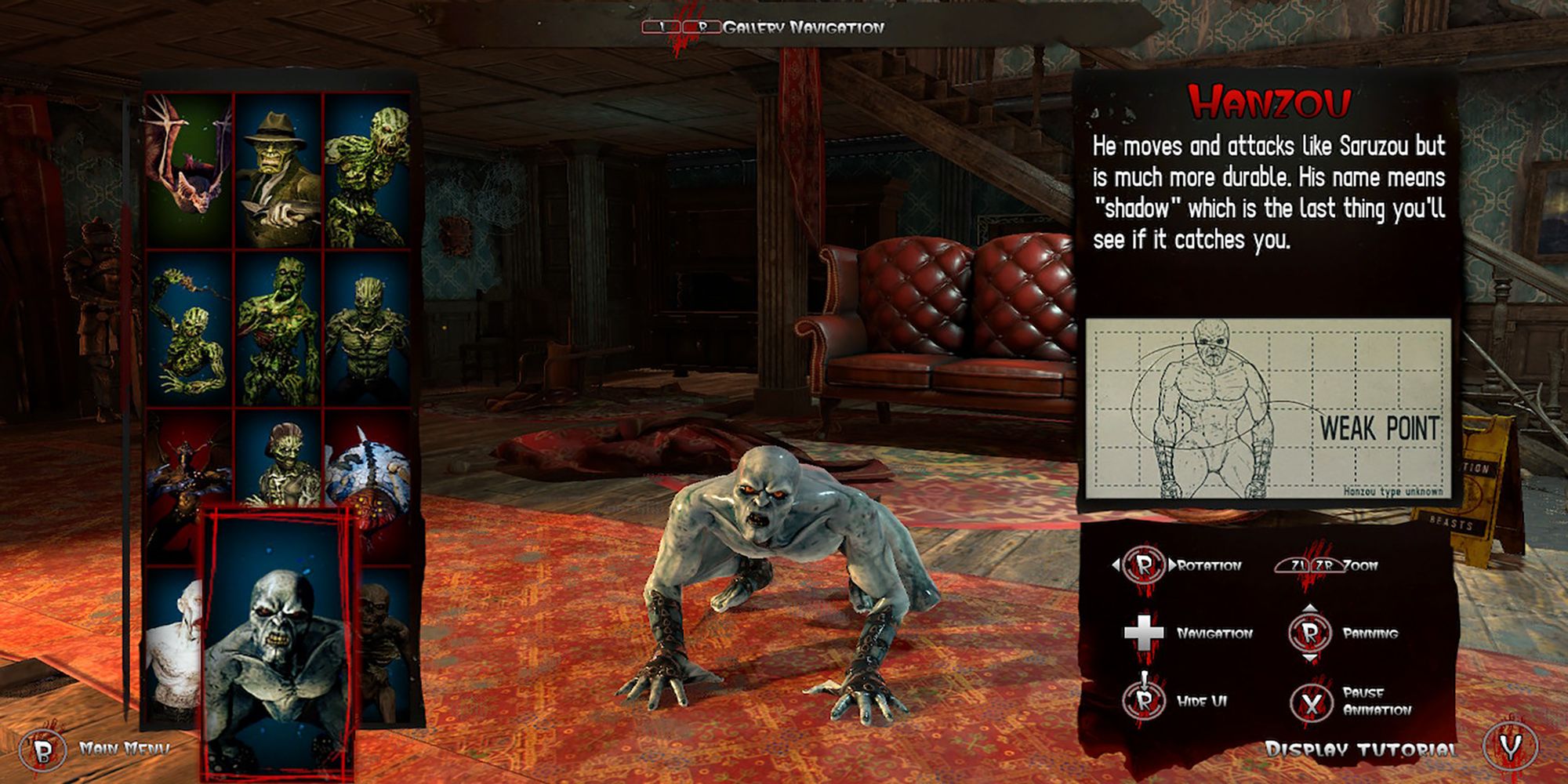 | | |
| --- | --- |
| Creature Library Entry | "He moves and attacks like Saruzou but is much more durable. His name means "shadow" which is the last thing you'll see if [he] catches you." |
| Weak Points | Arms, Torso |
| Weapon? | No |
| Boss (Y/N) | No |
Kageo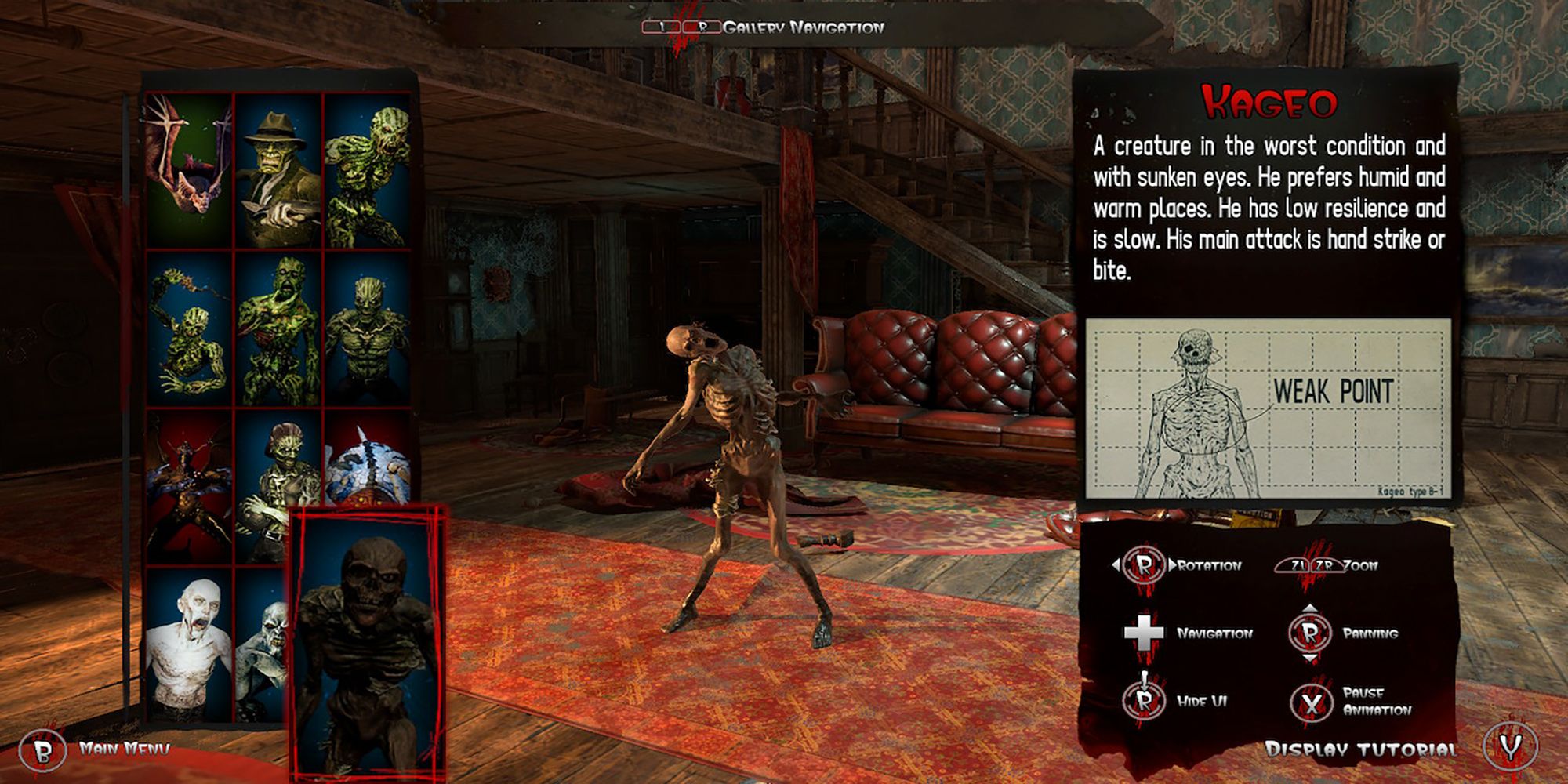 | | |
| --- | --- |
| Creature Library Entry | "A creature in the worst condition with sunken eyes. He prefers humid and warm places. He has low resilience and is slow. His main attack is hand strike or bite." |
| Weak Points | Torso |
| Weapon? | No |
| Boss (Y/N) | No |
Kenfis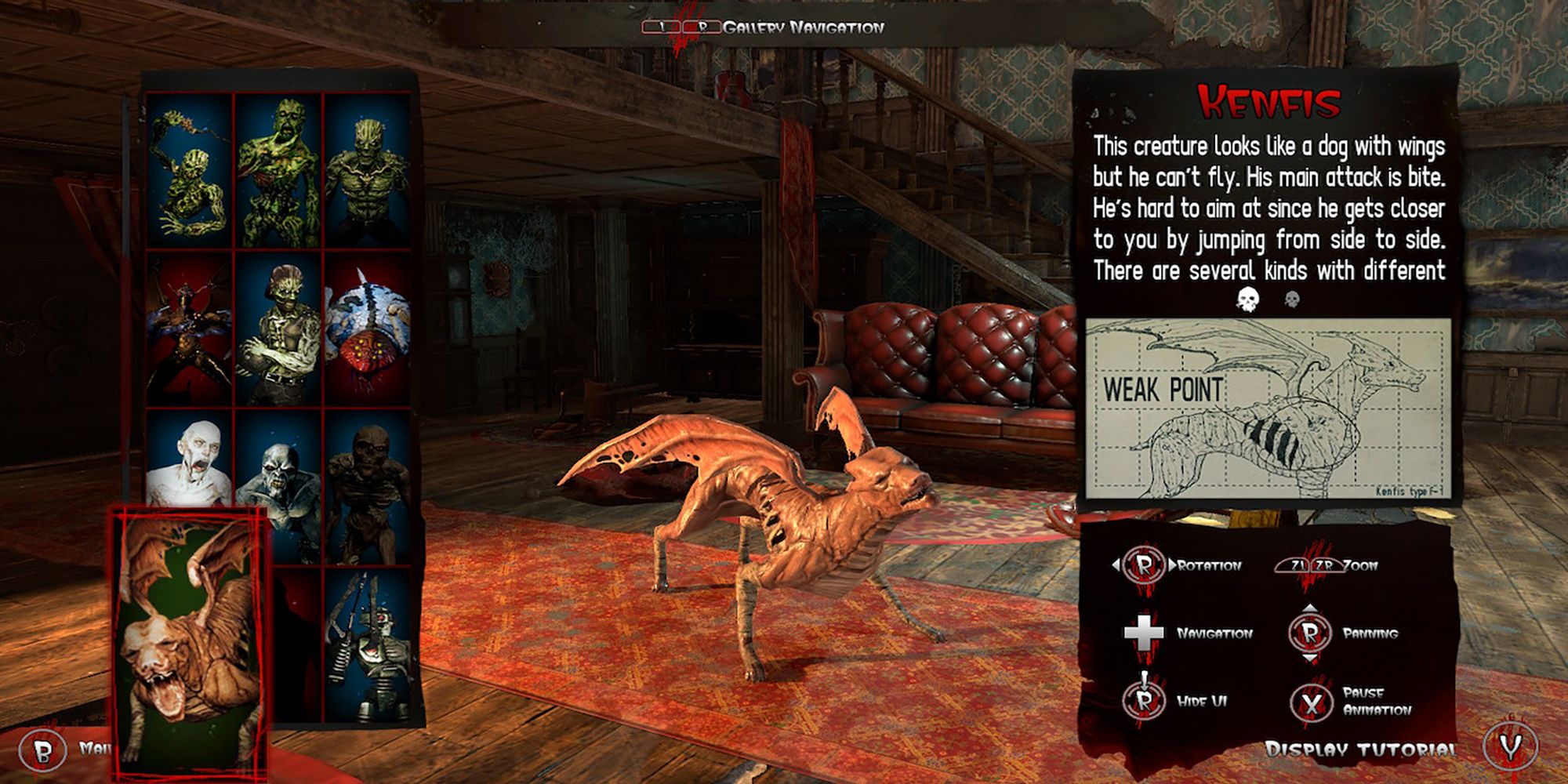 | | |
| --- | --- |
| Creature Library Entry | "This creature looks like a dog with wings but he can't fly. His main attack is bite. He's hard to aim at since he gets closer to you by jumping from side to side. There are several kinds with different body color and resiliency." |
| Weak Points | Chest |
| Weapon? | No |
| Boss (Y/N) | No |
Magician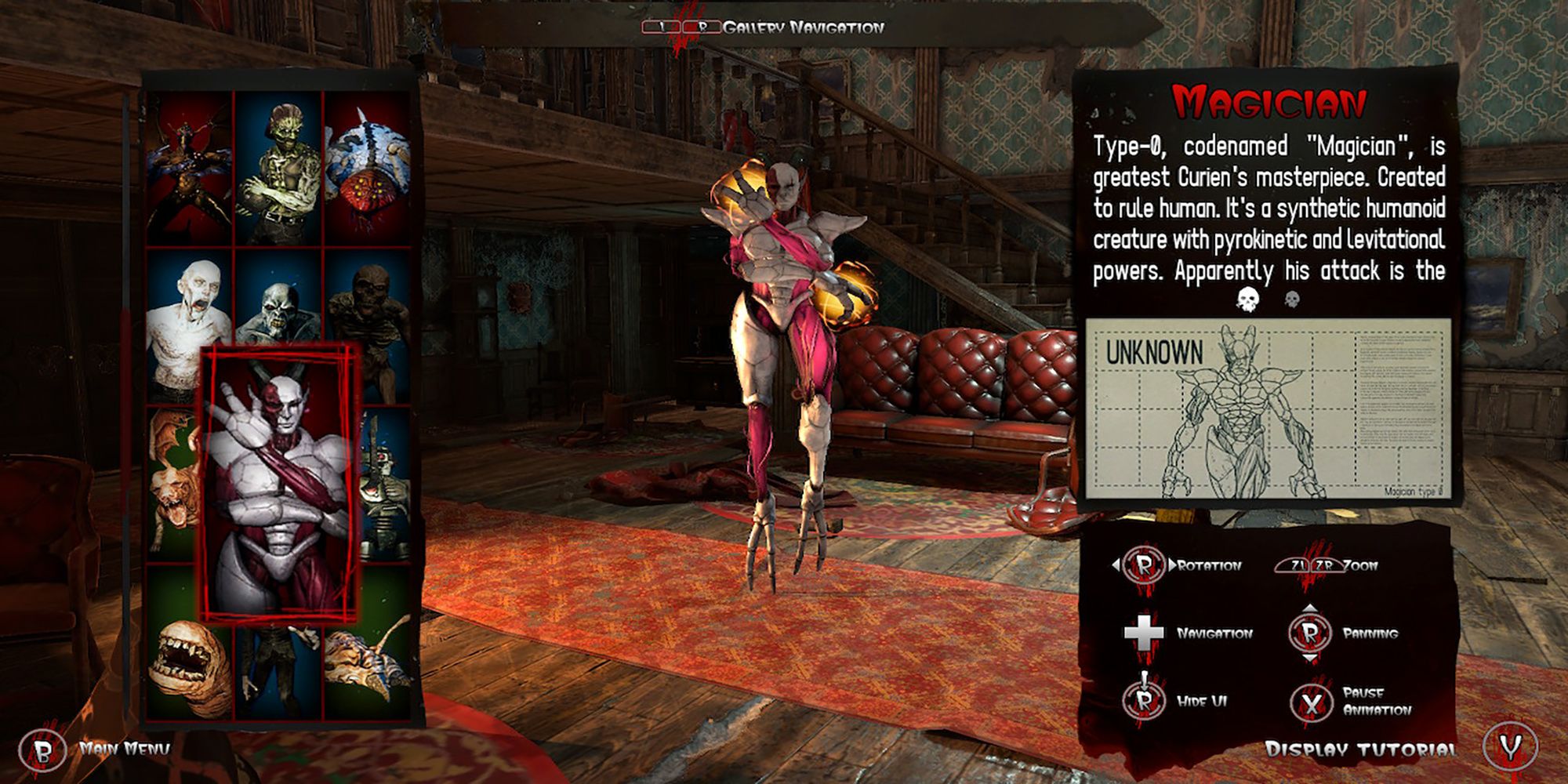 | | |
| --- | --- |
| Creature Library Entry | "Type-0, codenamed "Magician," is [Curien's greatest] masterpiece. Created to rule human. It's a synthetic humanoid creature with pyrotechnic and levitational powers. Apparently [its] attack is the most beautiful. It is [a] powerful creature even though it is still under development." |
| Weak Points | Unknown (Possibly left thigh to left knee) |
| Weapon? | Flaming projectiles |
| Boss (Y/N) | Yes |
Moody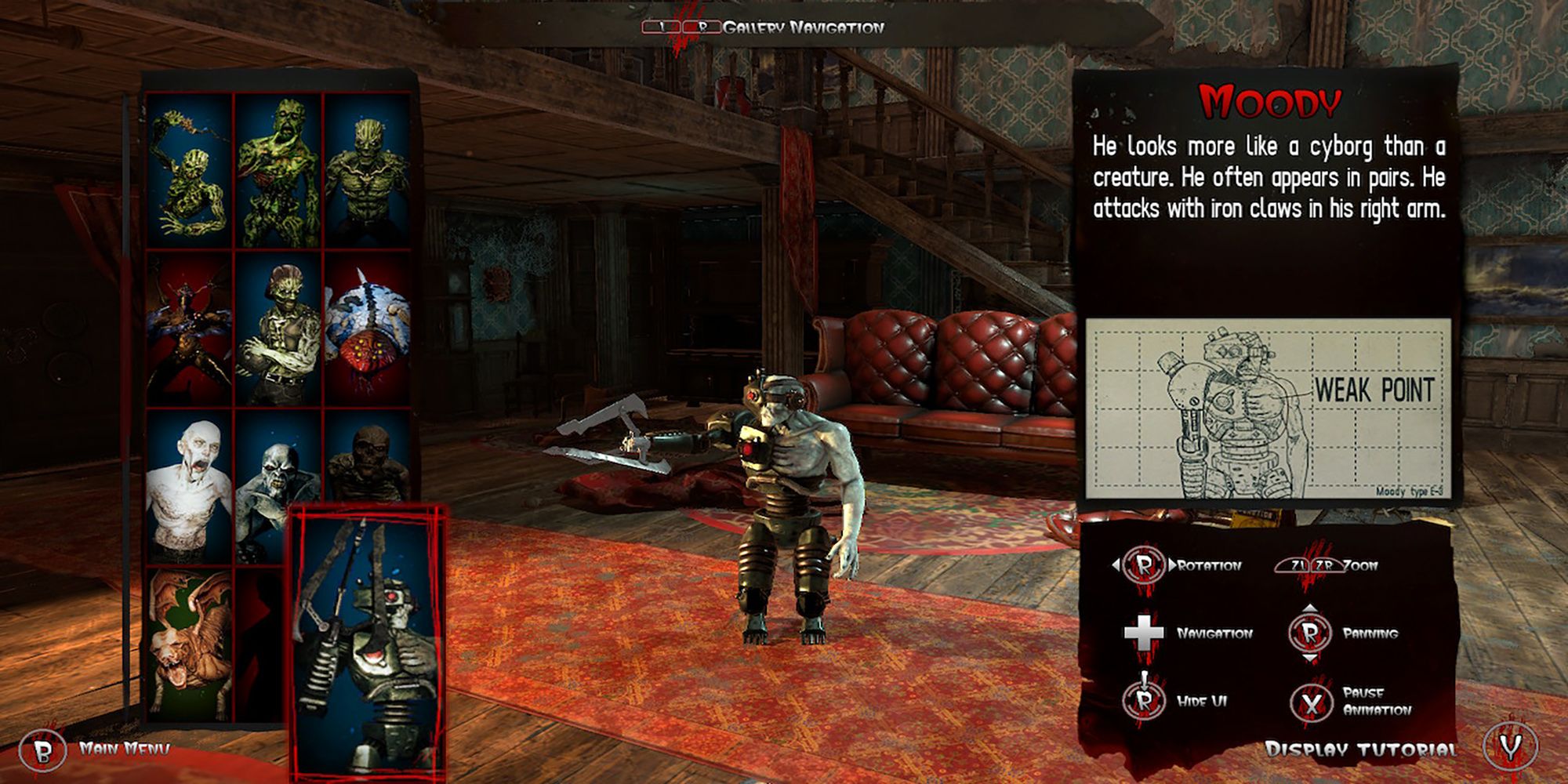 | | |
| --- | --- |
| Creature Library Entry | "He looks more like a cyborg than a creature. He often appears in pairs. He attacks with iron claws in his right arm." |
| Weak Points | Torso |
| Weapon? | Claw (Projectile) |
| Boss (Y/N) | No |
Murrer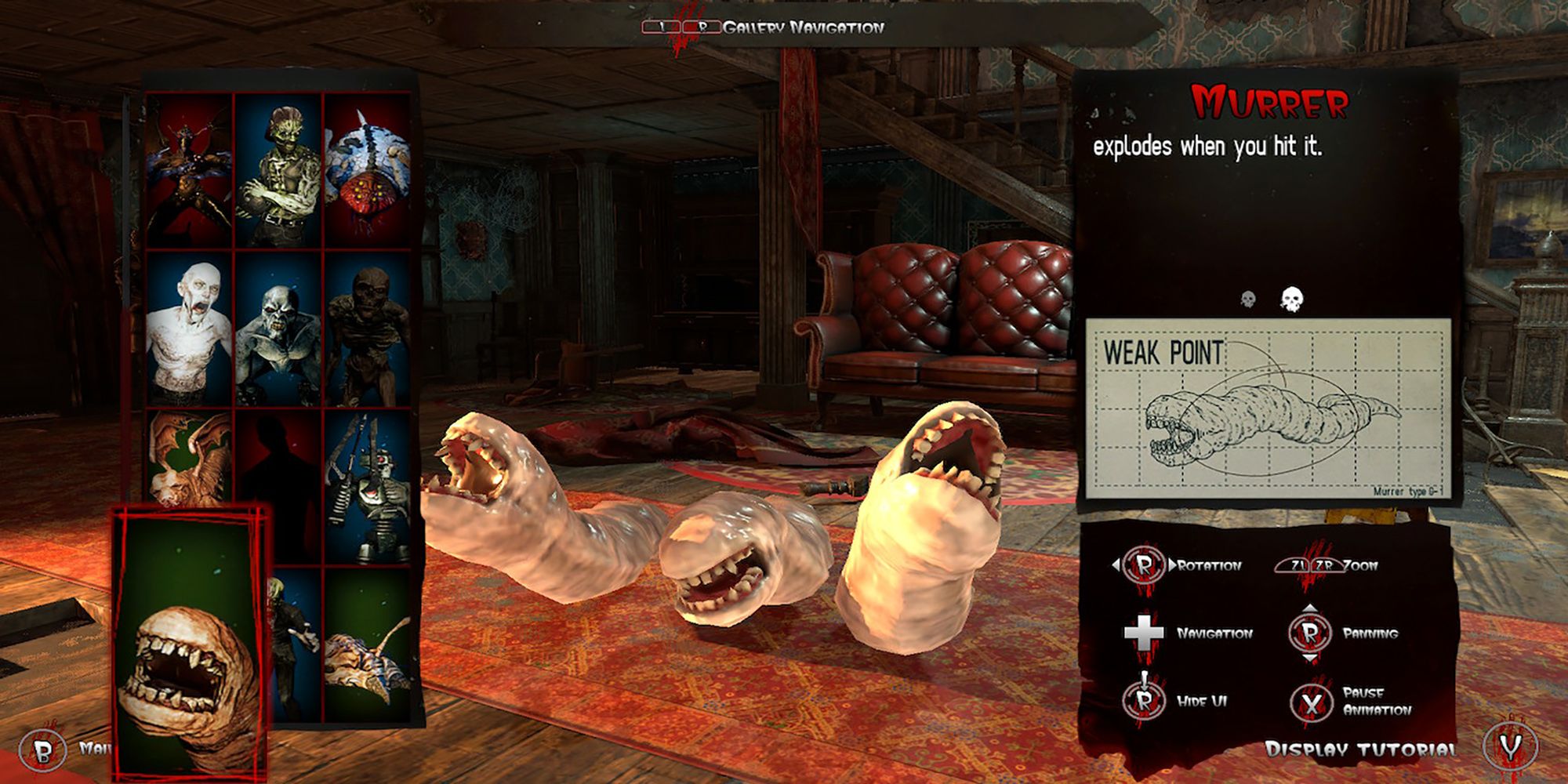 | | |
| --- | --- |
| Creature Library Entry | "A snake-like creature. It squirms on the ground and lunges at the player. It rarely appears individually. It usually appears in groups of 2-5. Its head explodes when you hit it." |
| Weak Points | Whole Body |
| Weapon? | No |
| Boss (Y/N) | No |
Nail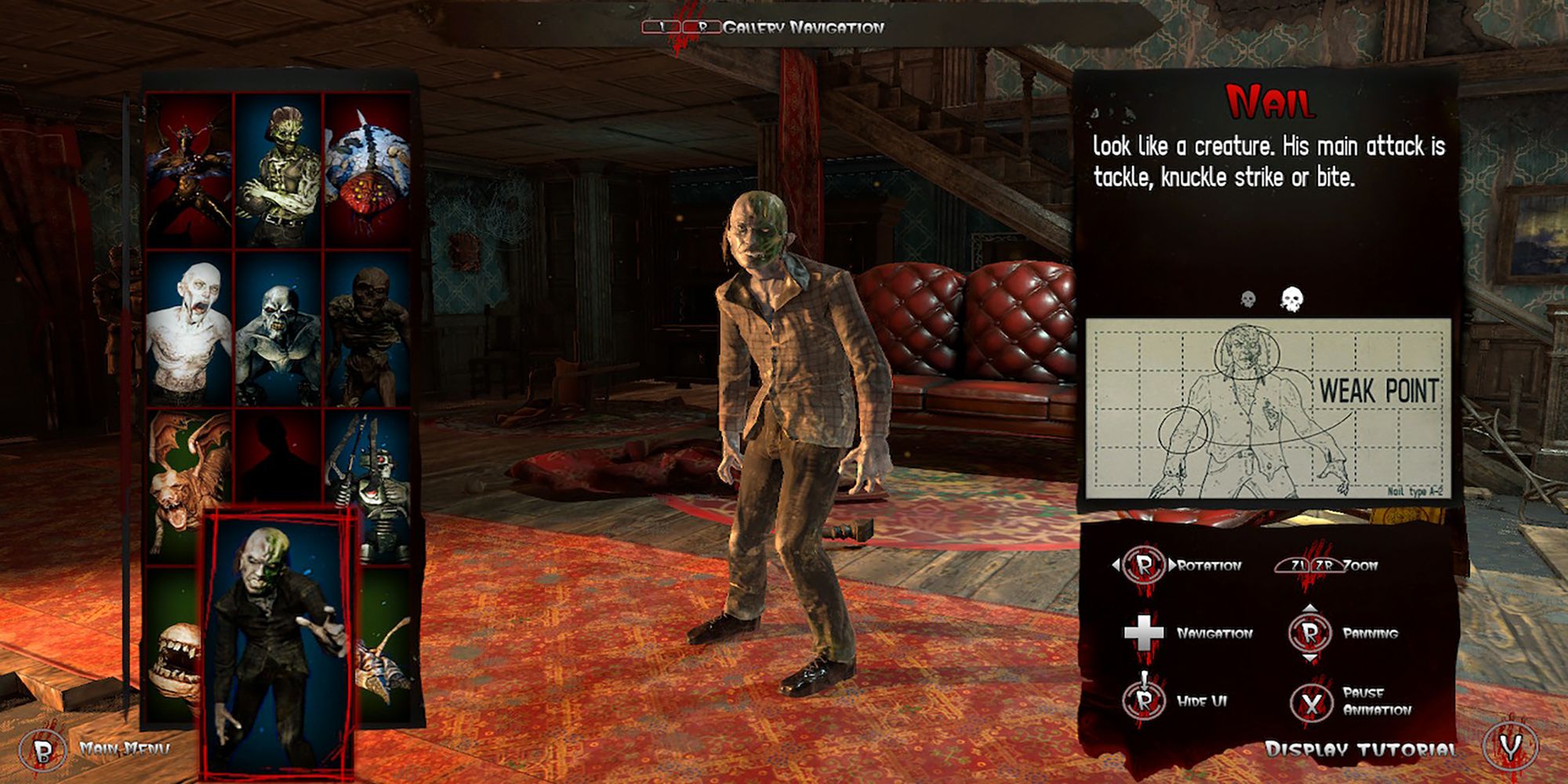 | | |
| --- | --- |
| Creature Library Entry | "He's better dressed up than Sam. He's Sam's improved version, so his attacks are stronger and more effective. He often emerges from the shadows. [His] scarred face and ruffled hair make him look like a creature. His main attack is tackle, knuckle strike or bite." |
| Weak Points | Head, Right Elbow (player's left). |
| Weapon? | No |
| Boss (Y/N) | No |
Name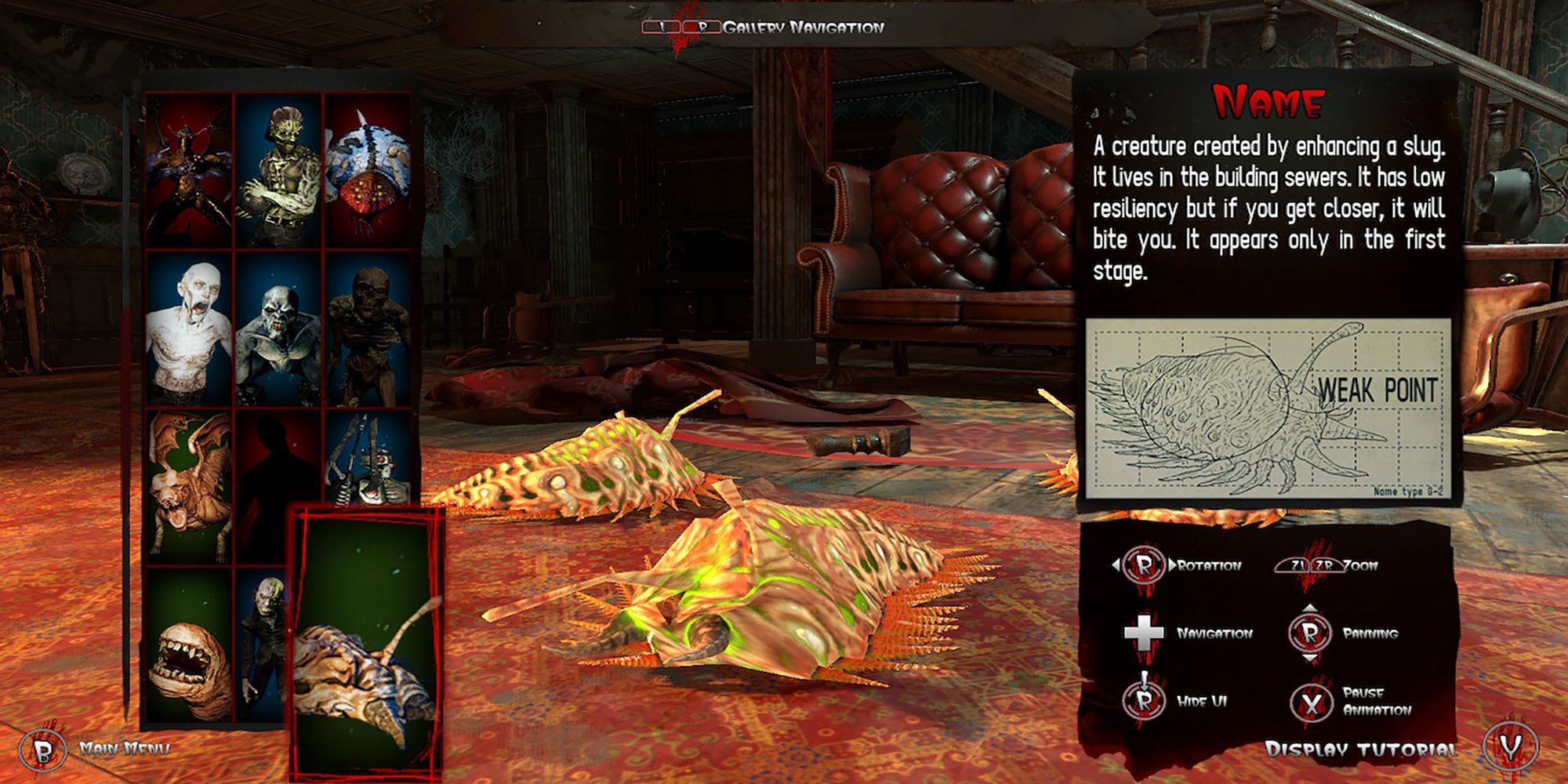 | | |
| --- | --- |
| Creature Library Entry | "A creature created by enhancing a slug. It lives in the building sewers. It has low resiliency but if you get closer, it will bite you. It appears only in the first stage." |
| Weak Points | Whole Body |
| Weapon? | Green excretion (Projectile) |
| Boss (Y/N) | No |
Parlor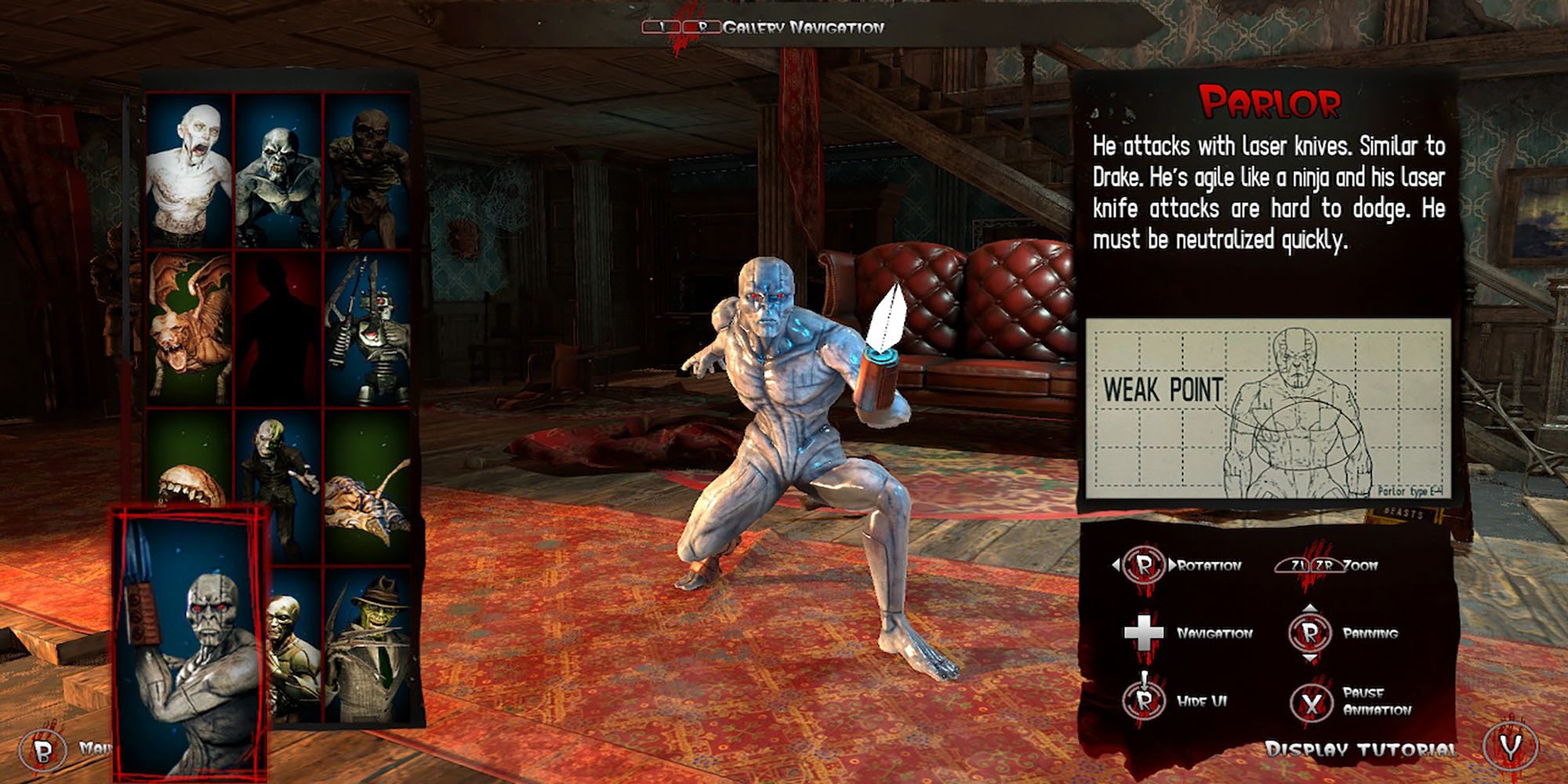 | | |
| --- | --- |
| Creature Library Entry | "He attacks with laser knives. Similar to Drake. He's agile like a ninja and his laser knife attacks are hard to dodge. He must be neutralized quickly." |
| Weak Points | Abdomen |
| Weapon? | Laser knife |
| Boss (Y/N) | No |
Robert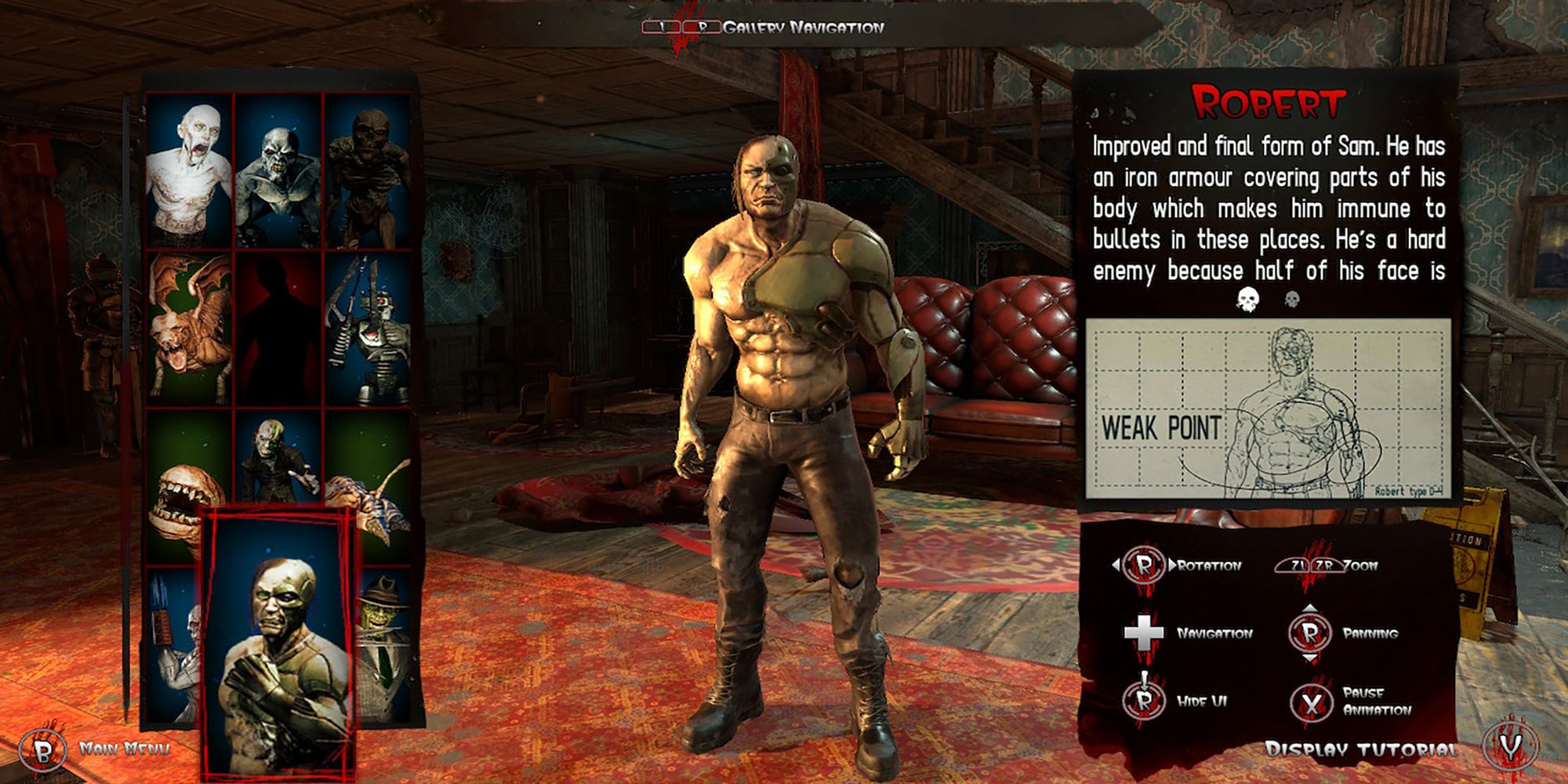 | | |
| --- | --- |
| Creature Library Entry | "Improved and final form of Sam. He has an iron armor covering parts of his body which makes him immune to bullets in these places. He's a hard enemy because half of his face is protected by the iron armor which makes it harder to hit the head. His main attack is hand strike." |
| Weak Points | Torso (except left pectoral), Left Forearm (player's right) |
| Weapon? | No |
| Boss (Y/N) | No |
Rubin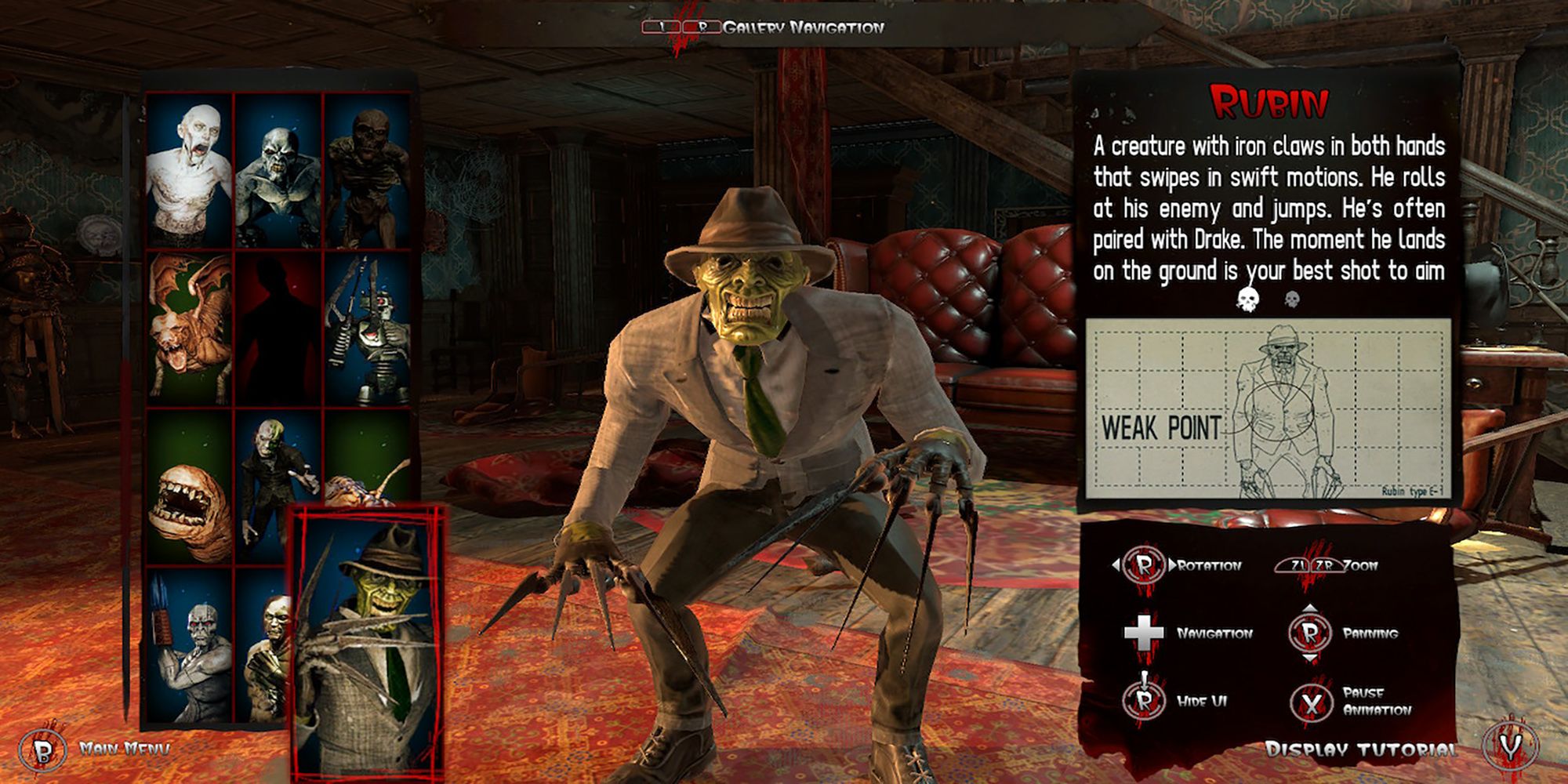 | | |
| --- | --- |
| Creature Library Entry | "A creature with iron claws in both hands that swipes in swift motions. He rolls at his enemy and jumps. He's often paired with Drake. The moment he lands on the ground is your best shot to aim for the head." |
| Weak Points | Abdomen |
| Weapon? | Iron claws |
| Boss (Y/N) | No |
Sam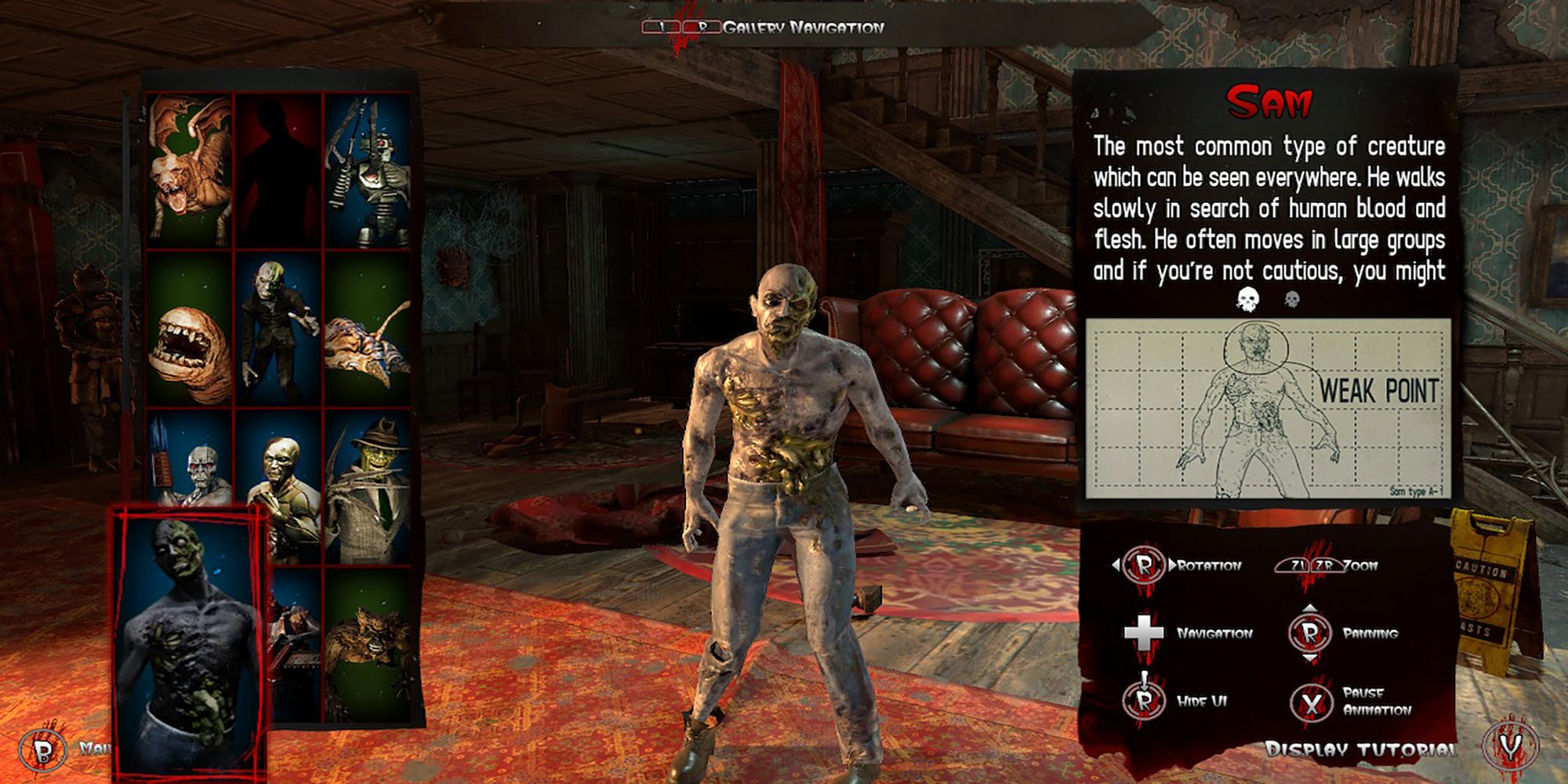 | | |
| --- | --- |
| Creature Library Entry | "The most common type of creature which can be seen everywhere. He walks slowly in search of human blood and flesh. He often moves in large groups and if you're not cautious, you might get surrounded. His main attack is bite." |
| Weak Points | Head |
| Weapon? | No |
| Boss (Y/N) | No |
Samson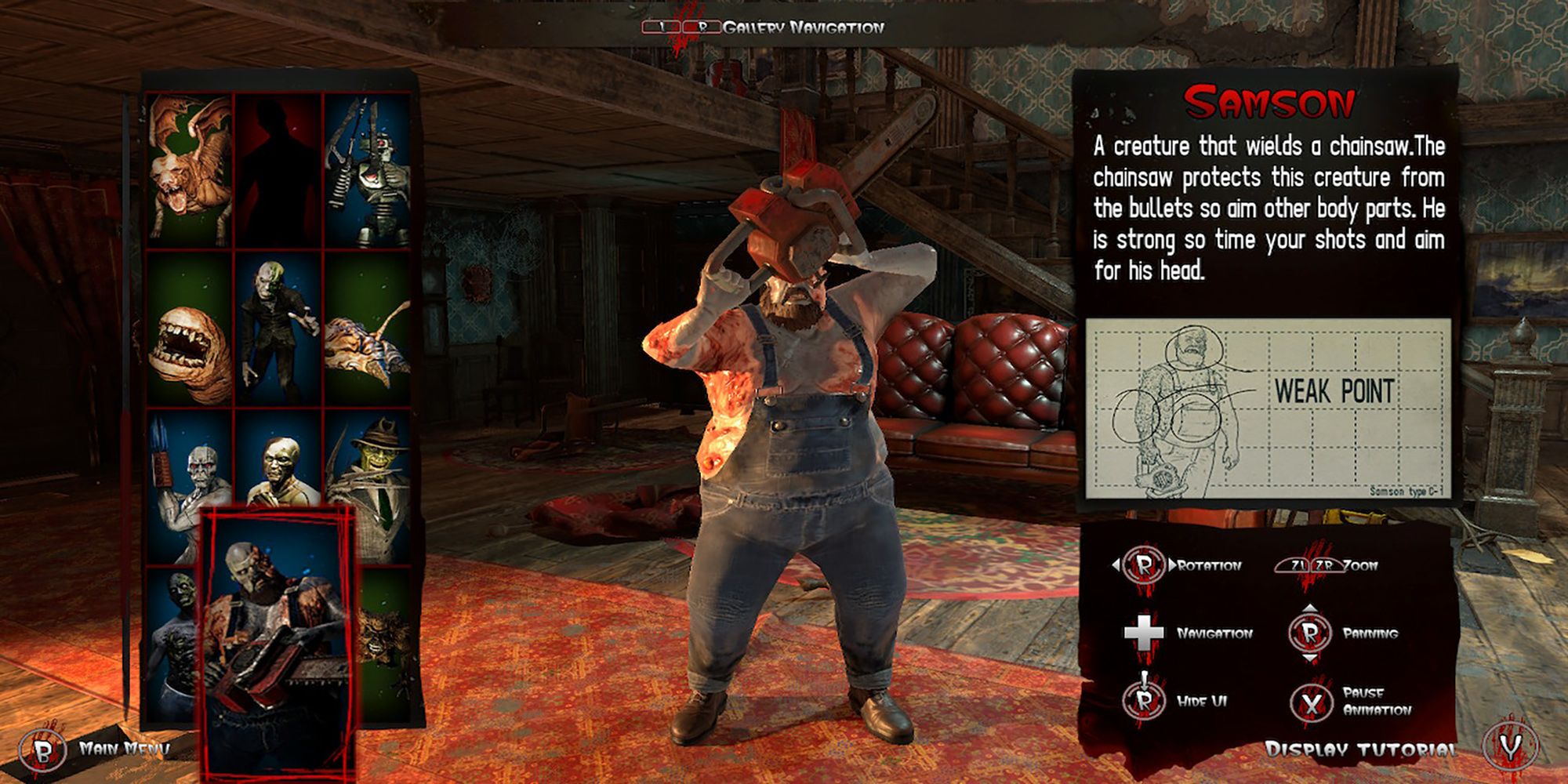 | | |
| --- | --- |
| Creature Library Entry | "A creature that wields a chainsaw. The chainsaw protects this creature from the bullets so aim [for] other body parts. He is strong so time your shots and aim for his head." |
| Weak Points | Head, Stomach, Right arm (Player's left) |
| Weapon? | Chainsaw |
| Boss (Y/N) | No |
Saruzou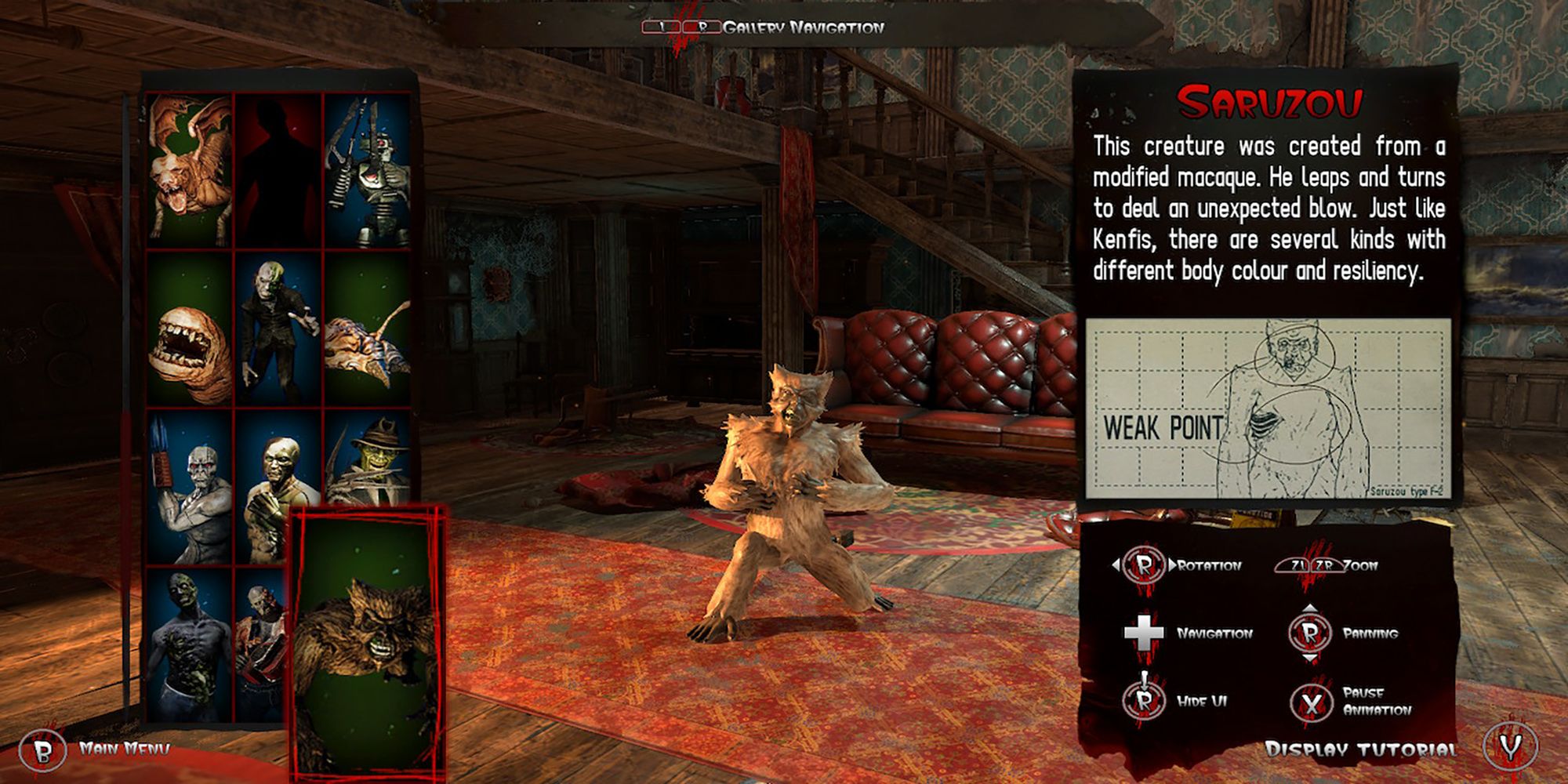 | | |
| --- | --- |
| Creature Library Entry | "This creature was crafted from a modified macaque. He leaps and turns to deal an unexpected blow. Just like Kenfis, there are several kinds with different body color and resiliency." |
| Weak Points | Head, Torso |
| Weapon? | No |
| Boss (Y/N) | No |
Shawn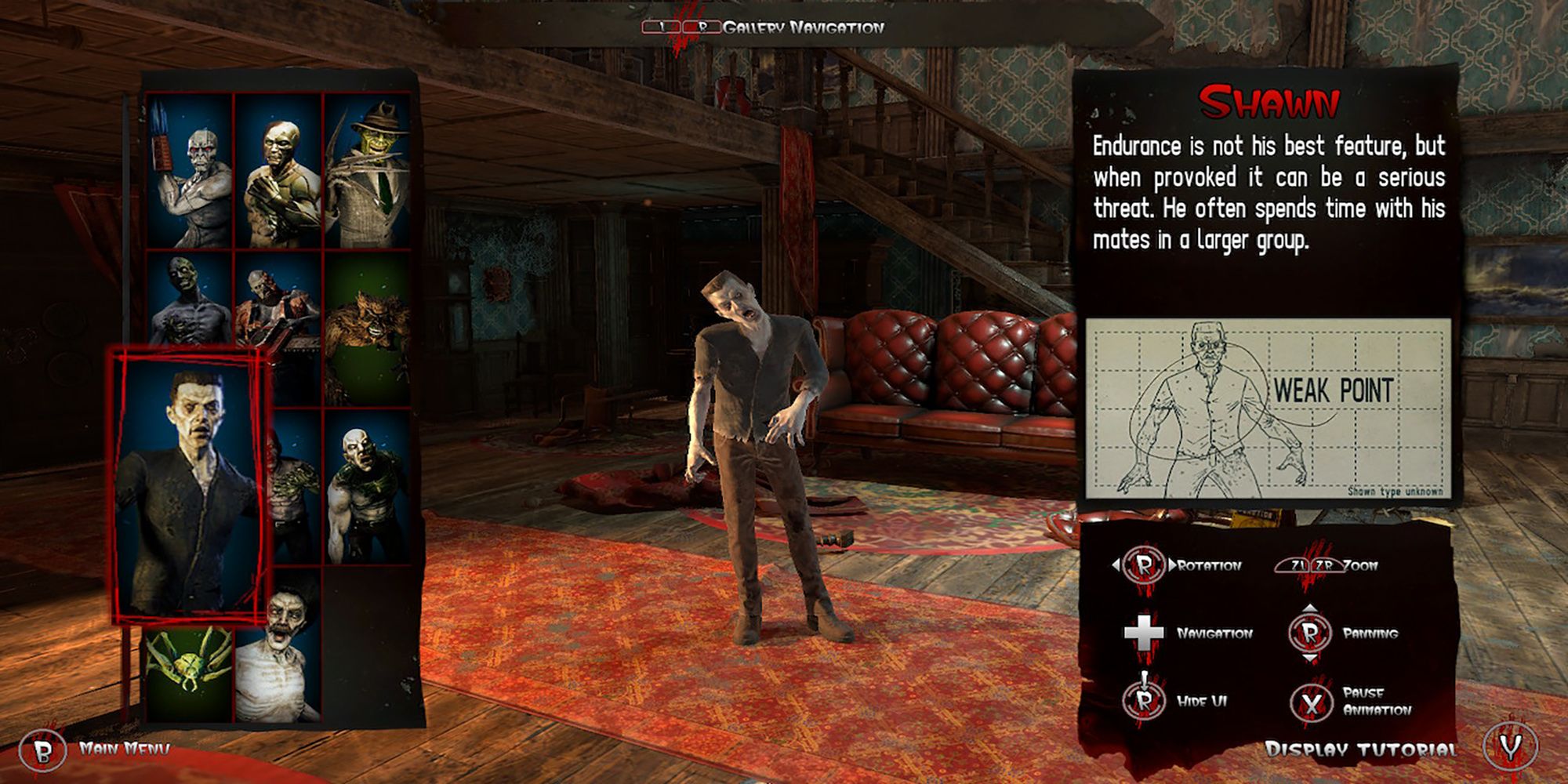 | | |
| --- | --- |
| Creature Library Entry | "Endurance is not his best feature, but when provoked [he] can be a serious threat. He often spends time with his mates in a larger group." |
| Weak Points | Torso |
| Weapon? | No |
| Boss (Y/N) | No |
Simon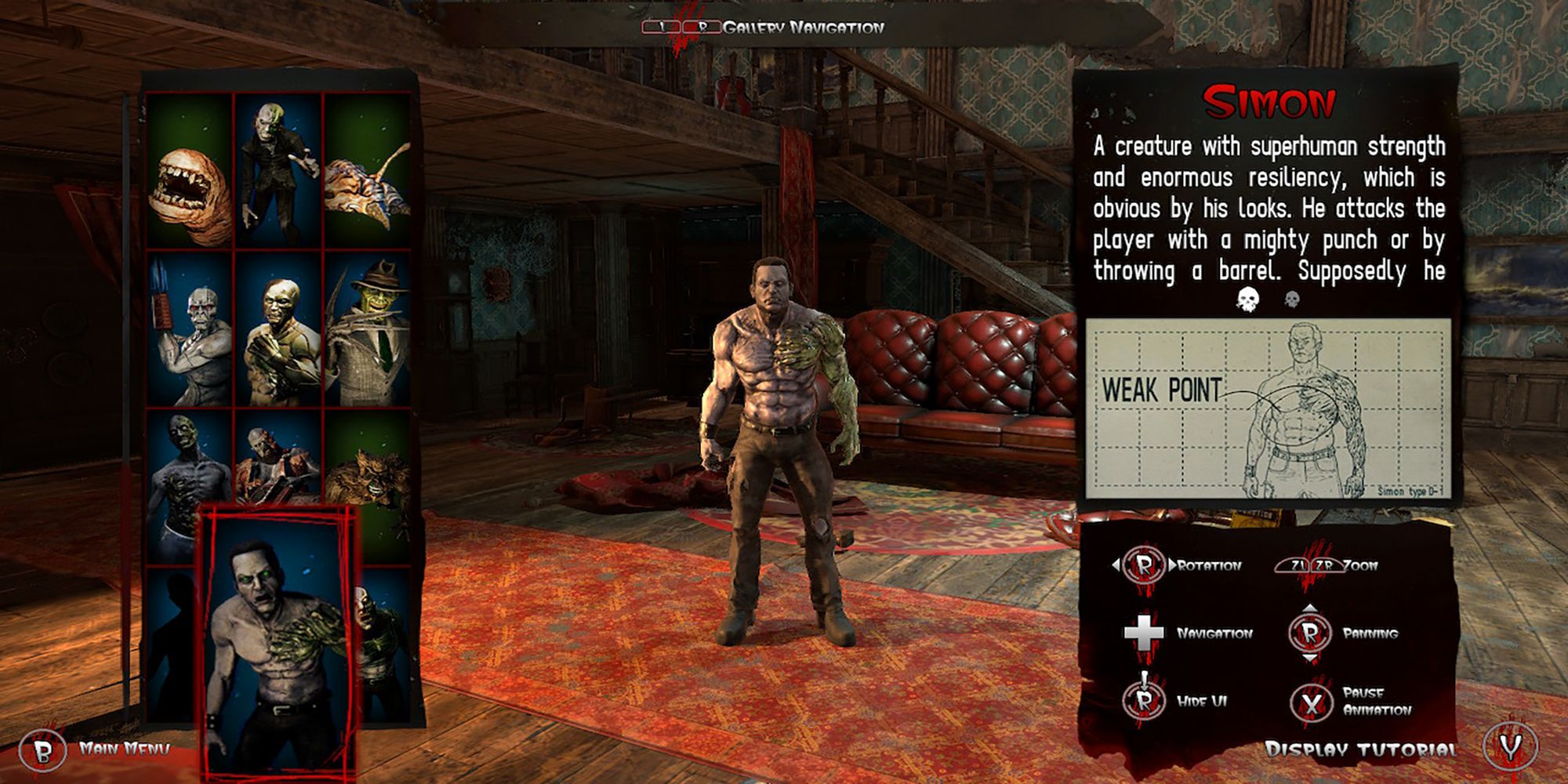 | | |
| --- | --- |
| Creature Library Entry | "A creature with superhuman strength and enormous resiliency, which is obvious by his looks. He attacks the player with a mighty punch or by throwing a barrel. Supposedly he destroyed all the furniture in the compound. His main attack is hand strike." |
| Weak Points | Abdomen |
| Weapon? | No |
| Boss (Y/N) | No |
Larry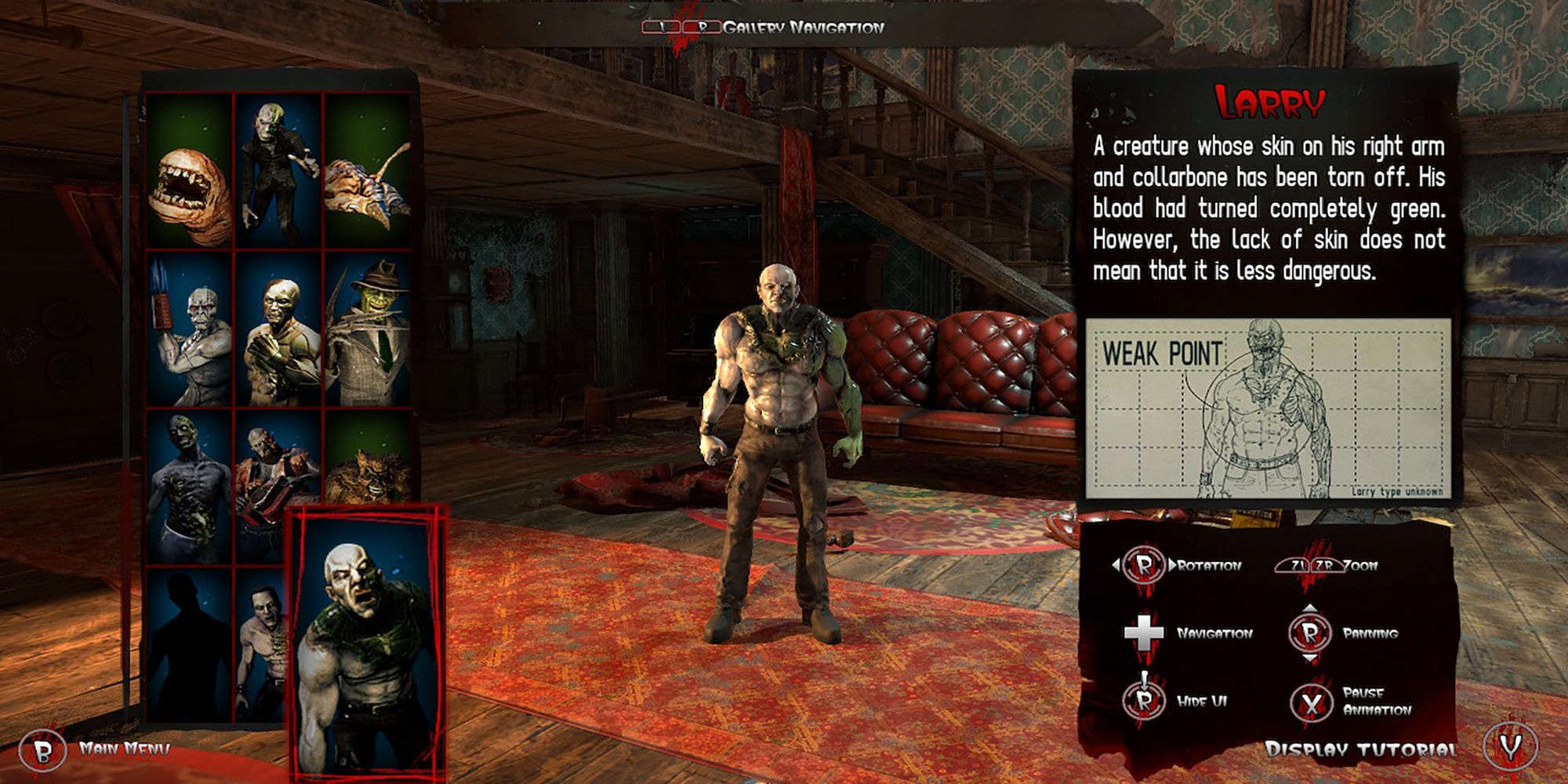 | | |
| --- | --- |
| Creature Library Entry | "A creature whose skin on his right arm and collarbone has been torn off. His blood had turned completely green. However, the lack of skin does not mean that it is less dangerous." |
| Weak Points | Torso |
| Weapon? | No |
| Boss (Y/N) | No |
Thalang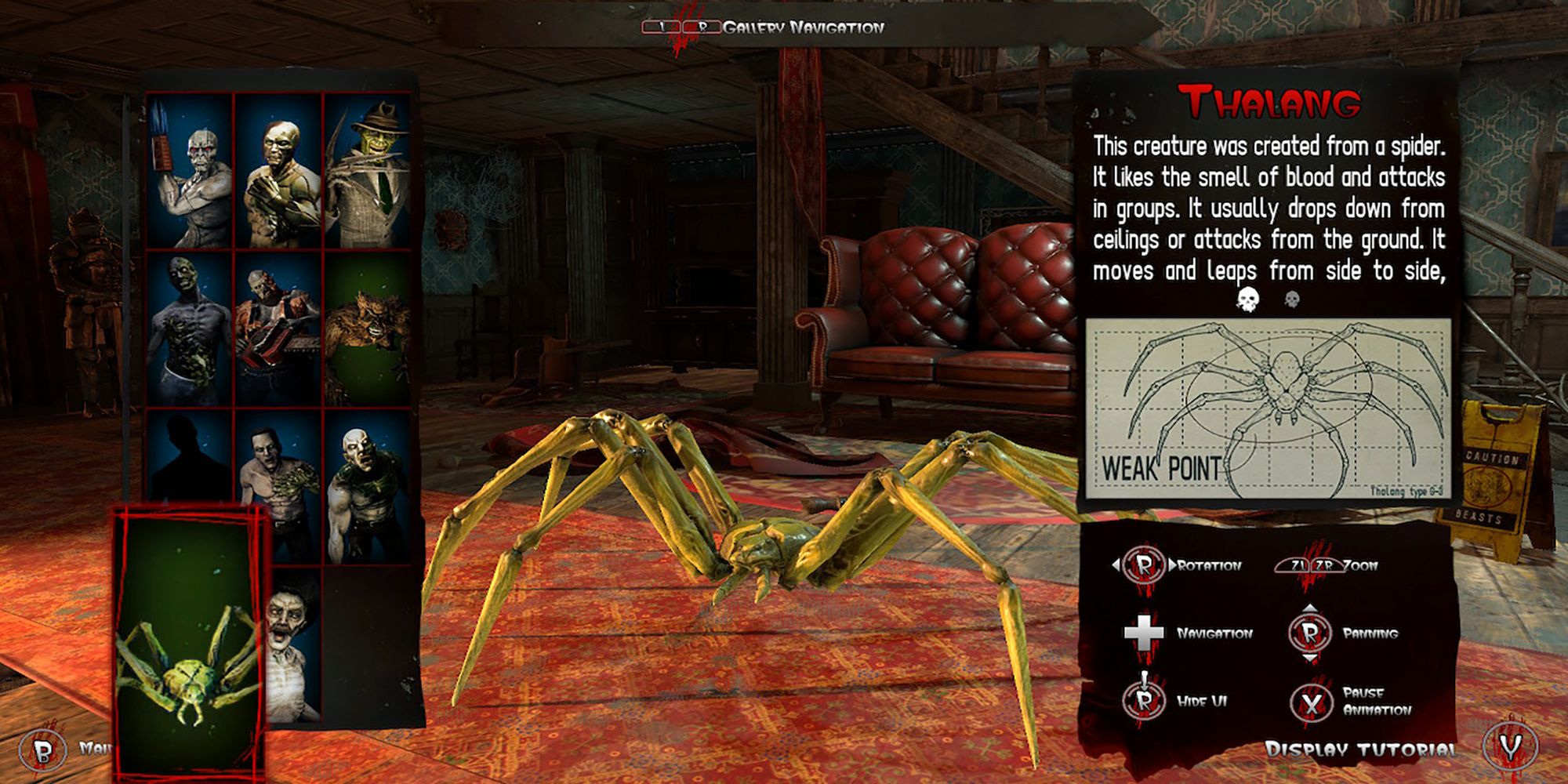 | | |
| --- | --- |
| Creature Library Entry | "This creature was created from a spider. It likes the smell of blood and attacks in groups. It usually drops down from the ceilings or attacks from the ground. It moves and leaps from side to side, making it harder to aim." |
| Weak Points | Torso |
| Weapon? | No |
| Boss (Y/N) | No |
Vincent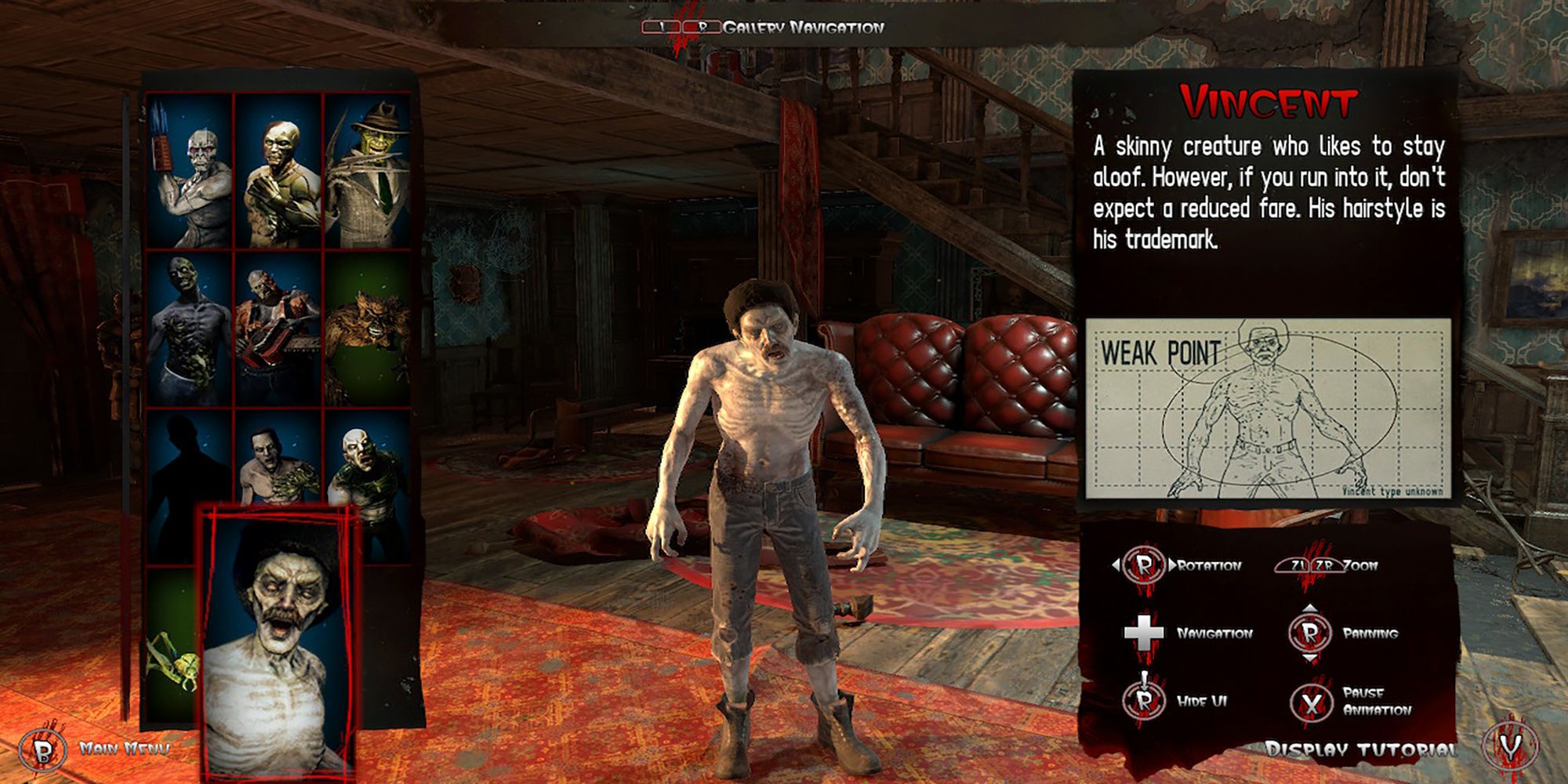 | | |
| --- | --- |
| Creature Library Entry | "A skinny creature who likes to stay aloof. However, if you run into it, don't expect a reduced fare. His hairstyle is his trademark." |
| Weak Points | Whole Body |
| Weapon? | No |
| Boss (Y/N) | No |
Source: Read Full Article