Set Your Eye On Goodman Games' Bride Of Cyclops Con This October
With 2020 being the year of the online game conventions, Goodman Games' upcoming Bride of Cyclops Con is the next one we should add to our calendar. Bride of Cyclops Con is scheduled for October 16-18, 2020, and will cover all editions of Dungeons & Dragons, along with the versions of Goodman Games' Dungeon Crawl Classics RPGs.
Goodman Games has already launched a number of pre-con prep initiatives to get ready for Cyclops Con, including calling out for volunteers to help run the Con, and calling for Dungeon Masters to help run their D&D5E track of games. The latest Con announcement made was to notify us that event submission is now open, and the process for doing so. Goodman Games has a few other Con announcements incoming before the October two-day event.
You can find all the Cyclops Con announcements happening on the Goodman Games website, as well as the schedule of incoming announcements:
September 4: Event schedule postedSeptember 6: Badge sales startSeptember 17: BoCC Event Pre-Registration for Volunteers and JudgesSeptember 20: Event registration opensOctober 14: Last day for ticket refunds. All tickets are final after this point.October 16: Bride of Cyclops Con begins at noon Eastern (16:00 UTC)!
Eyeball those dates on your favorite calendar if you plan on attending.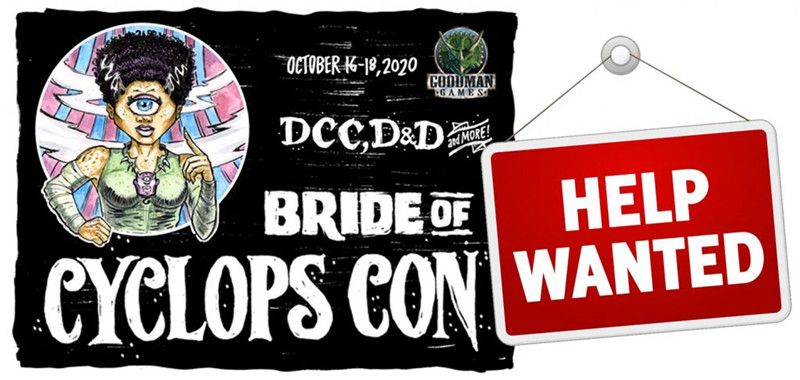 If you'd like to do more than just attend, and perhaps have the time to volunteer, Goodman Games would certainly love to have your help. The Volunteers Needed for Bride of Cyclops Con! post covers all the details you need to know and follow to apply to become a volunteer for the Con. In particular, the Con is in need of judges, people to connect players to judges, social event assistants, tournament assistants, and more.
Are you a Dungeon Master looking for a group to TPK lead through their next exciting adventure? Details on how you can do that are found on the Run Games For Our D&D 5E Track At Bride Of Cyclops Con post. Goodman Games has a wide selection of modules in need of a good GM, including their Fifth Edition Fantasy line, Oriental Adventures Reincarnated, and other 5th edition official and homebrew adventures.
Goodman Games also recently announced the "Return to the Starless Sea" Tournament Coming to Bride of Cyclops Con! event, which was postponed from Gen Con 2020. "Return to the Starless Sea" is a scored two-round competitive tournament where "teams of 5 players throw their level 0 parties against the horrors of the keep, and the highest-scoring teams advance to round two." Don't worry if you don't have a team, Goodman Games will be happy to assign you to one during the Con.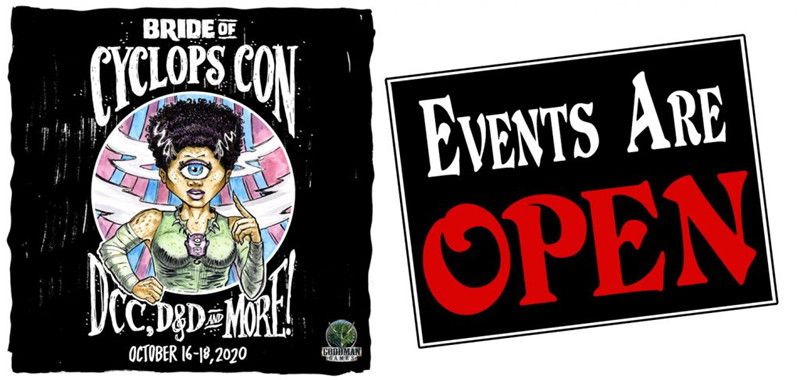 Event submission is now open for Bride of Cyclops Con, and you can find the details in that post, along with a preliminary time slot schedule and the Code of Conduct policy. Keep watching the Goodman Games website and social channels for more Bride of Cyclops Con info.
Source: Read Full Article