Roccat Kone XP Review – RGB Royalty
If you're a seasoned PC gamer, Roccat is a name that's going to be instantly familiar to you, thanks to its range of high-quality, pro-gamer focused, RGB-laden mice, microphones, and keyboards. The latest addition to this lineup is the Roccat Kone XP, the next evolution of the Kone line of mice that focuses on what we all love most – RGB lighting.
Before we get to the pretty colours, let's start off with the most important part of any mouse – how does it feel to use? The Kone XP feels ever so slightly heavier than other peripherals I've used in the past, which I imagine is due to the 3D RGB lighting, but it helps the mouse feel a little more premium. Tracking started off a little slow, but after a little messing around with the Roccat Swarm software, it became fast and responsive with ease, although I'll go into Swarm in a bit more detail in a sec. Meanwhile, button presses feel deliberate and meant that I very rarely pressed something without meaning to, which seems like it would be a real risk with a mouse that is this covered in things to press.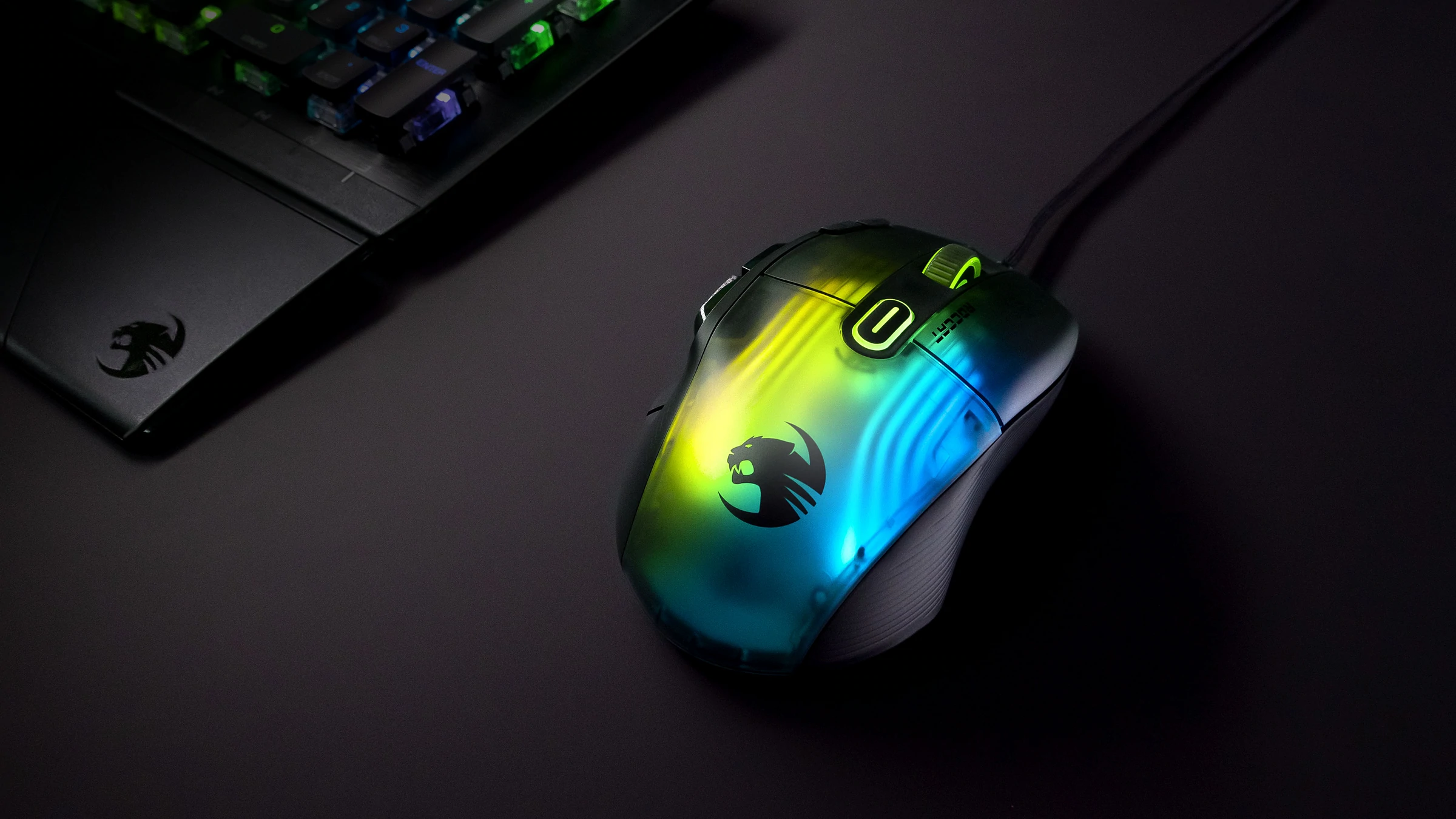 I was especially impressed with how the Kone XP felt to hold. I naturally play games and use a mouse with a claw grip (don't ask me how) and the Kone felt like a natural fit with no worries, both when using it for work and when trying it out with games like Fortnite and Halo Infinite. Did I get a victory royale with it? No, but I never do so you can't blame the Kone XP, it's not a miracle worker.
One of the biggest advantages of the Kone XP is its buttons and how easy they are to customise. There are 15 buttons that can be given 29 assignable functions, which is pretty impressive for a single mouse. There are buttons wherever you look on this thing, whether it's the usual two on top, a bunch on the side of the mouse, and even on the 4D Krystal Wheel. I customised my Roccat to enable me to easily go back and forth using the wheel and to instantly refresh the page with a click of the button on the lower left.
Swarm, Roccat's free software that lets you pair with the mouse, makes it incredibly easy to customise the features of your Kone XP, down to the smallest detail of things I didn't even understand. It can be slightly overwhelming at first thanks to the range of options, including things I still don't understand like Angle Snapping, but the main customisable elements like button placement and colour control are easy enough to understand. The rest feels like a cherry
As you can probably tell from the featured image, the main focus of the Kone XP is its 3D RGB lighting, and where you fall on it is going to depend on how you feel about transparent shells. The Kone XP features a translucent shell covering the middle of the mouse, with 22 LEDs on the inside that automatically change colour on their own and can be adjusted through Swarm. Although RGB is a pretty standard thing for PC accessories, what lets the Kone XP stand out is the 3D effect. Instead of the typical 2D LEDS, the Kone has 3D shapes inside of it that the colour travels through, creating a unique effect. It's one I haven't seen before, but it looks fantastic and really makes the XP stand out. Here's hoping that it becomes standard for Roccat moving forward.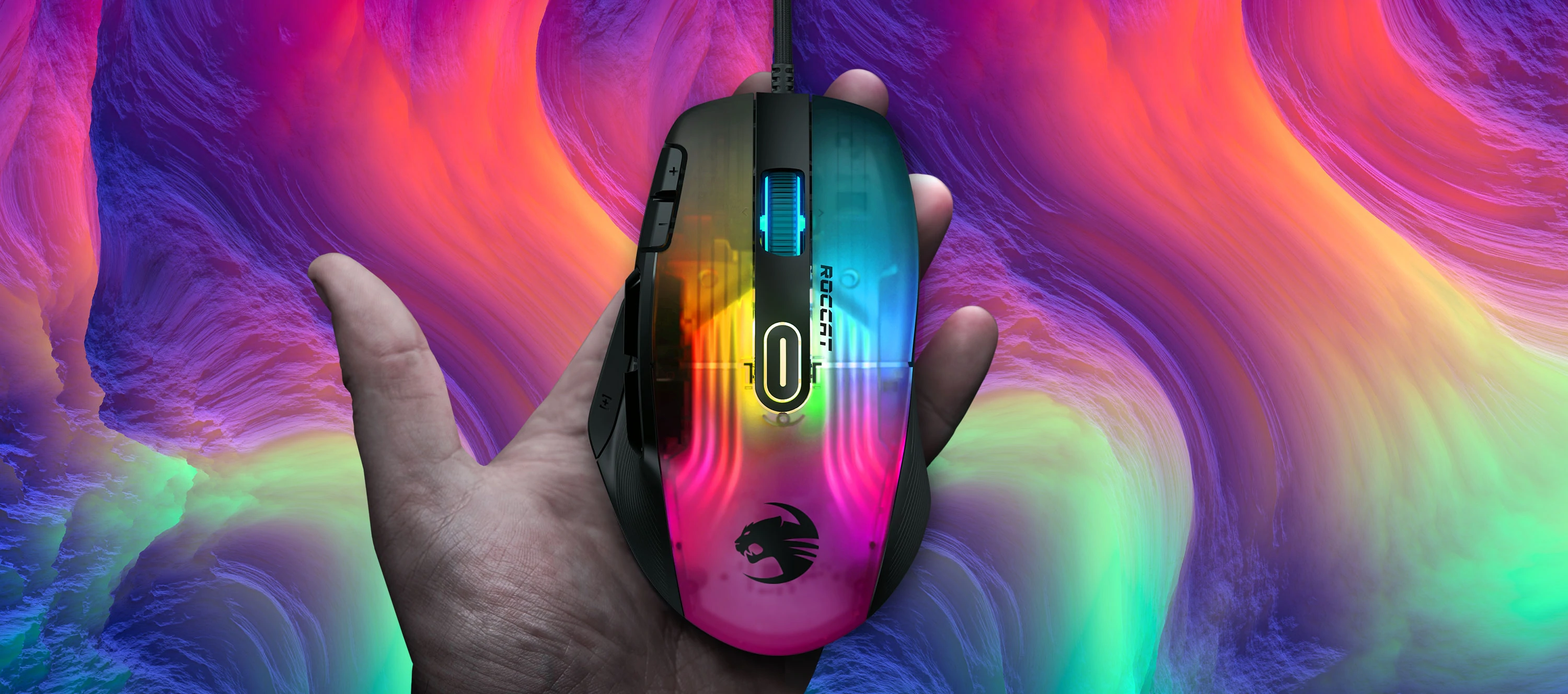 Where you stand on RGB is going to be the clincher here, but I couldn't get enough of seeing it pulse through colours at top speed, or pair it down a bit and watch it slowly change from colour to colour. The 3D RGB is great, but I can't see it changing any minds if you're not already into it.
The only thing that brings the Kone XP down slightly is that it's not wireless, which isn't too much of a surprise considering the price point of £79.99, but it's a shame that the option isn't offered. The Kone XP has quickly become my favourite mouse to use and as I move forward to considering wireless options, I'd love something equivalent to it but with the option to move freely. I have to imagine that'd bring the price up a fair bit, though.
Overall, the Kone XP looks great, feels fantastic, and is so open to customisation that any fault you might have with it can quickly be shifted around. It's slightly heavier than other mice and really only of interest to those that are really into their RGB lighting.The 3D effect won't be changing any minds, but if you are into RGB lighting then it's an easy purchase.
Source: Read Full Article