Riot Games On Pride, Representation, And Making The Company A Better Place For Queer People
Riot Games has had a tumultuous history in recent years. While it has enjoyed continued success with League of Legends, Arcane, and its myriad other products, behind the scenes it has also been subject to controversy regarding its toxic company culture, one that it has a responsibility to improve. I don't work for them, so it's impossible to say if enough is being done.
It's also doubling down on Pride celebrations this year, with a selection of free content being unleashed across League, Runeterra, Teamfight Tactics, Valorant, and more, including cosmetics that seek to represent all identities across the queer spectrum. We've also seen LGBTQIA+ artists produce gorgeous pieces of work to mark the occasion.
As pride month enters its final week I caught up with Jake Street, game design manager on Teamfight Tactics and Riot Inclusion Group (RIG) lead for the Rainbow Rioters that works to serve LGBTQIA+ employees and players. He's played a big part in producing queer content across Riot's library for years now, so I wanted to delve into the steps that have been made for better representation and culture within the studio.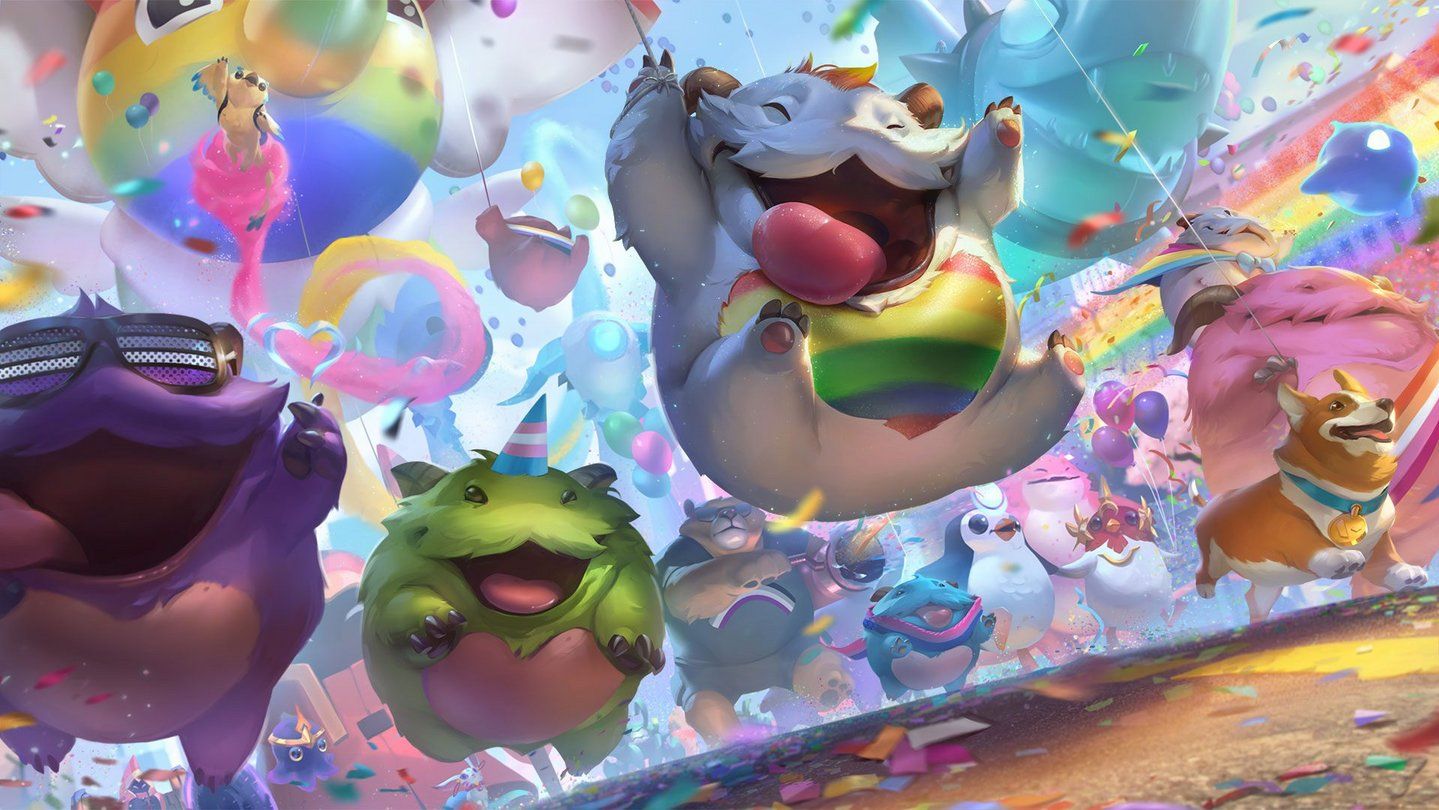 TheGamer: Riot's plans for Pride across your selection of games are quite extensive, and it seems like the biggest crossover event Riot has had since the launch of Arcane. What made you want to go all out for the occasion this year?
Jake Street: We are really excited about the ways that we levelled up Pride this year, but I also want to call attention to the awesome cross-game work that we launched for Pride 2021 as well!
One of the big changes to Pride for 2022 was our publishing efforts to raise awareness around the campaign, as well as elevating the visibility of the content in-client. Being out and proud is good, but being out, proud, and LOUD is even better!
But really, I feel like a key part of the question is "why do Pride?" and the answer there is pretty easy: it is the right thing to do. Making a game is all about creating content that resonates with our players, and serving players both means giving them the tools to express their personal identity, and helping them see themselves reflected in the character roster in-game.
Our in-game content works to hit both of those representation goals. Icons, character trails, booms, a gun buddy, and player cards provide the ability to show off your Pride in-game (and not just during Pride Month: we want players to express their identity year-round). Meanwhile, our Universe stories, this year featuring Graves and Twisted Fate and last year with Diana and Leona, build authentic LGBTQIA+ representation within our world. All of this content is provided for free: you either pick it up without spending any money in the in-game shop, or you complete a mission to acquire it. We believe it is important to centre Pride on the community, and not on commerce.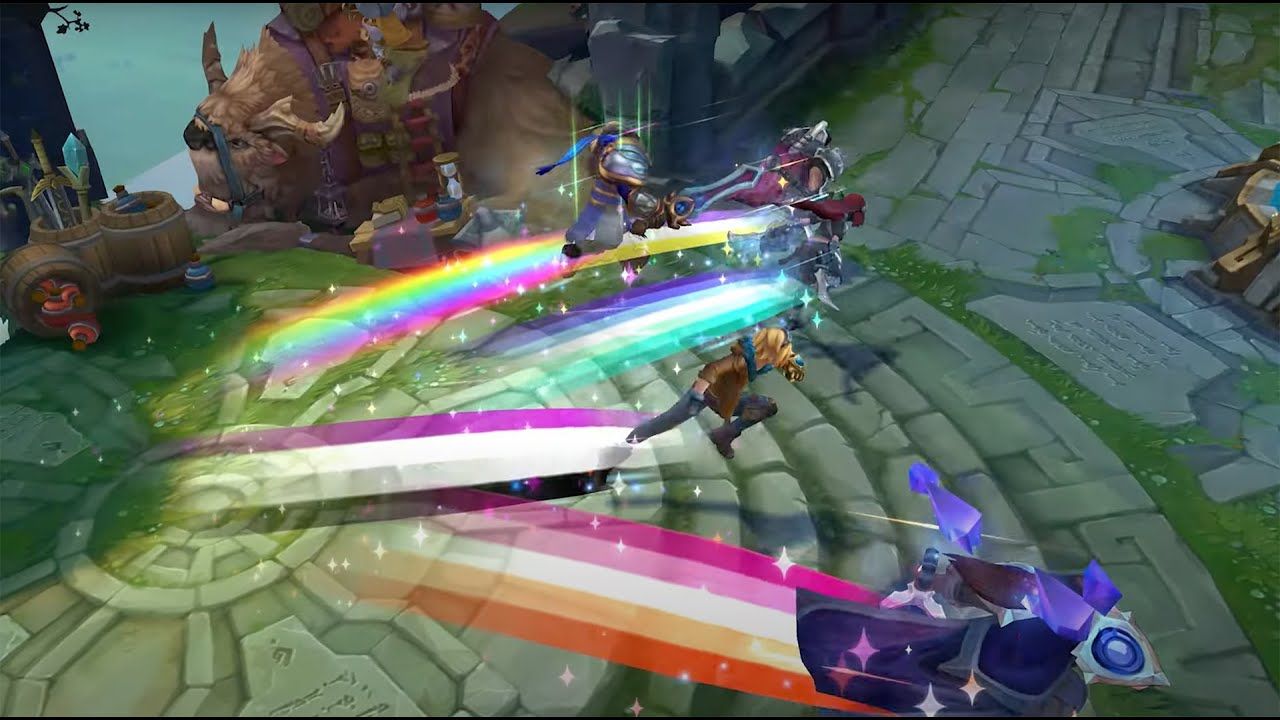 TG: While all of this in-game content is amazing to see and is so welcome, is Riot also making worthwhile contributions to LGBTQ+ causes and making your culture more welcoming to queer people in the industry? In the past, games could be seen as famously toxic place for those from minority backgrounds.
JS: What we do in-game to serve our players is important, but we also want to serve Rioters and to make our industry as a whole better.
We have worked with the It Gets Better Project [a nonprofit whose goal is to "uplift, empower, and connect LGBTQ youuth around the globe"] for several years to level up the industry and our broader community. In 2022, we expanded our community reach with events such as a series of tournaments in Brazil featuring LGBTQ+ players and our offices in Europe, the Middle East, and North Africa will be participating in a Virtual March For Pride later this year. This represents a pretty big step up from 2021, and I am really excited that we have grown in our visibility and outreach levels. That said, progress is always a journey and not a destination. We can always do better over time and I am glad that I get to advocate for the LGBTQIA+ community in my role.
The workplace front is also SUPER important, and the area where I am eager to see us grow more. Culture is not something that you develop once and then forget about; culture is a garden that you have to continually invest time and energy into in order to bear fruit. At a company as big as Riot, your culture can vary quite a lot team to team, and it is the middle managers that really can set the tone.
A common challenge across MANY industries is that cultural efforts focus on top leaders and new hires, leaving what is often called the "frozen middle" at that mid-level leader role. I've had conversations with many of our D&I (diversty and inclusion) leaders within Riot, and they agree this is an area where we really do need to invest more resources.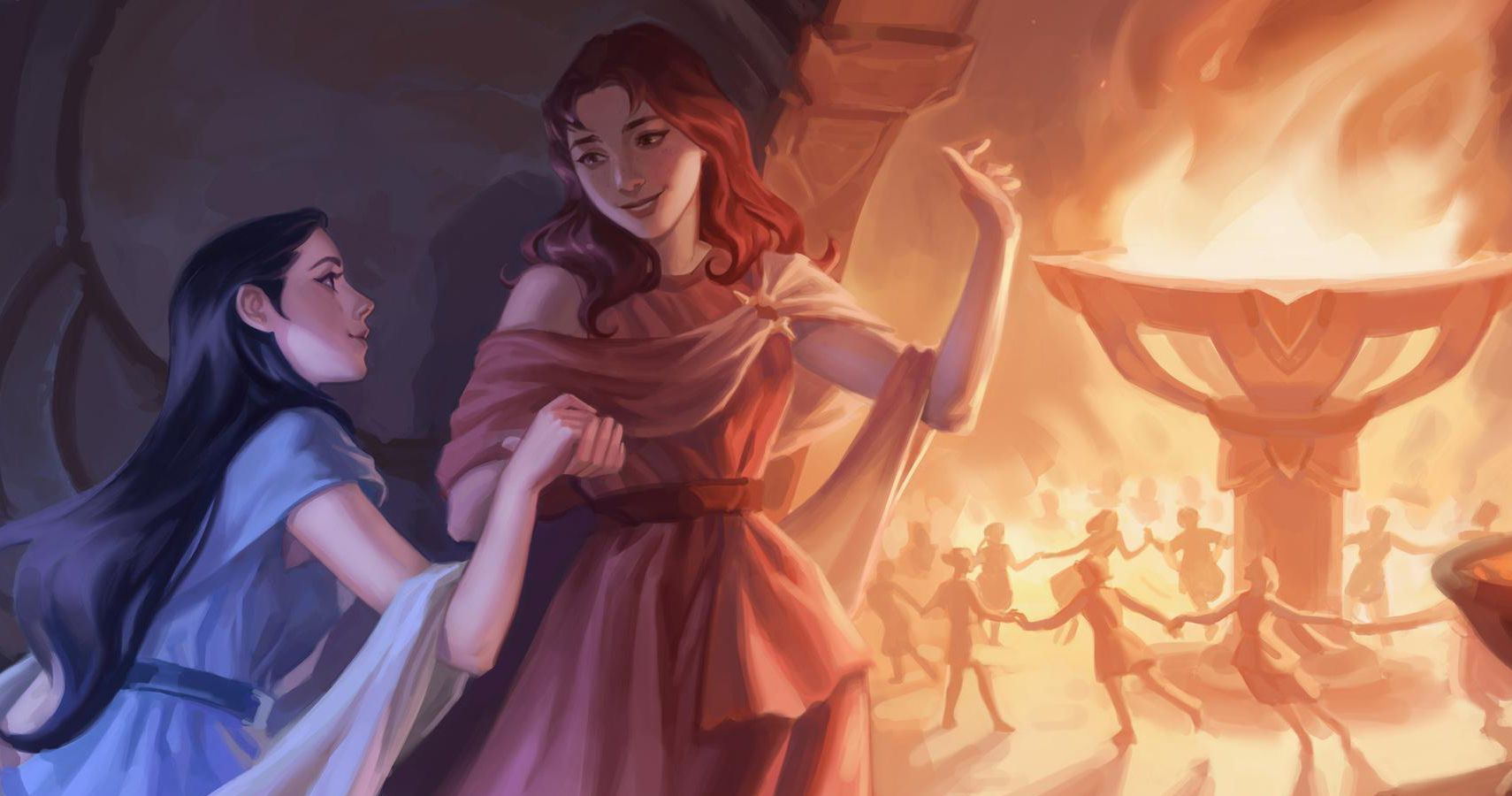 TG: The League of Legends universe has become more diverse over the past few years as it embraces queer relationships across a selection of characters. After so long, what made you want to take these steps to depict queer themes and personalities?
JS: The Rainbow Rioters RIG has been working for many years to advocate for more representation in the stories that we tell, with many allies along the way. But we measure success on the order of years, and we realize that shifts take time to pan out. Overall, our conversations centered around shifting perceptions of LGBTQIA+ characters from being seen as a risk to being an opportunity for robust, diverse storytelling.
Tactically, I feel like Legends of Runeterra opened up a valuable window for us to explore a wider range of stories. Each card has flavor text we can use and there are plenty of characters to develop that don't have the pressure of being a League of Legends Champion. In fact, one of our clearest early in-game LGBTQIA+ characters was Legion Veteran. His flavor text just casually mentions that he has a husband, and I LOVE that kind of normalizing "casual queerness." Legion Veteran shipped to players and the sky didn't fall, which gave us more room to point to him as an example and say "hey, we can do cool things here!"
TG: How are you involving the community and supporting your LGBTQ+ employees during the month of Pride as a company? Often these are the groups that require support more than others and would welcome larger powers stepping up to the plate and showing their support instead of merely throwing a rainbow on things.
JS: Part of Riot's structure is the Riot Inclusion Groups (RIGs) that I mentioned above. These groups support the members of their communities year-round, provide feedback on characters created by product teams, and, along with the broader D&I team, generally help us level up as an organization. That work doesn't exist only within Pride month: we are committed to it all year.
Some of the work that we are taking on specifically this month includes an intersectional event in partnership with Riot Noir [an "Employee Resource Group to support Black identities and allies"] to commemorate Juneteenth, an LGBTQIA+ movie night, and showing Rioters how to add their pronouns to their workstation nameplates.
That said, this is also a space where I think that we have a lot of room to grow in providing really robust support for LGBTQIA+ Rioters.
TG: From an LGBTQ+ perspective, what are some of Riot's proudest achievements when it comes to creating games, world, characters, and stories that queer audiences can embrace and call their own?
JS: Gosh, good question. Growing up, there were really almost no queer characters in popular media, and the few out there tended to be fairly trope-driven. Creating clear, thoughtful representation is so incredibly important. Our community has survived on crumbs for far too long.
Things are changing, albeit more slowly than we in the community might like, and being a small part of that at Riot really does give me so much energy. I could list off the awesome characters from Legion Veteran to Shomi to our first trans character Tyari, or Universe stories involving Diana and Leona and Graves and Twisted Fate.
But really, all that pales in comparison to the reactions we have gotten from players. The proudest moments for me, and IMO for Riot, are the players that feel seen, maybe for the first time, by the content that we create. That's really why we do what we do.
Source: Read Full Article