Raft: Everything You Can Buy From The Trading Post
Quick Links
Gaining Trading Post Reputation
Selling Items To The Trading Post
What You Can Buy From the Trading Post
Floating around the vast expanse of the ocean in Raft can be a lonely experience — the only real company you have is the bloodthirsty shark nipping at your heels. This makes the trading posts you find on some islands a welcome distraction; they aren't manned by a person, but a friendly human-made structure breaks up the landscape nicely.
These trading posts enable you to purchase rare ingredients, recipe cards, and decorations for your raft. There are three tiers of purchasable goods, and gaining access to them requires a bit of work on your part.
Gaining Trading Post Reputation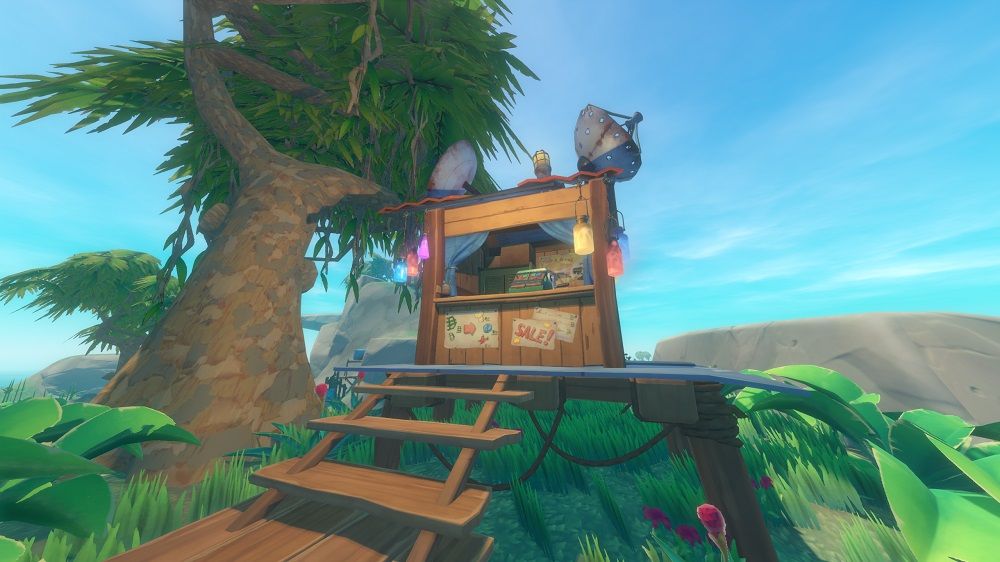 Gaining reputation with a trading post requires you to sell them fish. Sounds simple, but some fish can only be caught with the bait that you buy from the trading post itself. The first level of bait enables you to catch the first tier of fish, the second level of bait attracts rarer fish, and so on.
Each time you sell something to the trading post you also get a trade coin. With enough trade coins, trash cubes, and reputation, you'll be able to afford anything on the menu that your heart desires.
Selling Items To The Trading Post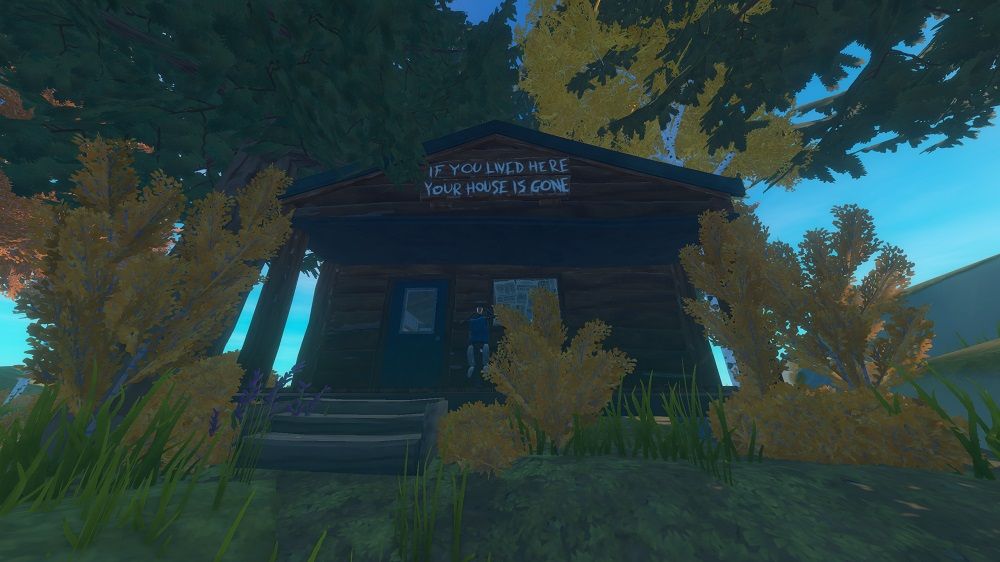 Tier 1
| Item | Trade Coin | Reputation | Description |
| --- | --- | --- | --- |
| Glowshrimp | 1 | 10 | Glows less than you might think. |
| Netnibbler | 1 | 10 | Better here than on one of those nets. |
| Sharp Charp | 1 | 10 | Pointy! |
Tier 2
| Item | Trade Coin | Reputation | Description |
| --- | --- | --- | --- |
| Foamspitter | 1 | 100 | Time for bubbles. |
| Pufferlisk | 1 | 100 | Reminiscent of another sea creature. |
| Trap Snapper | 1 | 100 | A toe might go missing if you're not careful. |
Tier 3
| Item | Trade Coin | Description |
| --- | --- | --- |
| Lionfish | 2 | Toxic and pointy |
| Lunarfish | 2 | Reminiscent of the moon. |
| Pentapus | 2 | Two of these, and you have a tentapus. |
| Pink Pike | 2 | Whoa, pink! |
| Rainbow Lobster | 2 | Magnificent colours! |
| Sharkeater | 2 | Well, Bruce doesn't seem to mind. |
What You Can Buy From the Trading Post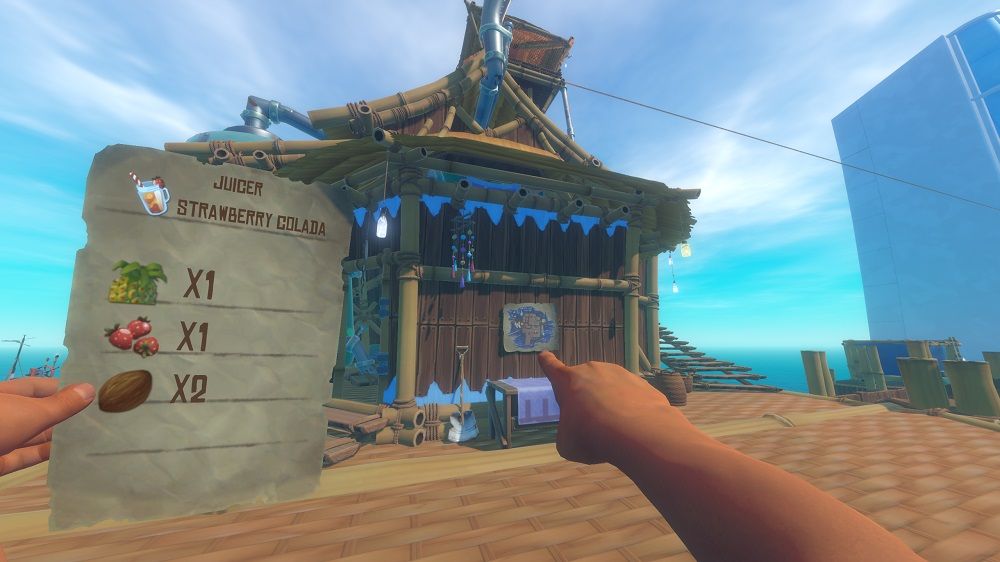 Tier 1 Items For Sale
| Item | Trash Cube | Trade Coin | Description |
| --- | --- | --- | --- |
| Simple Fishing Bait | 1 | 0 | Simple and efficient! Used by novice anglers. |
| Plastic | 1 | 0 | Yep. It's plastic. |
| Plank | 1 | 0 | A simple plank. |
| Scrap | 1 | 1 | Some old parts from… something? |
| Chili | 1 | 2 | Spice up your food. |
| Turmeric | 1 | 2 | Spice up your food. |
| Recipe: Catfish Deluxe | 1 | 1 | A recipe that can be cooked in a pot.Makes you run faster. |
| Recipe: Redbeet Shot | 1 | 1 | A recipe that can be made in a juicer. Adds some extra hearts to your life. |
| Recipe: Salmon Salad | 1 | 1 | A recipe that can be cooked in a pot. A healthy salad that increases your lung capacity. |
| Recipe: Spicy Pineberry | 1 | 1 | A recipe that can be made in a juicer. Makes you swim faster. |
| Air Horn | 3 | 4 | Makes a sound to annoy your friends. |
| Wardrobe | 6 | 6 | Lets you change the colour of your clothes. |
| Compass | 3 | 4 | Points relative north. |
Tier 2 Items For Sale
| Item | Trash Cube | Trade Coin | Description |
| --- | --- | --- | --- |
| Advanced Fish Bait | 1 | 0 | Has a peculiar look! Used by advanced anglers. |
| Metal Ore | 2 | 1 | Could be smelted into something better. |
| Copper | 2 | 1 | Could be smelted into a copper ingot. |
| Explosive Goo | 2 | 1 | Can be dried in a smelter. |
| Cave Mushroom | 1 | 1 | Great addition to many meals. |
| Red Berries | 1 | 1 | Despite being very red, they are not poisonous. |
| Silver Algae | 1 | 1 | Has a quite bitter taste. |
| Juniper | 1 | 3 | A life-changing berry |
| Recipe: Hearty Stew | 1 | 1 | A recipe that can be cooked in a pot. A mysterious stew that lets you evade death once. |
| Tic-Tac-Toe | 3 | 4 | A fun game to play with a friend. |
| Foundation Counter | 3 | 4 | Keeps track of your foundations, so you don't have to. |
| Honk Horn | 3 | 4 | Makes a sound to annoy your friends. |
| Blueprint: Advanced Small Crop Plot | 1 | 6 | Can be learned from the research table. |
| Blueprint: Advanced Medium Crop Plot | 1 | 6 | Can be learned from the research table. |
| Blueprint: Advanced Large Crop Plot | 1 | 6 | Can be learned from the research table. |
| Chef's Hat | 1 | 6 | If you prefer cooking to sailing. |
| Disguise Glasses | 1 | 6 | It might fool your friends, but it can't fool the shark. |
| Sailor Hat | 1 | 6 | A true hat for a true sailor. |
Tier 3 Items For Sale
| Item | Trash Cube | Trade Coin | Description |
| --- | --- | --- | --- |
| Expert Fishing Bait | 1 | 0 | Glorious Sheen! Used by expert anglers. |
| Titanium Ore | 3 | 1 | Can be smelted into a titanium ingot. |
| Advanced Scarecrow | 8 | 10 | Keeps seagulls away from your crop plots for good. |
| Fridge | 6 | 6 | Can store food and anything else. |
| Long Draw-Bridge | 2 | 3 | Connects two parts of your raft. |
| Short Draw-Bridge | 2 | 2 | Connects two parts of your raft. |
| Surfboard | 3 | 4 | Somebody got unlucky. |
| Viking Horn | 3 | 4 | Makes a sound to annoy your friends. |
| Trading Post Cassette | 6 | 8 | Number one Bargain Bossa. |
| Blueprint: Canteen | 8 | 12 | Can be learned from the research table. |
| Blueprint: Detail Plank | 8 | 12 | Can be learned from the research table. |
| Diving Helmet | 6 | 6 | Somewhat airtight. |
| Fishing Hat | 6 | 6 | Lures for any occasion. |
| Sunglasses | 6 | 6 | For those sunny days. |
| Pirate Hat | 6 | 6 | Ahoy, set sail! |
Source: Read Full Article