Pokemon Unite: Sacred Event Guide
Quick Links
Sacred Challenge Missions
Sacred Ranked Match Challenge
It's time for another Pokemon Unite limited-time event, offering several cosmetics and other in-game items to those who participate. Possessing different ways to earn and unlock these rewards, the Sacred Event is nothing that you'll want to miss out on.
This event will only be available for a short window of time, taking place up until November 30. Until the end of the month, you'll want to make sure that you're logging in and taking advantage of all that the Sacred Event has to offer – we've got you covered with everything you need to know to do just that.
Sacred Log-In Bonus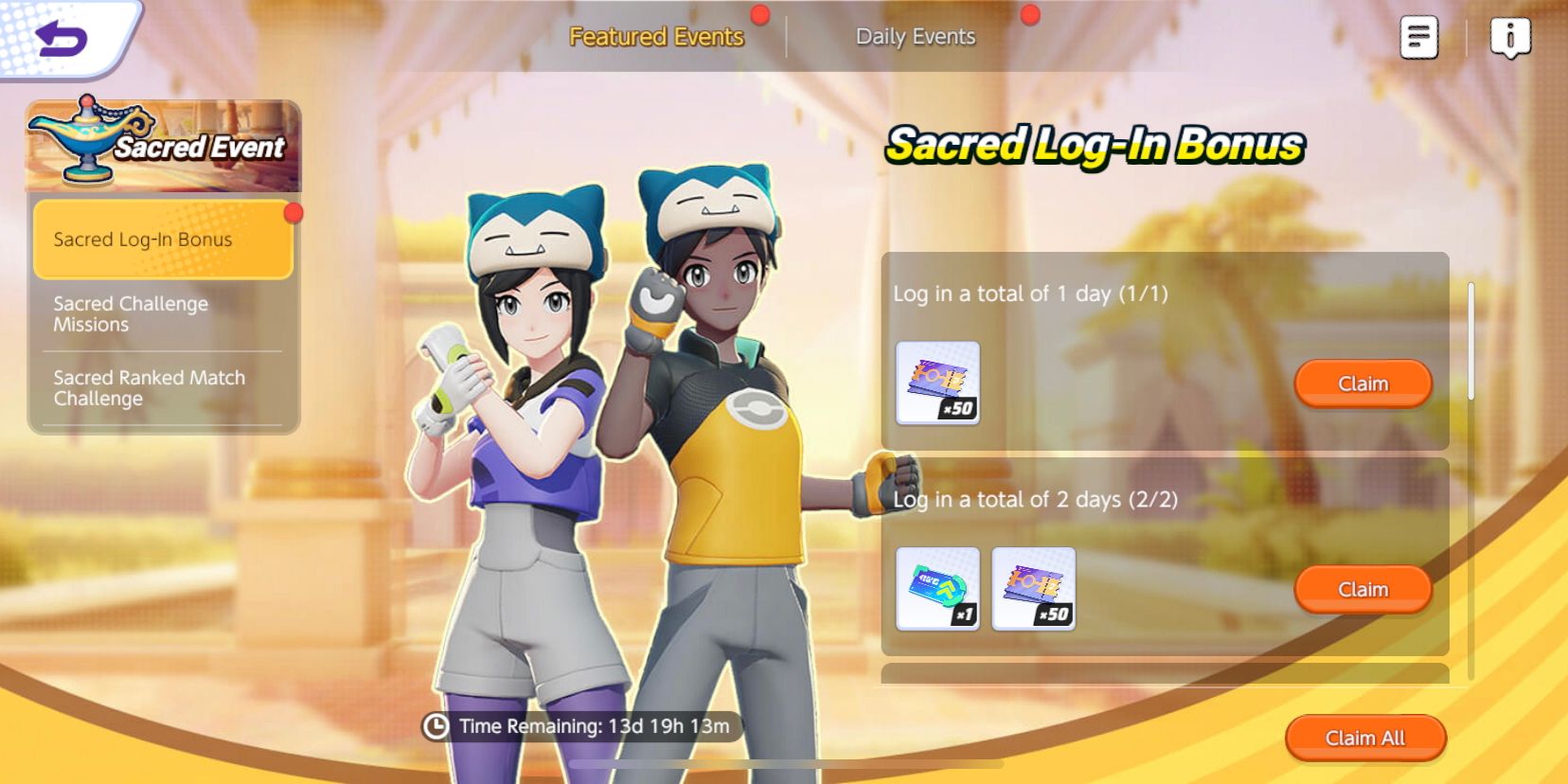 The first portion of this event comes in the form of a daily log-in bonus, providing you with different rewards for each day you are logging into the game. Each of these rewards are provided below with the number of days you need to log in order to obtain them.
There are only rewards for logging in on seven different days, so it's not necessary to log in on every day of the event to earn all rewards.
Daily Log-Ins
Reward Earned
1
2

3-Day Battle Point Boost Card
50 Aeos Tickets

3

3-Day Aeos Coin Boost Card
50 Aeos Tickets

4
5

Extra-Energy Tank
50 Aeos Tickets

6
7

Pokemon Face Hat (Snorlax)
50 Aeos Tickets
Sacred Challenge Missions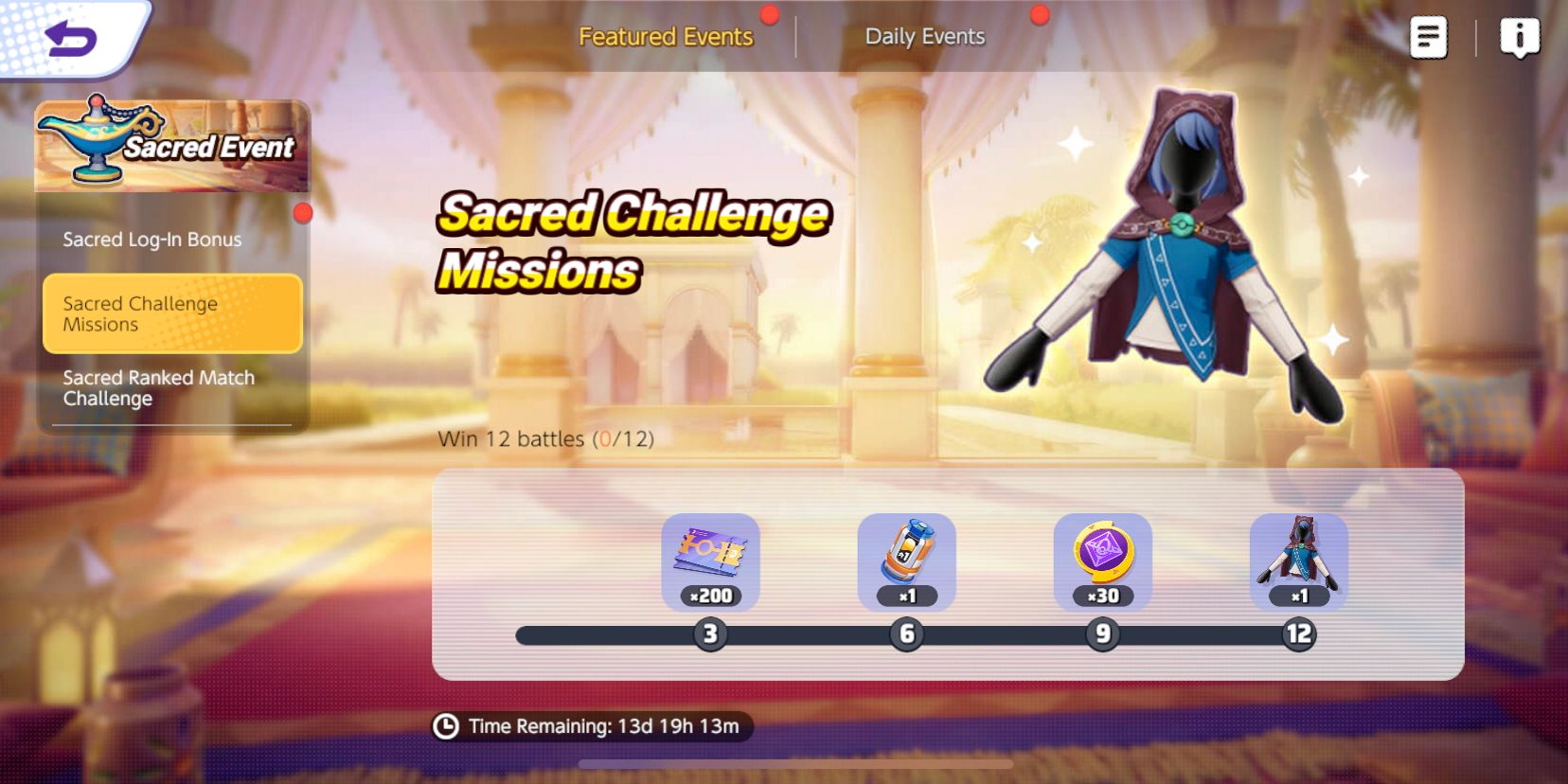 This portion of the event gives you rewards for winning different battles throughout the course of the Sacred Event. For these missions, you can play any type of battle in Pokemon Unite as you will continue to make progress as long as you are winning these matches. Each reward for this section of the event can be found below with the number of victories required to unlock each one.
| Battles Won | Reward Earned |
| --- | --- |
| 3 | 200 Aeos Tickets |
| 6 | One Energy Boost Tank |
| 9 | 30 Item Enhancers |
| 12 | Ruins Cloak (Cosmetic Item) |
Sacred Ranked Match Challenge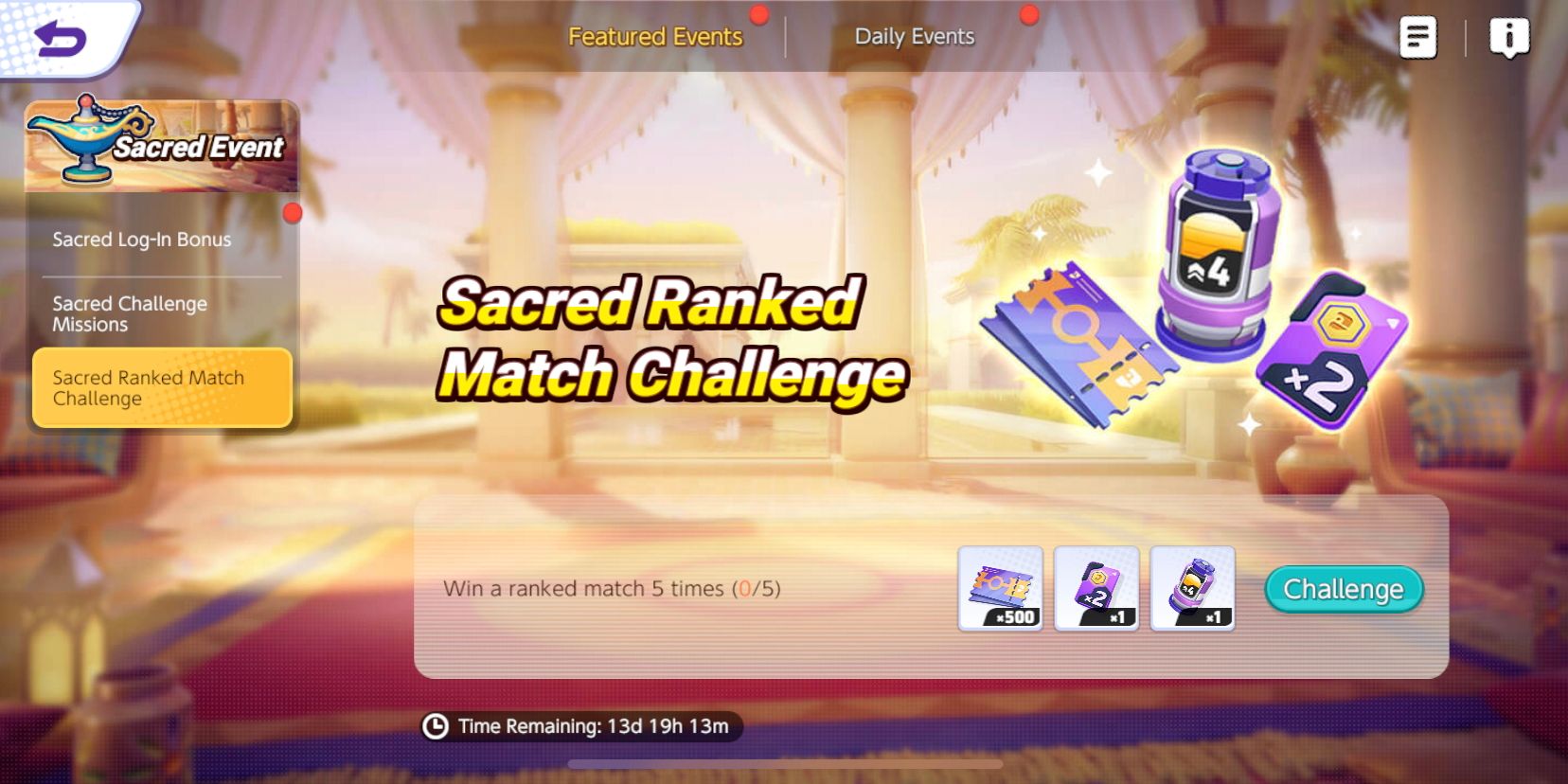 The third part of this event requires you to participate in and win different Ranked Matches during this event. You will only need to do this five times, earning you all three available rewards once you have done so. The three rewards being offered for winning all five Ranked Matches are provided below.
500 Aeos Tickets
One 7-Day Aeos Coin Boost Card
One Energy Boost Tank (4x Speed)
If you are trying to maximize your efficiency when it comes to progressing through this event, focus on winning Ranked Matches first. This will not only help to complete the Sacred Ranked Match Challenge, but will also progress the Sacred Challenge Missions at the same time.
Source: Read Full Article