Here Is Our First Look At Magic The Gathering's Cyberpunk Set, Kamigawa: Neon Dynasty
Quick Links
New Planeswalker: Kaito Shizuki
New Showcase Frames: Ninja, Soft Glow, and Hidden Neon
Wizards of the Coast has given us our very first look at next year's cyberpunk Magic the Gathering set, Kamigawa: Neon Dynasty. It features the confirm of a returning character, a cyborg ninja Planeswalker, and
Kamigawa: Neon Dynasty is set in the Japanese-inspired plane, 1200 years since we last saw it in the early '00s Kamigawa block. It has become a world of high tech combined with the spiritualism and traditions players loved the first set for.
The teaser came on the WeeklyMTG stream and a follow-up blog post ahead of a full reveal event planned for late January. We weren't shown any new mechanics, but we were given a look at the new Planeswalker, the cyborg ninja Kaito Shizuki to join the set's many other Ninjas.
New Planeswalker: Kaito Shizuki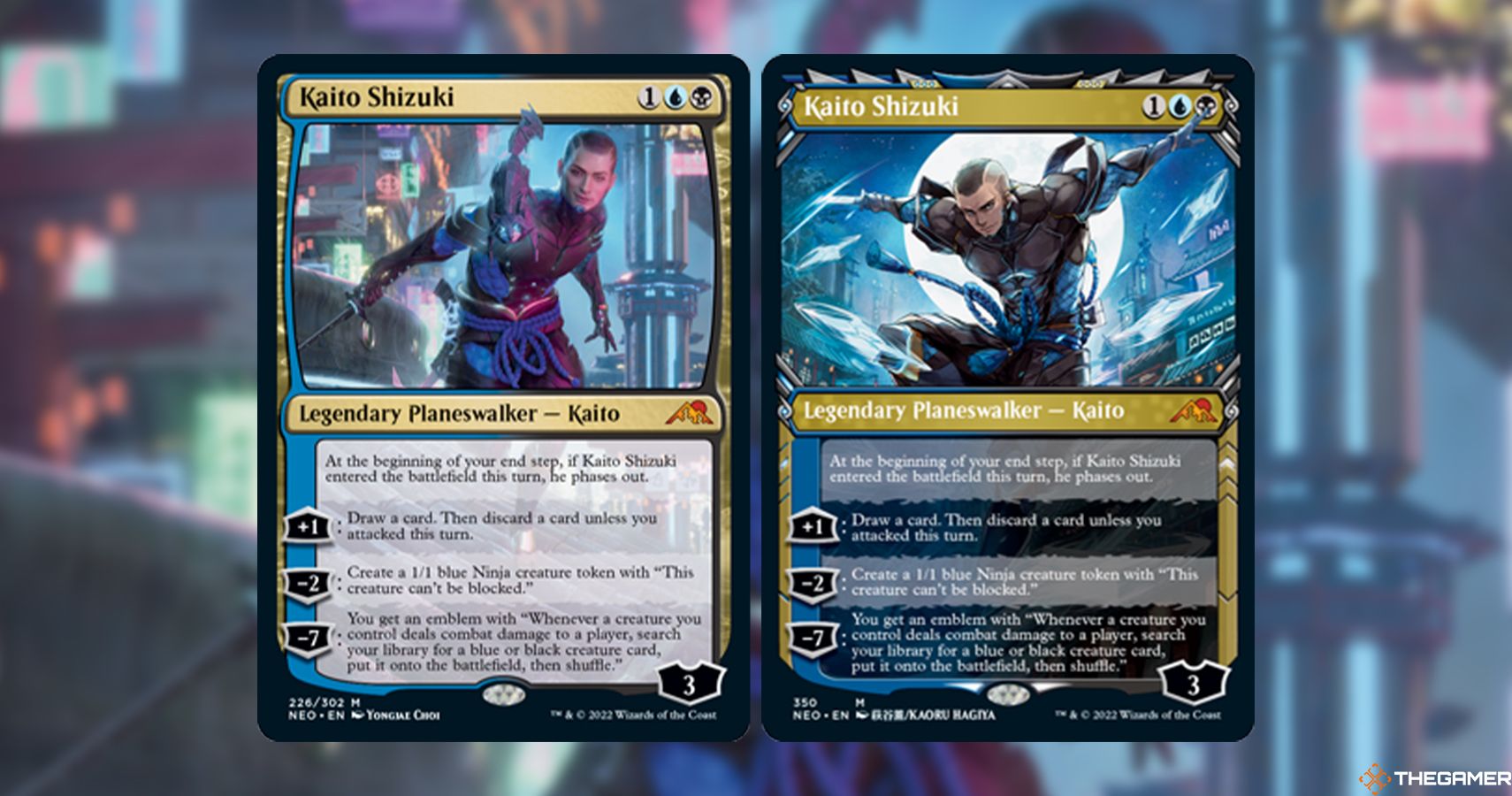 Kaito is a Dimir (blue/black) Planeswalker, and can make ninja token creatures and even cheat blue or black creatures directly out of your deck and onto the battlefield. He also has phasing, a rarely-used mechanic last seen in Adventures in the Forgotten Realms that lets Kaito feel more evasive than usual Planeswalkers.
If you want to learn more about Kaito, Wizards has already released a short story showcasing how he became a Planeswalker, while also introducing us to this new, advanced Kamigawa. Speaking of the story, Wizards is trying something different with Neon Dynasty and will be releasing the entire fiction for the set before the spoiler season started. From January 11-21, a series of stories will be released to bridge the 1200 years between the original Kamigawa sets and Neon Dynasty, followed by the set's official story on January 24-26.
We also received confirmation that The Wanderer will be appearing in the set, as she appears at the very end of its incredible teaser trailer. The Wanderer has been a mysterious figure in Magic's lore ever since she appeared in War of the Spark, but it appears as though we're finally going to get answers on who she really is in Neon Dynasty.
Full Art 'Ukiyo-e' Lands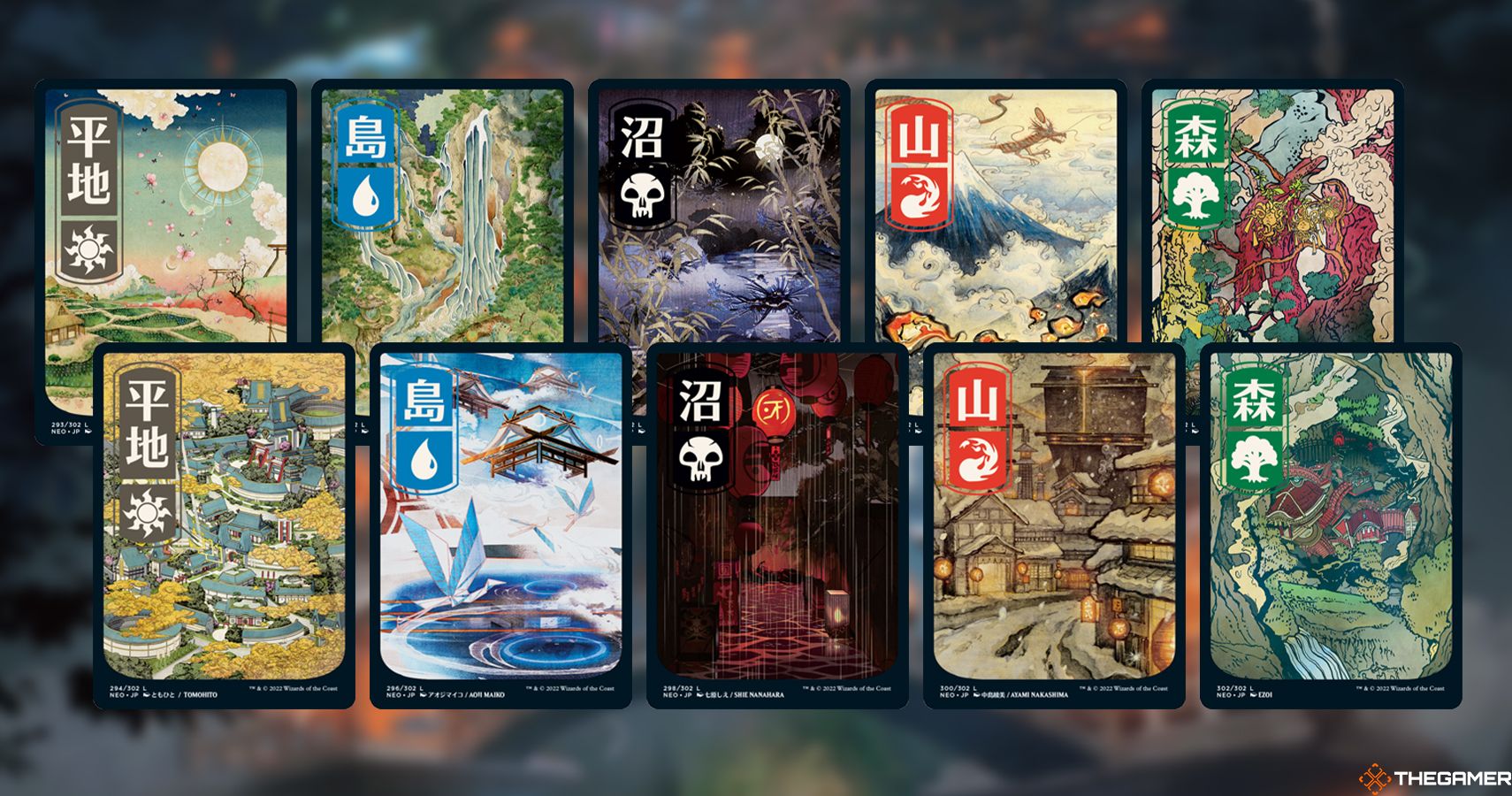 A particularly exciting reveal was that Neon Dynasty will have showcase full-art lands inspired by Japanese Ukiyo-e paintings. Each of the five basic lands will have two different arts available for them, and will be available in draft, set, and collector's boosters.
In draft and set boosters, Ukiyo-e lands will appear in approximately one third of packs, while in Collector's boosters one will always be guaranteed. There will be normal basic lands as well, which will come in the remainder of draft and set packs, as well as in the booster bundle box.
The Ukiyo-e lands represent the main conflict of Kamigawa: Neon Dynasty, which is the conflict between modernity and tradition. Only about half of the set will be focused on futuristic cyberpunk aesthetics, while the other half will return to the more traditional, historical Kamigawa that you know from the older sets.
New Showcase Frames: Ninja, Soft Glow, and Hidden Neon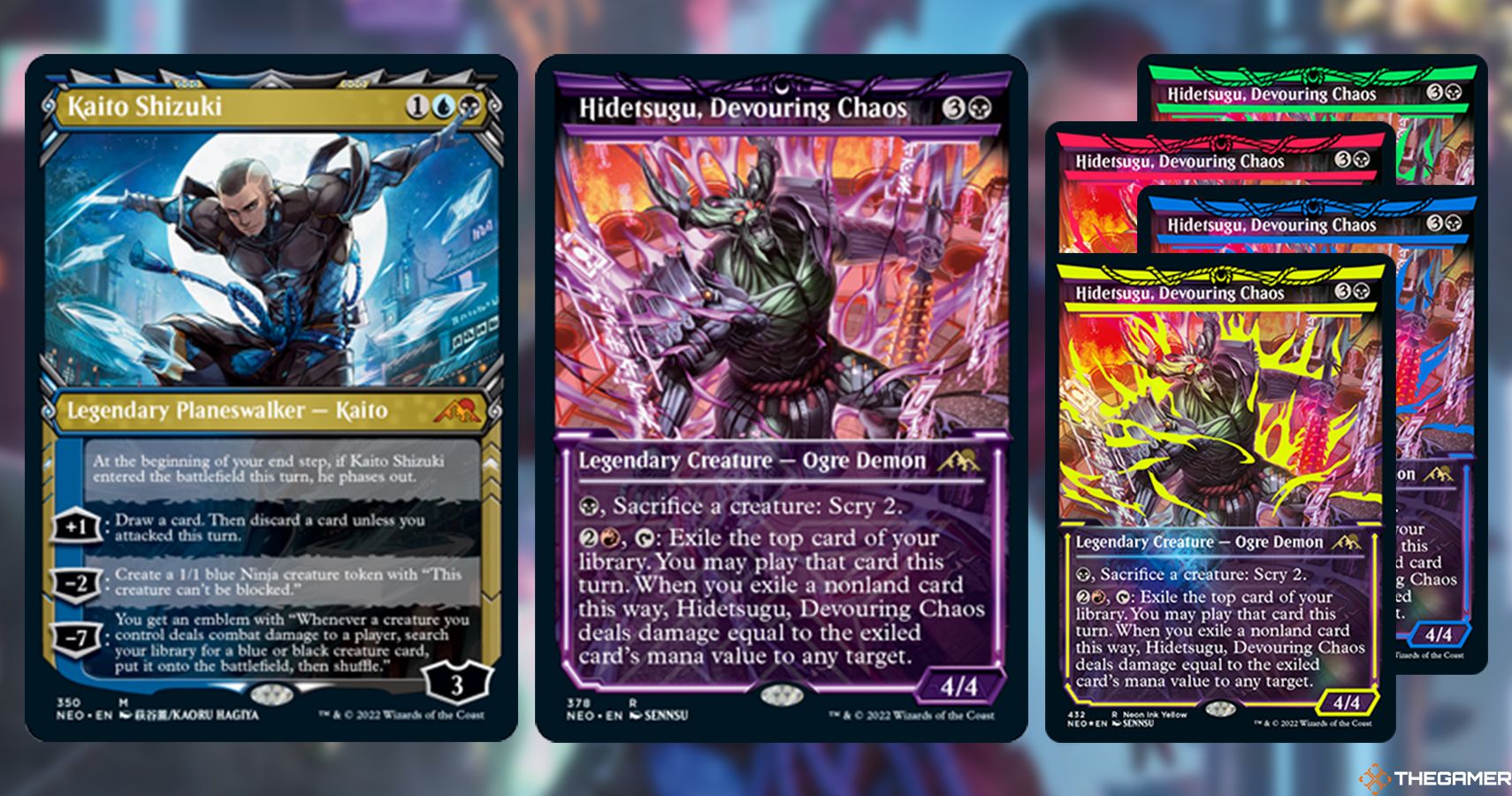 Neon Dynasty is going to have a lot of different showcase frames available for it, including an ultra-rare one found in only one percent of collector's boosters.
First is the Ninja frame, which will presumably be used for the many Ninjas of Neon Dynasty in the same way the Fang frame was used for the vampires of Innistrad: Crimson Vow. The only one we've seen so far is for Kaito Shizuki, but it features sharp angles and metal plating reminiscent of a Ninja's armour.
The second frame is 'Soft Glow'. Exactly what kinds of cards this will be appearing on wasn't confirmed, but it surrounds the frame with a neon glow and more futuristic framing.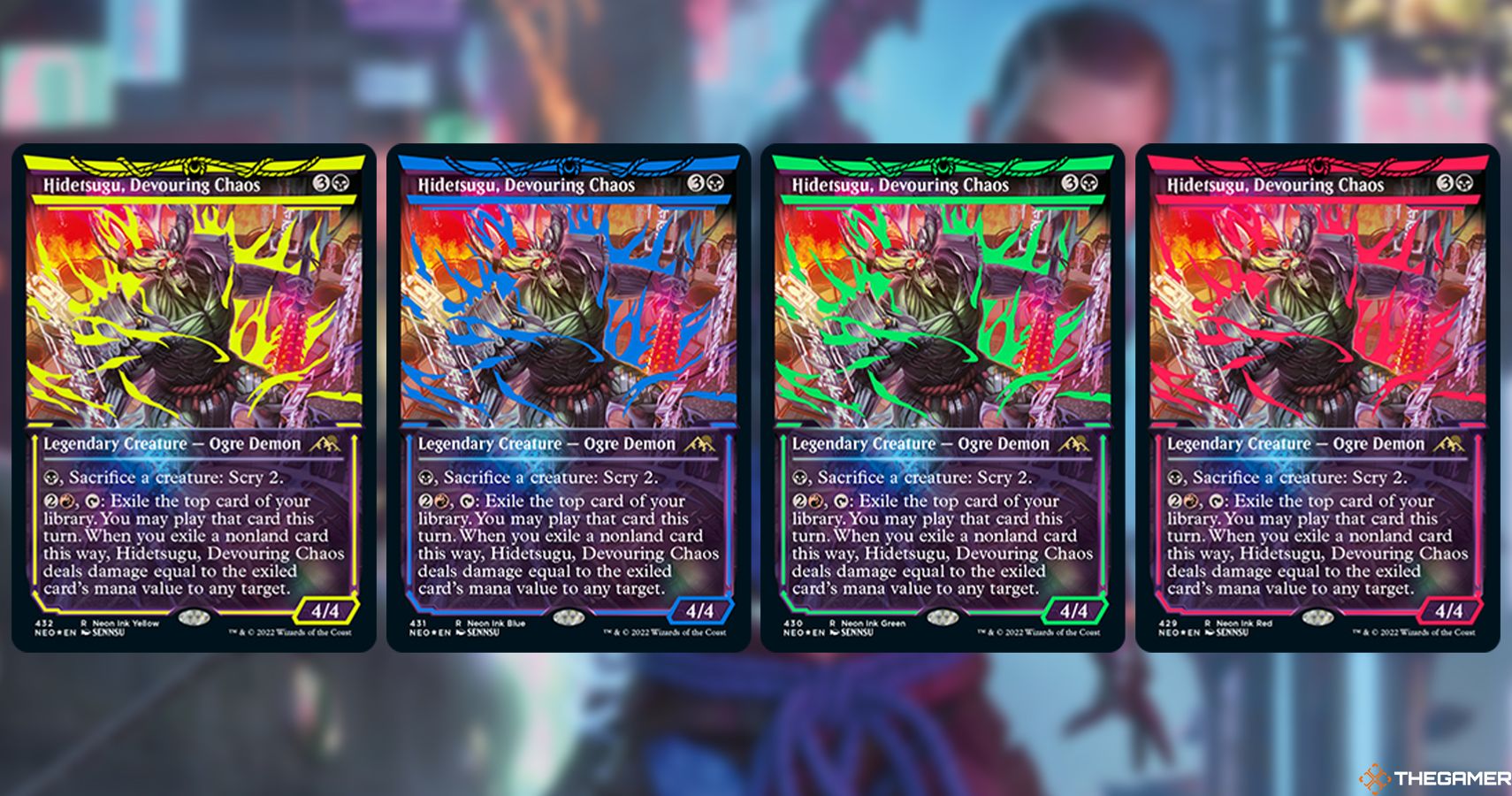 The third kind announces is 'Hidden Neon', and is unique for showcase frames in that it is only going to be available on a single card: Hidetsugu, Devouring Chaos. Hidetsugu was a popular character from the original Kamigawa sets, and is making a return as a full-on Ogre Demon here. To celebrate, there will be four different Hidden Neon versions of him available, which is said to be printed using a new technique that makes it look like the card is literally glowing with neon.
Three colours for Hidden Neon, blue, green, and red, will only be available in one percent of Collector's boosters. The fourth colour, yellow, will be available as a promo card from partnered WPN Premium stores.
Wizards also confirmed that there is a fourth style yet to be announced. This one is implied to feature art from Japanese artists, and will be announced later by the Japanese Magic the Gathering team. It is worth noting that cards outside of this unannounced style will also have work by Japanese artists, such as the alternate art for Atsushi, the Blazing Sky (seen below), which was illustrated by veteran Duel Masters artist Toshiaki Takayama.
Legendary Dragons
Although all but one of them died during the story of the original Kamigawa block, the five Dragon guardians of the plane are back in Neon Dynasty. Only one was revealed, the red Atsushi, the Blazing Sky, which can make treasure tokens or give you impulsive draw when it dies.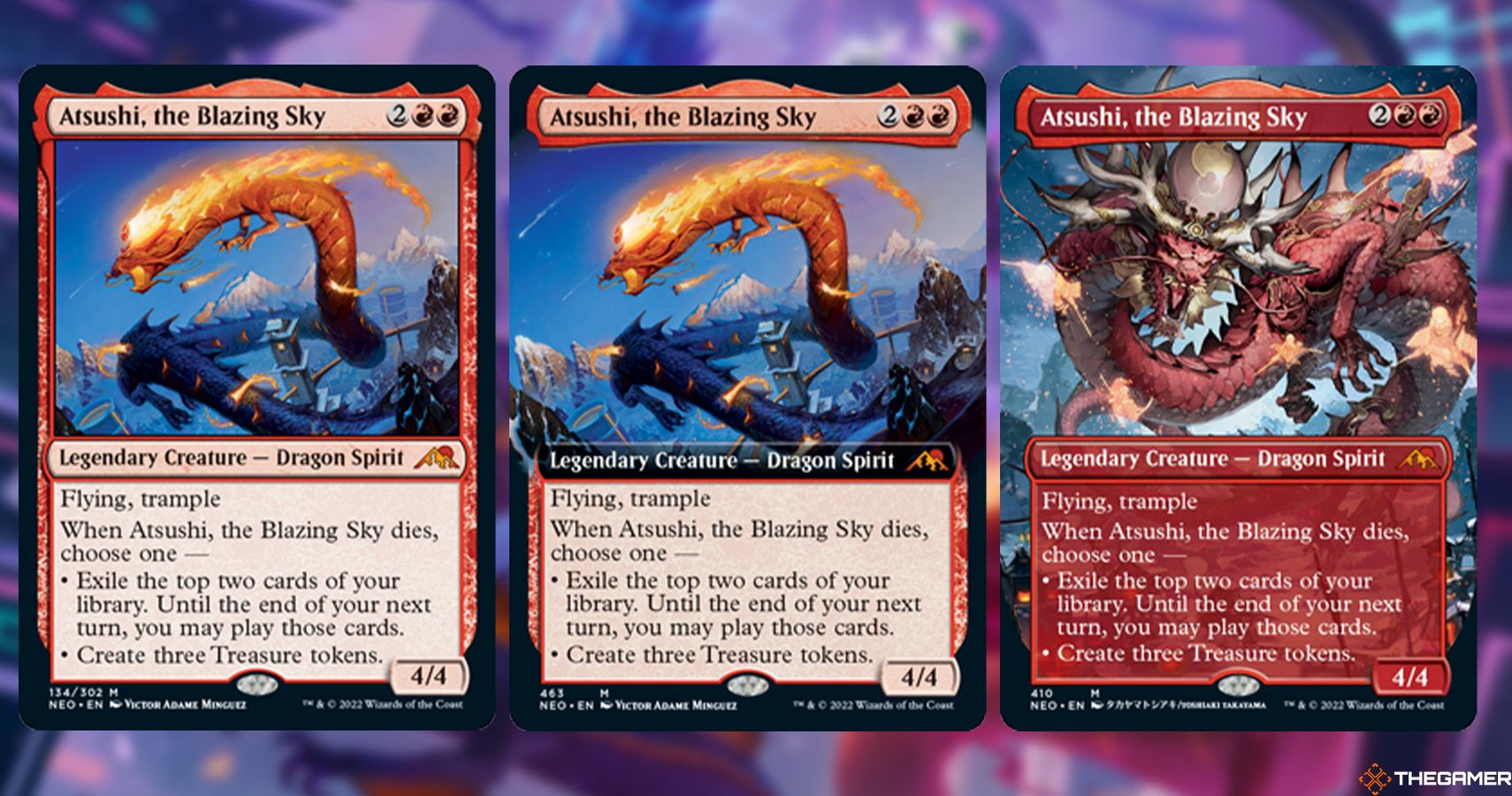 Though the five Dragons will form a cycle, with one for each colour, they are by no means the only Legendary creatures in the set. Commander players will be happy with Kamigawa: Neon Dynasty, as head designer Mark Rosewater confirmed on the stream that the set has a Legends theme, and has a "higher than normal" number of Legendary creatures for a premiere (Standard-legal) set.
More To Come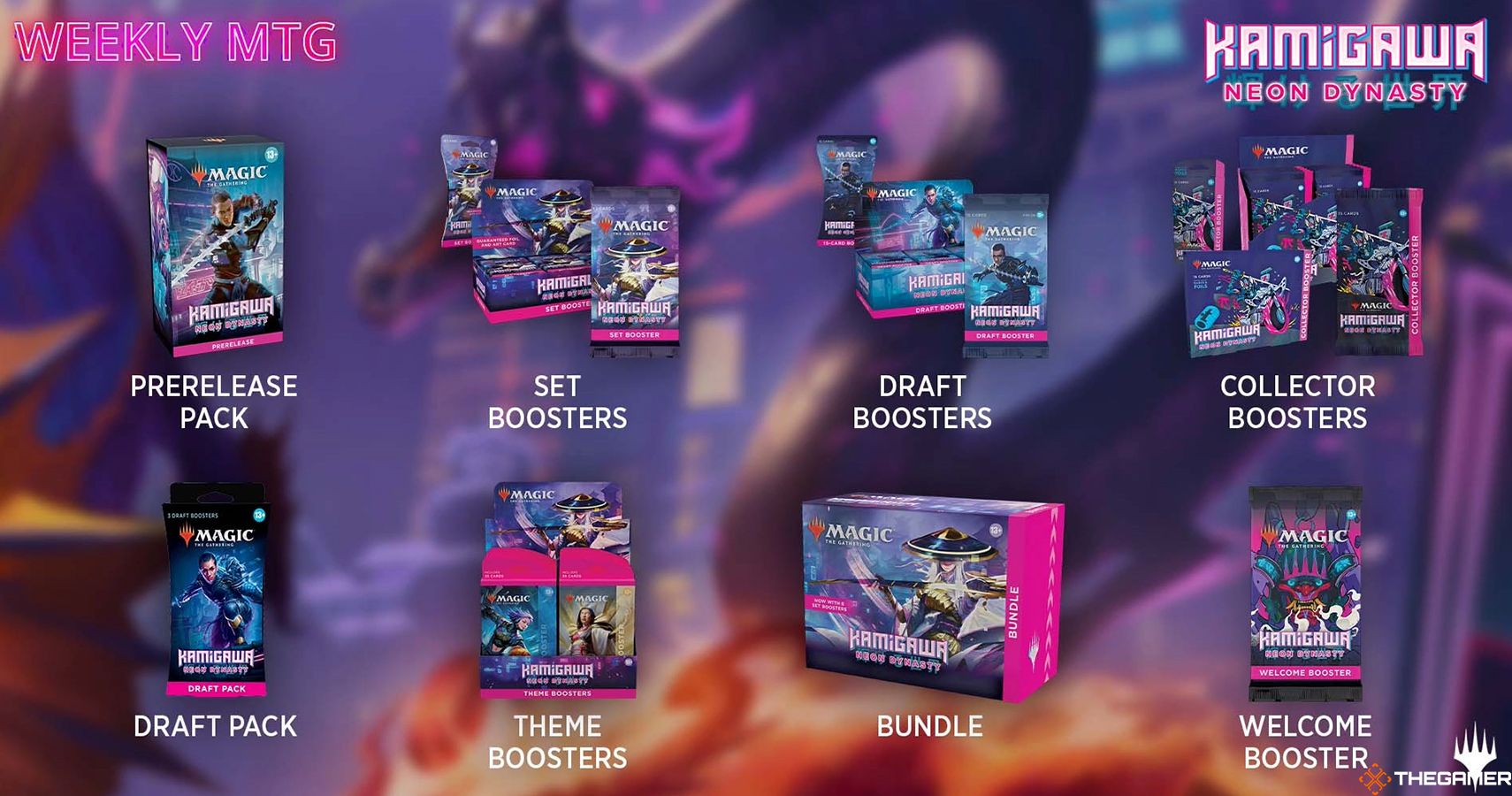 Today's stream was only a sneak preview of what is to come, with the full reveal taking place on January 27. We will also hear more about the set's two Commander decks.
That won't be the next time we hear about Kamigawa in general, though. On January 11, there will be a 'Creative Roundtable' stream, where creative designers of the set will presumably discuss the process behind making Neon Dynasty, and how it got such a striking art style.
Kamigawa: Neon Dynasty launches on February 17 for tabletop play, and a week earlier for digital play through Arena and Magic the Gathering Online
Source: Read Full Article