Fortnite: How To Set Up Parental Controls
Quick Links
Everything You Need To Know About Parental Controls In Fortnite
What Can You Do With Fortnite's Parental Controls?
How To Get Weekly Playtime Reports
Fortnite is an incredibly popular battle royale where up to 100 players fight against each other to be the last one (or last team) standing. If you're a parent, chances are you've heard of Fortnite and how popular the game is with kids.
Luckily, there are a number of safety measures you can take to help you control what your child can see and do within Fortnite. While the game is available on PC, PlayStation, Xbox, Nintendo Switch, and mobile devices, turning on parental controls work the same regardless of your or your children's choice of platform. In addition, you can also set up parental controls through the Epic Games Store and your preferred gaming platform, which gives you the option to restrict purchases.
Read below to see how to use Fortnite's parental controls on any platform to keep your child safe from any inappropriate content or conversations.
Everything You Need To Know About Parental Controls In Fortnite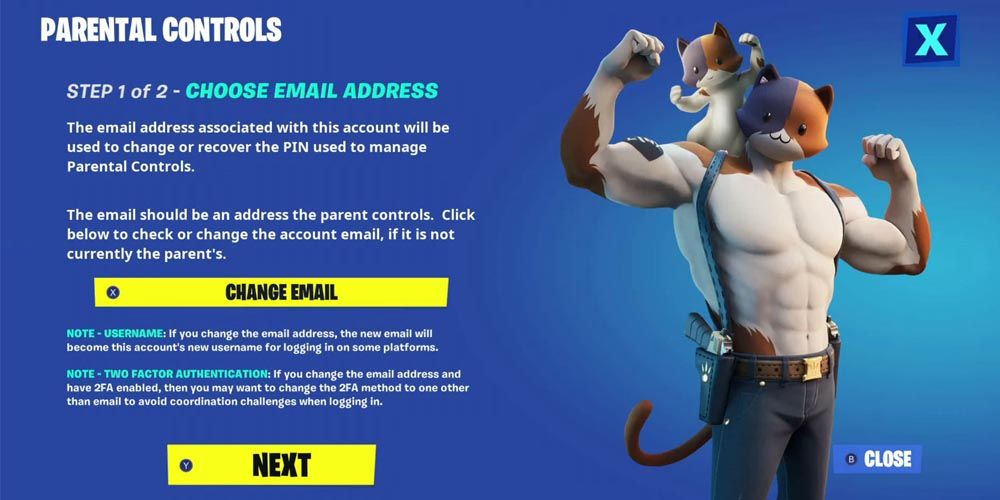 First things first, you need to launch Fortnite and log in, then head to the lobby. Once you're in the lobby screen, find the menu icon on the top right side, click or tap on it and select "Parental Controls" from the list.
In order to enable parental controls, you'll need an email address that you have full access to. Don't insert a random email address, because you'll need it to change or recover the PIN to manage parental controls within the game.
You can skip this step if there's already an email address associated with the account, but if that's the case, it's most likely your child's email address and not yours. Make sure to change the email to have full control over the account.
After linking the email address to the account, you'll be asked to set a unique six-digit PIN code. You'll need this PIN whenever you want to make changes to parental controls within Fortnite.
Once you get past this stage, you can start setting the parental controls; it's a straightforward process from this point on.
Parental controls you set up within the game will work on other platforms as well, provided your child uses the same account on these platforms.
What Can You Do With Fortnite's Parental Controls?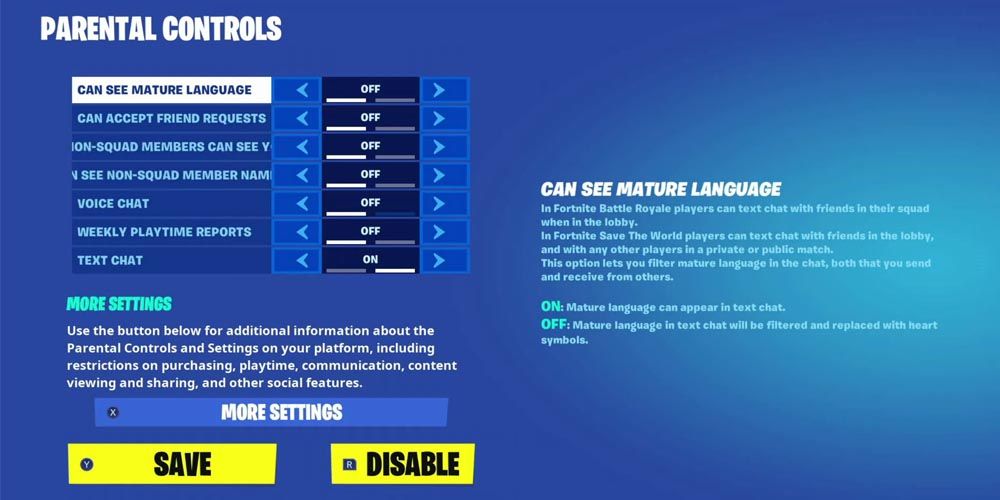 Fortnite's parental controls are quite user-friendly; all you have to do is toggle a switch on or off. Keep in mind that, the settings listed below will only give you control within Fortnite.
Mature Language
Depending on the game mode, Fortnite players can text chat with their friends in their squad, or with any other players in a match. Turning this off will let you filter mature language and any words that are filtered will be replaced with heart symbols, regardless of who sends or receives them. If you turn this on, mature language can appear in text chat without filters.
Accept Friend Requests
This setting helps you control incoming friend requests; turning it off means your kid won't receive any friend requests; no matter what, all incoming requests will be automatically denied. Keeping it on means your kid can receive friend requests from any other players.
Non-Squad Members Can See Your Name
Your account name appears on the screen when you eliminate a player or yourself are eliminated. Turning this setting off will replace your name with "Anonymous" to any player that's not in your squad. Keeping it on means any player can see your name.
Can See Non-Squad Members Name
This feature works pretty much the same way as the previous one. If you turn this off, your kid won't be able to see other players' names besides the names of people in the same squad. Keeping it on will let you see the names of all the other players, including the squad members.
Voice Chat
Fortnite comes with a built-in voice chat feature. When your kid teams up with random players during a match, a specific voice channel automatically becomes available for the squad. Turn this setting off if you don't want to allow your kid to communicate with squad members via voice. Keep it on if you're okay with them hearing their teammates and talking to them using a microphone.
Text Chat
Works exactly the same way the "Voice Chat" filter does. Turn it on and your kid won't be able to receive or send messages in the text channel. Leave it on and they can chat with others.
Be aware! Your kid can still use third-party software or a built-in party system to access voice or text chat. You may want to restrict the communication features of the platform you're on as well.
How To Get Weekly Playtime Reports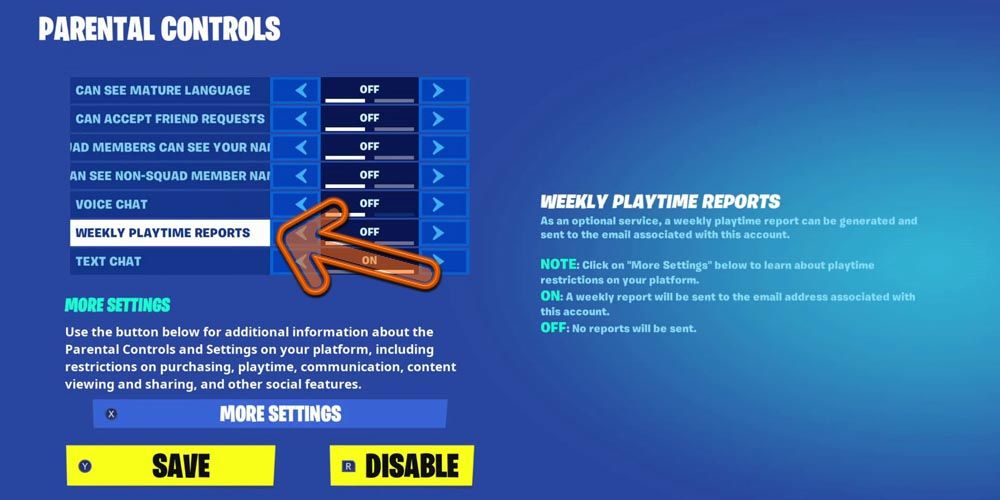 You can easily monitor your kid's gaming time with Fortnite's parental controls by enabling the "Playtime Reports" option.
Turning on this setting lets you see how much time your kid is spending playing Fortnite. You'll get these reports on a weekly basis. You also have the option to turn it off if you want to stop receiving reports. Weekly Reports will be sent to the email address you set up the parental controls with.
If you think your kid's sinking too much time into Fortnite, you can restrict their playtime. However, this can't be done with Fortnite's parental controls. You'll need to use your platform's parental controls to set restrictions on playtime. This is also where you can restrict access to purchases.
Source: Read Full Article