Former Blizzard Veteran Jeremy Dela Rosa Founds Charitable Organization Leyline
Gamers spend countless hours most every day saving virtual worlds from destruction. But if 2020 has shown us anything, it's that our own world is also in dire need of being saved.
That's the inspiration for former Blizzard Entertainment Senior Manager Jeremy Dela Rosa's recent creation and announcement of Leyline, a new nonprofit platform to focus the processing power of the world's gaming community and their computers towards solving numerous real-world problems, and hopefully leaving the world better than we found it.
The initial announcement was published on November 24, and since then, Rosa and the Leyline team have been pushing out more info a piece at a time. You can see these new info pieces over on Leyline's YouTube channel, where a series of FAQ videos are being published. So far, Leyline Media Producer Cody Urban has two videos posted answering the questions Could Leyline Become Skynet? and Will Running Leyline Slow My Gaming? There is also a more recent and longer Leyline All-Hands Meeting video "where the team discusses everything from individual empowerment and creative potential to market planning and how to scale an organization."
According to the press releases, Leyline's basic premise is "to revolutionize how gaming communities connect to charitable causes that help combat the world's most pressing issues". The Leyline platform makes this happen by allowing "anyone with a computer or mobile device to contribute to the causes they care about while earning rewards — digital items, gift cards, game codes, and more — by donating spare processing power to researching things like a cure for COVID-19 and fighting climate change."
In one of the Leyline YouTube channel videos, it's stated that "the gaming community alone represents the largest distributed network in the world", so it's not a far stretch at all to think of bringing all the gamers together for a positive world-changing goal. In fact, it's been done before on smaller scales, such as the Borderlands Science Arcade in Borderlands 3 (developed in conjunction with McGill University, Massively Multiplayer Online Science, and The Microsetta Initiative) that helped map and compare microbes in strands of DNA. It also works like [email protected] did, and how Science United does, but with the added benefit of being able to earn gamer swag for doing so.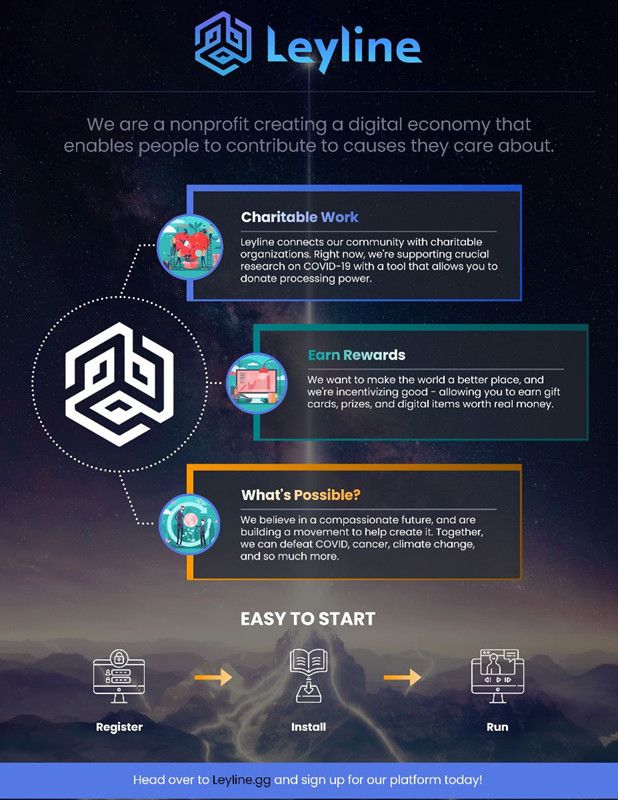 Leyline is currently in closed beta, but you can sign up through the website to join the Leyline adventuring party. If you would simply like to give a donation, you can do that through the platform's GoFundMe page. To learn more about Leyline, hit up the website, as well as the Facebook, Twitter, Instagram, and Discord channels.
Source: Read Full Article