Final Fantasy 14: Guide to Completing Valentione's and Little Ladies' Day 2021
It's that time of year when love is in the air and so Final Fantasy 14 has kickstarted its Valentione's Day event! However, as an extra special treat this year, Square Enix is giving fans two events at the same time and has already begun Little Ladies' Day too!
These events are on for a limited time only and are scheduled to finish on March 8, 2021, at 6:59 a.m. (PST). Be sure to complete the events before this time, as seasonal quests cannot be completed once the events have ended. These new events offer some adorable rewards this year, and we've got the complete guide to obtaining them just below.
How to Start the Event and Walkthrough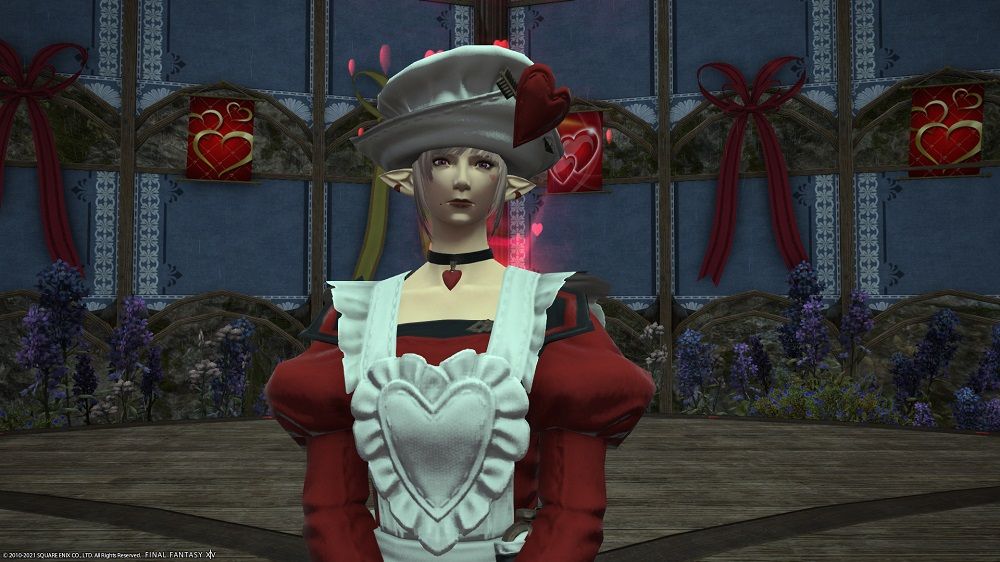 Players must be at least level 15 and have previously completed one of the following main scenario quests in order to participate in the event: "The Gridanian Envoy", "The Ul'dahn Envoy", or "The Lominsan Envoy". To begin the event, speak to Lisette de Valentione at Mih Khetto's Amphitheatre in Gridania, Old Gridiana at (X:10.2, Y:9.4) and accept the quest "Delivery of Love".
After a short cutscene, you will need to travel to Middle La Noscea and head over to (X:18.2, Y:19.3) in order to speak with Kupka Kupp to continue the quest. Kupka Kupp will decide to paint a canvas while you are tasked with collecting a sweet-scented posy. Travel to (X:19.9, Y:14.8) to collect the flowers you need, and then head back to Kupka Kupp on the bridge to hand them over.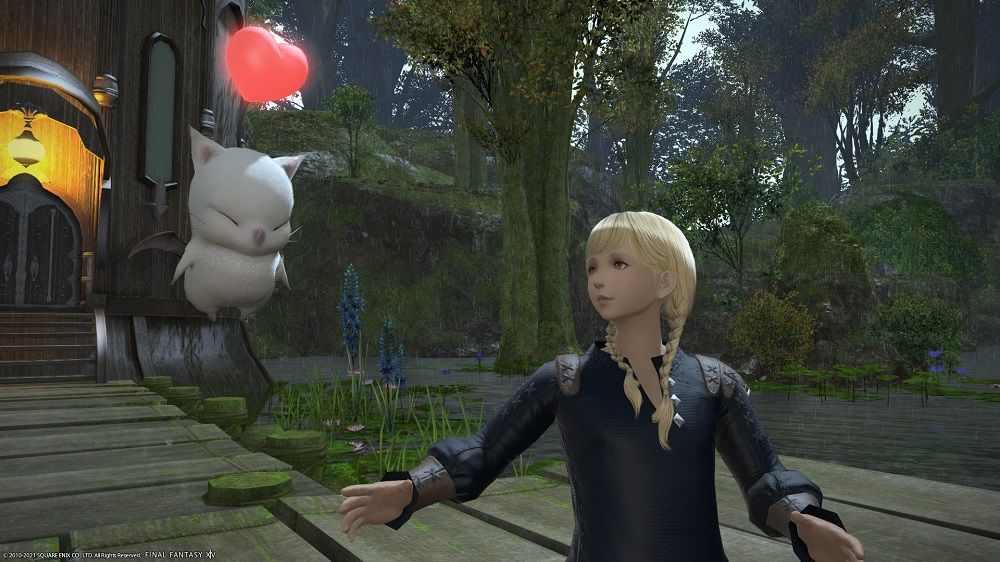 Next, you need to travel to the East Shroud and head towards the Sweetbloom Pier at (X:9.4, Y:23.4) to speak to Elyne to hand her the gifts. This will complete the Valentione's Day quest but don't worry, there's still more!
Immediately afterward, Elyne will offer you the Little Ladies' Day quest "Little Lady Adventurer". After a short conversation, you'll need to head to the Airship Landing in New Gridania on the lower level of the Adventurer's Guild at (X:11.7, Y:13.2). Interact with the destination point, and then after a short cutscene, travel to Ul'dah Steps of Nald to (X:10.6, Y:9.1) and speak to the Royal Seneschal at the Ruby Road Exchange.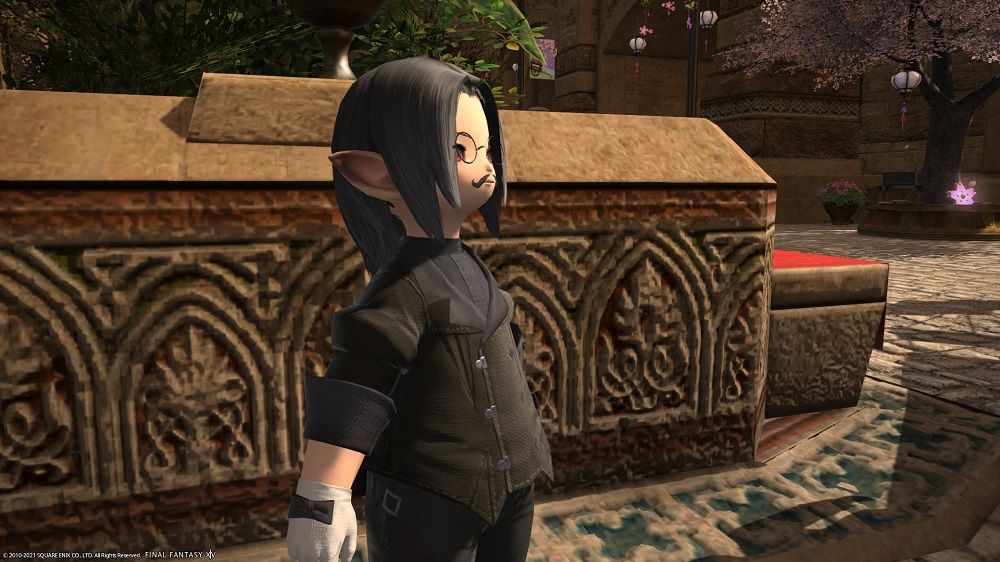 After the cutscene, speak to the Royal Seneschal once more and you will be asked to travel to the children's ward of Frondale's Phrontistery in Ul'dah the Steps of Thal at (X:9.5, Y:13.4). Speak to the Phrontistery Alchemist to enter the ward and then interact with Aldithya to continue the quest.
After the cutscene, travel back to the Ruby Road Exchange and speak to the Royal Seneschal again for a cutscene with the Songbirds. Once this has finished, speak to Elyne before returning to Lisette de Valentione in Old Gridiana at (X:10.2, Y:9.4) to complete the quest and claim your awesome Lovely Moogle Cap reward and "Celebrating in Sync" achievement.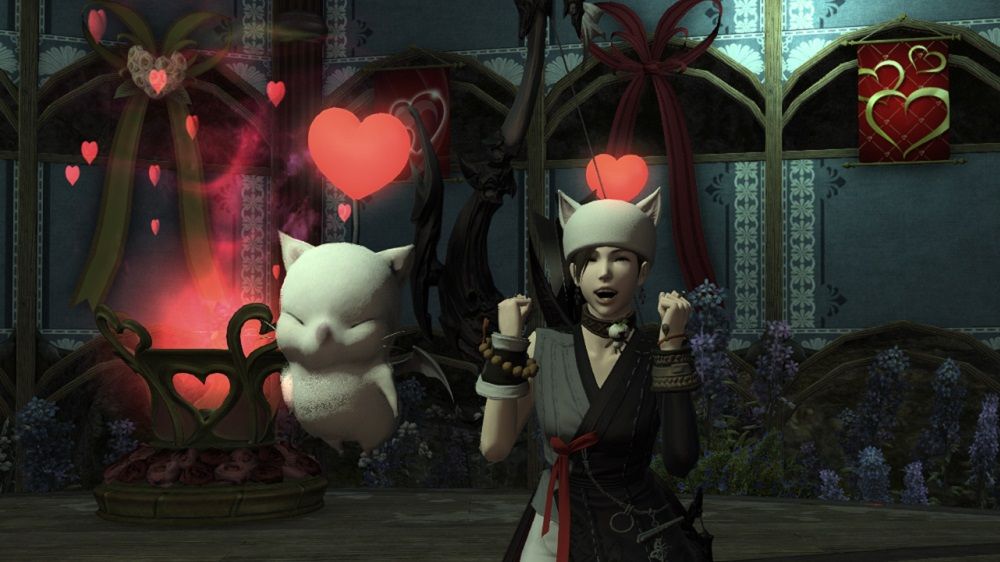 Extra Event Items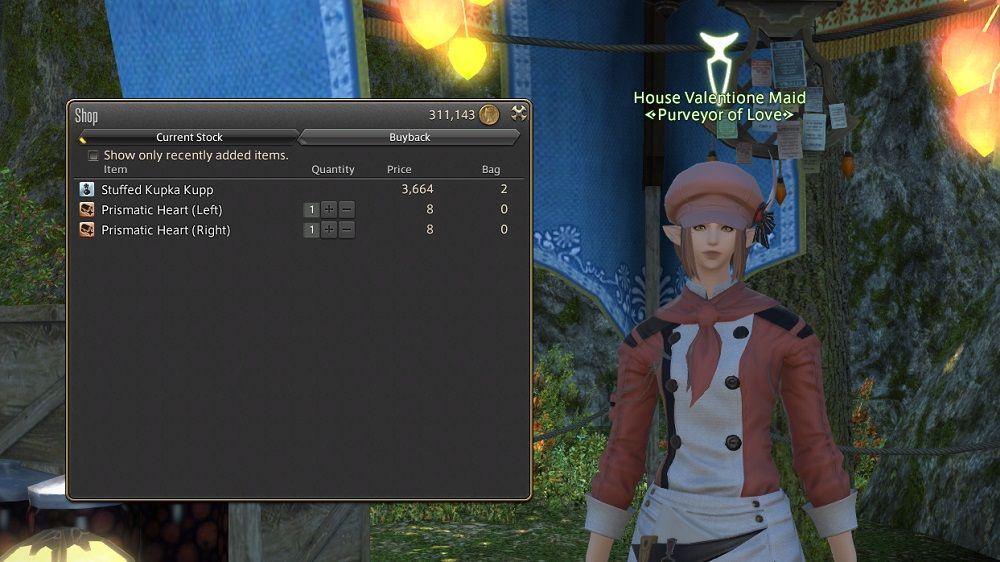 There is an additional new item available this year that should not be missed! Speak to the House Valentione Maid in Old Gridania at (X:10.6, Y:8.7) to purchase the Stuffed Kupka Kupp furnishing that would look adorable in your FC house or apartment. These items are only available for purchase once you have finished the seasonal quests. This merchant NPC has other event-themed items too, and sells the following items:
Stuffed Kupka Kupp (Furnishing) — 3,664 Gil
Prismatic Heart (Left) — 8 Gil
Prismatic Heart (Right) — 8 Gil
Event Decorations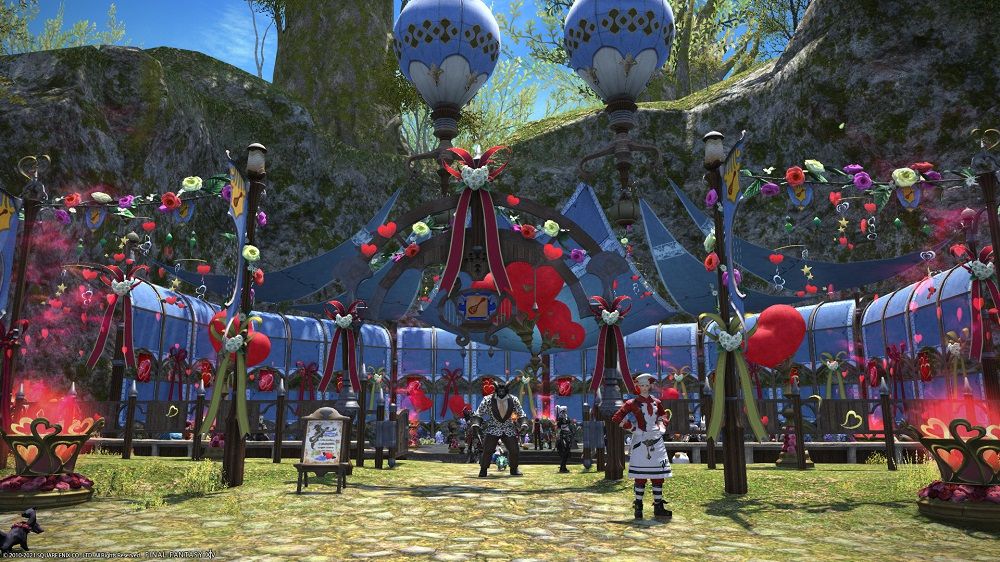 As both events are taking place at the same time, the decorations throughout the city-states will vary, with both Gridania and Limsa Lominsa featuring Valentione's Day decorations, and Ul'dah featuring the iconic cherry blossom decorations of Little Ladies' Day.
When it comes to the residential districts, they will have Valentione's Day decorations from the start of the event until February 21, 6:59 a.m. (PST), and then from February 21, 7:00 a.m. until March 8, 6:59 a.m. (PST) they will feature Little Ladies' Day decorations. So for those looking to get some awesome screenshots during this event, be sure to make the most of the decorations.
Previous Event Items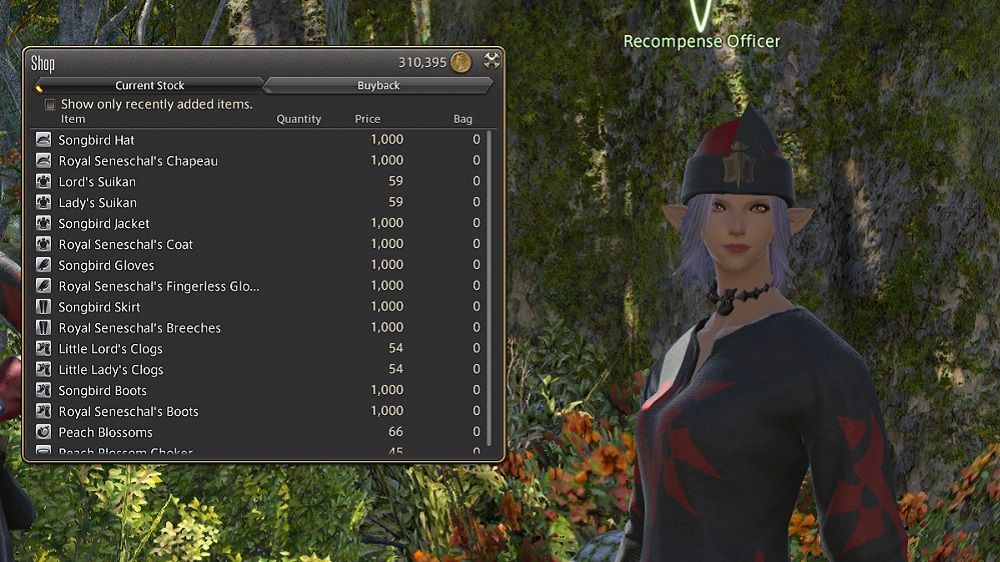 If you want to purchase any event-themed items from previous years, they can be purchased from Recompense Officer NPCs. There is one located in Old Gridania at (X:10, Y:8.4), selling different Valentione's Day and Little Ladies' Day items for various amounts of Gil.
Players must have completed the quests of previous years and obtained the achievement for doing so in order to purchase the items from each specific year. This is handy for those who did the past quests but didn't realize additional items were available at the time, or for players who have since lost those items.
Next: Final Fantasy 14: Everything You Need To Know About Triple Triad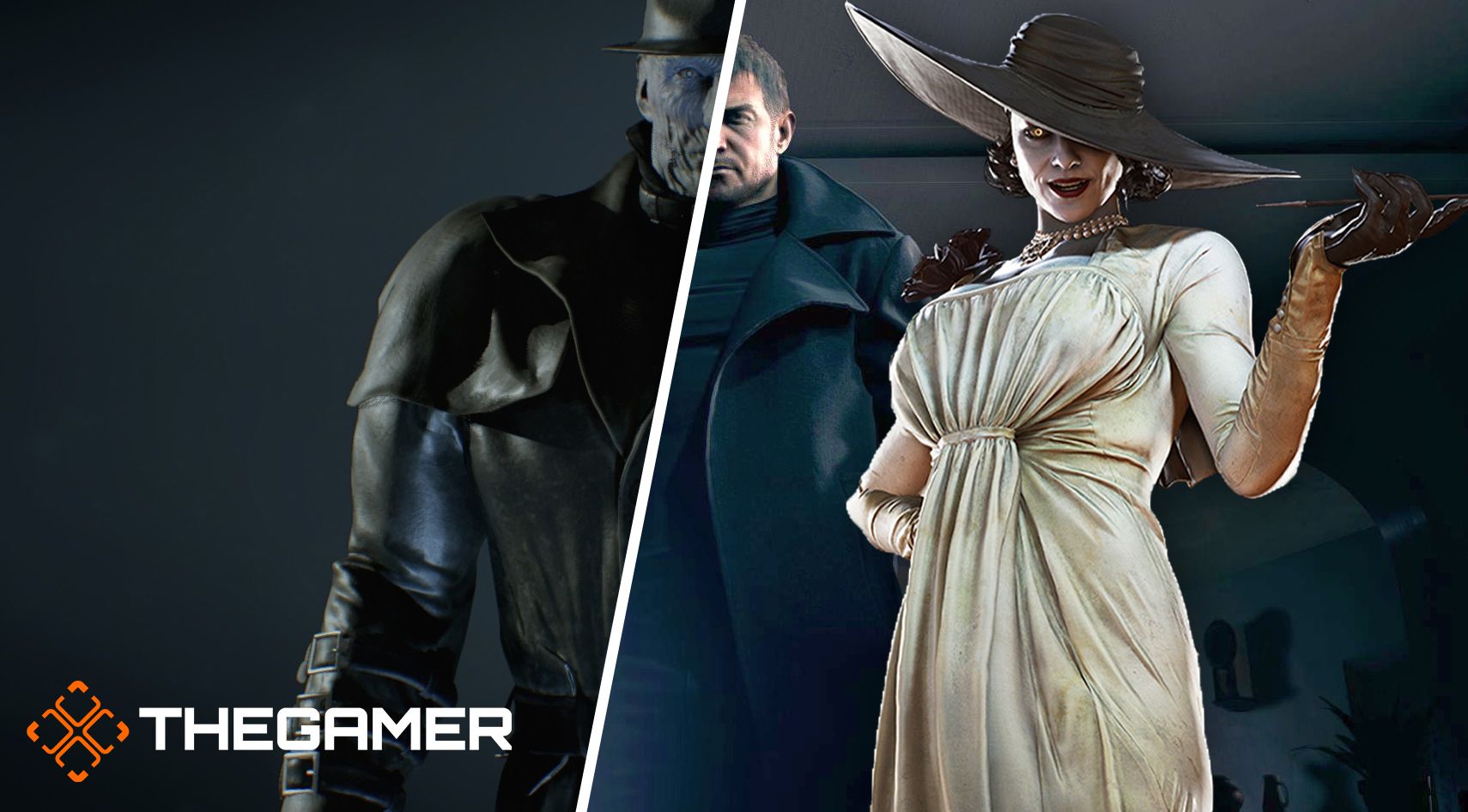 Guides
MMO
Final Fantasy 14
Meg appreciates gaming on all formats, but primarily spends her time achievement hunting to the extreme. Her passion for gaming began as a child, when first introduced to the Amstrad. A collector of gaming consoles past and present, Meg spends as much of her time rediscovering old classics as she does playing the latest releases.
Source: Read Full Article