BioWare Says The Next Mass Effect Is Now "In Early Development"
BioWare has confirmed that the next Mass Effect is in "early development".
In late 2020, BioWare confirmed that the next game in the Mass Effect series was currently in development, revealing a short CG trailer that didn't give too much away. It's mentioned that game several times since then but hasn't given too many more details, only promising that it would start giving more frequent updates on its development.
Just a few days ago, BioWare started a new type of blog post, titled the BioWare Community Update, with the purpose of wanting to, "further pull back the curtain for a more transparent look into the process of making the games you love".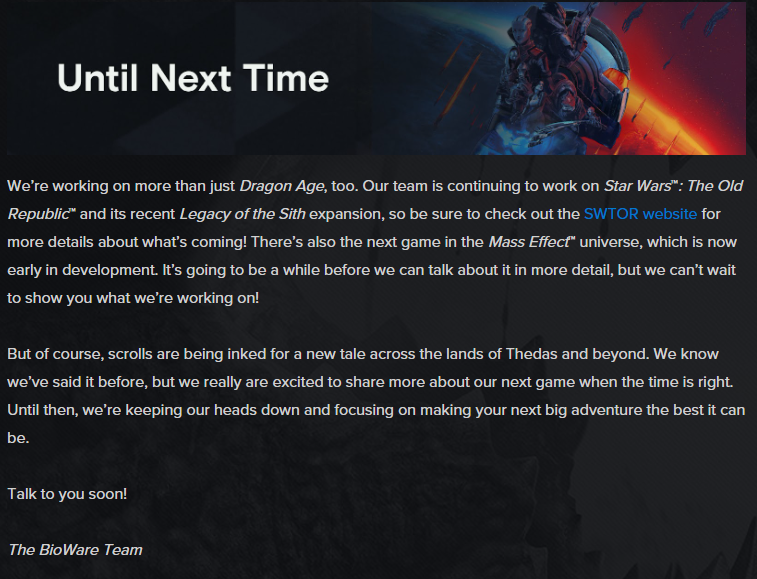 Although much of the post is focused on the developers talking about some of the work that goes on at the studio, towards the end of the post BioWare gives a small update on some of the games it's currently working on, including referencing the next Mass Effect and Dragon Age.
It says, "There's also the next game in the Mass Effect universe, which is now early in development. It's going to be a while before we can talk about it in more detail, but we can't wait to show you what we're working on! But of course, scrolls are being inked for a new tale across the lands of Thedas and beyond. We know we've said it before, but we really are excited to share more about our next game when the time is right. Until then, we're keeping our heads down and focusing on making your next big adventure the best it can be."
It's an incredibly small update, but the mention of the next Mass Effect being in "early development" is one of the most concrete we've had for some time. Considering the teaser trailer we saw a year and a half ago, you might have thought it was further along, but it looks like it really is "going to be a while" until we see it again.
Source: Read Full Article