A Guide To Gifts In Fire Emblem Warriors: Three Hopes
Who doesn't love gifts? Even during times of crisis, the perfect pick-me-up can work wonders on our loved ones. Fire Emblem Warriors: Three Hopes, like its more traditional predecessor Three Houses, extends this happiness into a full-blown gameplay system you won't want to skip.
If you'd like a deeper understanding on why gift-giving is an important part of Fire Emblem Warriors: Three Hopes, or you just want to know the best presents for every character, you just so happen to be on precisely the right page. Think of it as our gift to you.
Why Are Gifts Important in Fire Emblem Warriors: Three Hopes?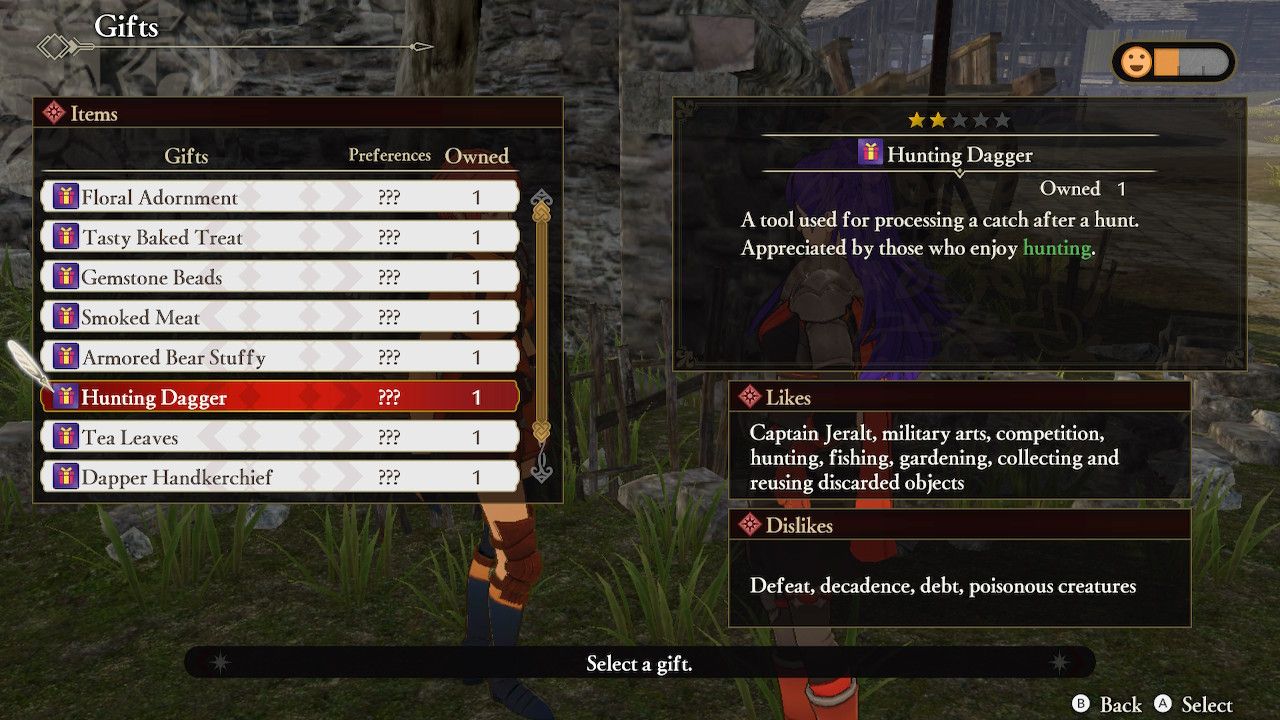 If you're just joining the good people of Fodlan for the first time with Three Hopes, you might find the game's gift system a tad bewildering. Here's the gist.
It's important to raise Support Ranks between your characters. Doing so elevates their effectiveness together in battle, improves them independently in their own right, and narratively speaking, it's where the bulk of the game's most memorable downtime scenes will take place. Since at least Fire Emblem: Awakening, there have been at least as many fans into the series for its characterization as its deep strategy battles, and this is the ultimate reward to that end.
Giving gifts to people provides notable boosts in their Support Rank with Shez. If you get them stuff they love, they're going to love you more as a result. Is it a bit unscrupulous? Perhaps, but let's just all happily pretend Shez is dropping big bucks on this out of the kindness of their heart.
Gifts can also improve a unit's morale. For a more combat-oriented reason to splurge, consider that Activity Points can only boost a unit's morale so much per chapter. Indeed, virtually everything is finite in this regard. Gifts are technically finite as well, since you can only purchase so many each chapter and that gold in your coffers can go to plenty of other tasks. But they offer something that more closely approaches boundless morale-boosting.
Time your gift-giving for when a unit's morale is low. Don't (partly) waste its potential rewards by forking it over to a person with a maxed morale meter!
Plus, it's just neat listening to your beleaguered friends express their appreciation. Who among us could deny the chance to hear Raphael's voice burst with glee because you handed him a chunk of meat? That's what we thought.
The Best Gifts for Every Character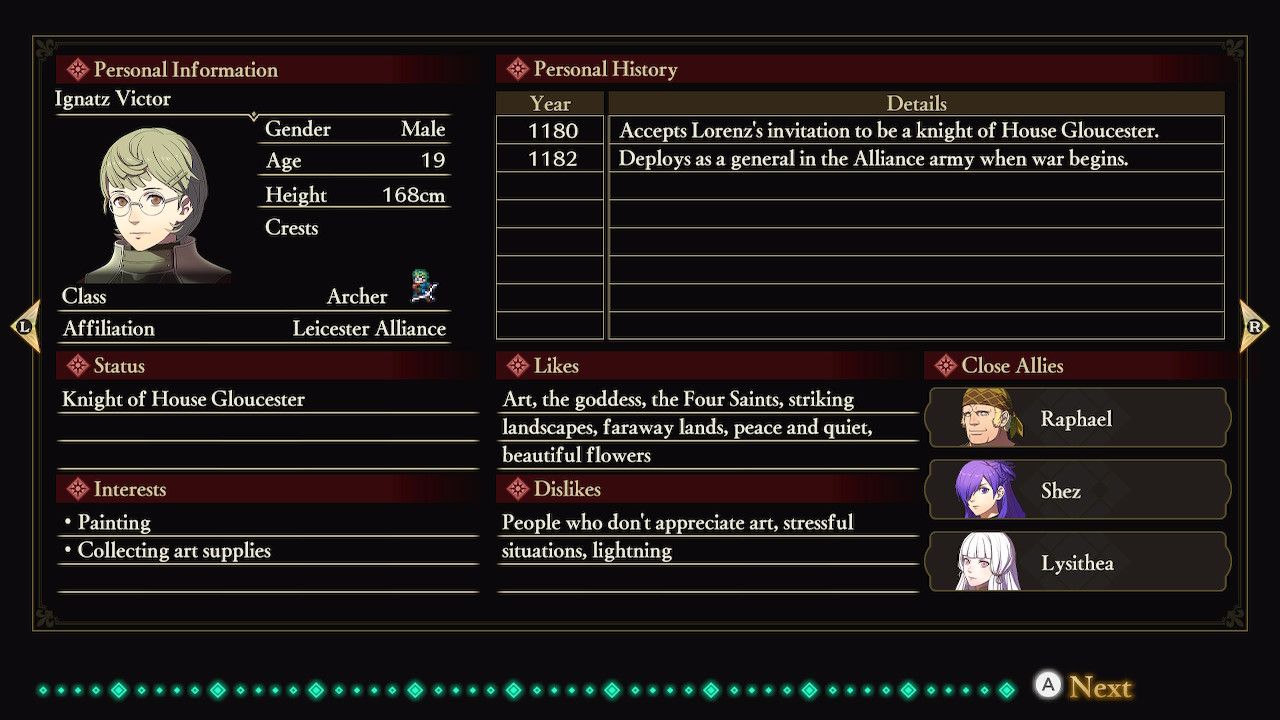 We're zooming in on the very best gifts we're certain your pals will adore. Feel free to experiment for lesser boosts, but always keep an eye on a character's likes and dislikes before you go handing Linhardt a Hunting Dagger. Or worse still, giving Lorenz a Watering Can.
Owl Feathers are beloved by all. They're never a four-star gift, which is the highest possible affection boost, but they're a completely reliable three-star gift for every single unit in the game. If you've got one, give it away. And if you preordered the digital version, check the Owl Perch for the occasional Owl Feather.
Great Gifts for Black Eagles
Character
Best Presents
Edelgard

Armored Bear Stuffy
Carnation
Monarch Studies Book
Board Game

Hubert

Board Game
Coffee Beans
The History of Fódlan

Ferdinand

Riding Boots
Tea Leaves
Whetstone

Petra

Exotic Spices
Smoked Meat
Hunting Dagger
Sunflower

Dorothea

Book of Sheet Music
Gemstone Beads
Stylish Hair Clip

Caspar

Smoked Meat
Hunting Dagger
Training Weight

Linhardt

Fishing Float
Book of Crest Designs

Bernadetta

Watering Can
Armored Bear Stuffy
Pitcher Plant
Landscape Painting

Monica

Hunting Dagger
Arithmetic Textbook
The History of Fódlan
Monarch Studies Book
Carnation
Great Gifts for Blue Lions
Character
Best Presents
Dimitri

Whetstone
Riding Boots
Ceremonial Sword

Dedue

Floral Adornment
Watering Can
Exotic Spices

Felix

Smoked Meat
Hunting Dagger
Training Weight
Ceremonial Sword

Ingrid

Smoked Meat
Riding Boots
Legends of Chivalry

Sylvain

Dapper Handkerchief
Landscape Painting
Board Game

Annette

Stylish Hair Clip
Arithmetic Textbook
Book of Sheet Music

Mercedes

Goddess Statuette
Armored Bear Stuffy
Lavender

Ashe

Legends of Chivalry
Ancient Coin
Violet
Exotic Spices

Rodrigue

Smoked Meat
Hunting Dagger
Riding Boots
Blue Cheese
Great Gifts for Golden Deer
Character
Best Presents
Claude

Riding Boots
Book of Crest Designs
Exotic Spices
Board Game

Lorenz

Rose
Book of Sheet Music
Tea Leaves

Hilda

Gemstone Beads
Stylish Hair Clip
Dapper Handkerchief
Book of Sheet Music
Armored Bear Stuffy

Lysithea

Tasty Baked Treat
Armored Bear Stuffy
Book of Crest Designs

Marianne

Floral Adornment
Armored Bear Stuffy
Lily of the Valley

Leonie

Fishing Float
Hunting Dagger
Training Weight

Raphael

Tasty Baked Treat
Smoked Meat
Training Weight
Blue Cheese

Ignatz

Goddess Statuette
Ancient Coin
Ceremonial Sword
Landscape Painting

Holst

Smoked Meat
Training Weight
Exotic Spices
Great Gifts for Ashen Wolves
Character
Best Presents
Yuri

Goddess Statuette
Arithmetic Textbook
Board Game

Constance

Lily of the Valley
Tea Leaves
Arithmetic Textbook
Book of Crest Designs

Balthus

Whetstone
Ancient Coin
Training Weight
Ceremonial Sword

Hapi

Hunting Dagger
Pitcher Plant
Exotic Spices
Coffee Beans
Great Gifts for Everyone Else
Beware of spoilers in this last section!
Character
Best Presents
Shamir

Hunting Dagger
Book of Sheet Music
Exotic Spices
Coffee Beans

Alois

Floral Adornment
Ceremonial Sword
Sunflower
Owl Feather

Catherine

Whetstone
Training Weight
Legends of Chivalry
Blue Cheese

Anna

Coffee Beans
Blue Cheese
Landscape Painting

Gilbert

Fishing Float
Goddess Statuette
Ceremonial Sword

Gatekeeper

Book of Sheet Music
The History of Fódlan

Byleth

Fishing Float
Whetstone
The History of Fódlan
Training Weight

Jeralt

Smoked Meat
Fishing Float
Whetstone
Riding Boots

Jeritza

Tasty Baked Treat (absolutely hilarious)
Whetstone
Hunting Dagger
Rose
Source: Read Full Article